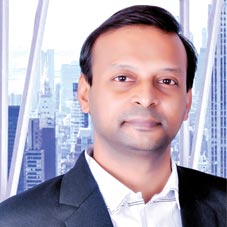 Businesses have been growing at a rapid pace with startups getting involved in delivering new age offerings to their customers and startups themselves seeking technological backend support to manage their supply chain and financial stability. All this while they explore the B2C space for 10X 20X growth. Also the B2B space is expanding dramatically in India with companies looking at managing the manufacturing & financials with better ERP systems. The need of the hour is a digital consultant that carefully understands the soaring and immediate demands of the growing businesses.
As digital transformation is catching pace, organizations – both large enterprises and SMBs – embrace digitalization with MS Dynamics 365, Robotic Process Automation (RPA), cloud solutions like Microsoft Azure, and cutting-edge enterprise software like ERP or CRM platforms, they can generate greater value, earn more profits, and gain a competitive advantage for your business.
Based out of Mumbai, Cocoon IT Services, a Microsoft-certified partner, harnesses world-class Microsoft Business Solutions to help smart businesses plan and executive their digital transformation effort.
CocoonIT is a fast growing digital transformation enabler for SMEs and a plethora of other business verticals. CocoonIT offers full spectrum of technology consulting services to give practical enlightenments on business transformation to digital solutions. Cocoon IT's technology consultants provide an unparalleled extent of support to address challenges of operational efficiency, technology expansion, and support. The firm's technology consulting services are led by efficient and industry experts for each sphere of influence that CocoonIT operates in. Brainchild of two technocrats, Gaurav Shah and Ritesh Pandey, CocoonIT has made a significant reputation in the market.
Hailing from a humble background and education in Mumbai, Gaurav always had a business intent to understanding concepts and thought process to apply the learning in daily life. Currently, he is pursuing post-graduation in MBA – Business Administration. Ritesh, with his self-reliance mind-set from the early days of education has helped to be part of this journey till date at CocoonIT. With the educational background in Technology from Bachelor of Engineering in Mumbai to MBA in Sales has helped to understand the customer needs in today's market and provide solutions with technological upscale and support the growth story of CocoonIT's customers.
Troubleshooting the Right Problems in the Right Ways
CocoonIT's consulting prowess primarily encompasses three engagement areas, Gap Analysis, Solution Design, and Fitment Analysis. The consultants begin with analysing gaps between current and future state of a system. The team helps businesses quantify and prioritize these gaps. CocoonIT collaborates with business teams to understand their business goals, existing processes, applications and provide them a summarized analysis report. This report can then be used for subsequent application development, marketplace application installation or even process improvements.
CocoonIT offers full spectrum of technology consulting services to give practical enlightenments on business transformation to digital solutions
The consulting team at CocoonIT actively looks forward to challenges, as they help the firm stretch its knowledge boundaries as well. CocoonIT works with the client's team to understand the challenge and execute various research activities to provide appropriate solution design. CocoonIT firmly believes in a collaborative solution design approach, wherein the firm always begins with multiple options and allows the client to choose the most optimum solution by understanding all facets.
If choosing becomes increasingly difficult, CocoonIT has a solution for that too. CocoonIT team can help client analyze fitment of given application/ solution to his or her organization and help in the decision making process. CocoonIT team is well aware that there are various applications in similar problem space, complicating the whole process of identifying the right solution for the business. Therefore, the CocoonIT team helps organizations by following a clearly objective analysis mechanism. This not only helps save time and money, but also ensures appropriate due diligence.
CocoonIT's selling proposition has been customer satisfaction first approach along with the domain expertise the CocoonIT team carries across industries like retail, hospitality, distribution, FMCG verticals. Having spent significant time working in this industry, Gaurav and Ritesh are up to date with the industry changes and clearly differentiate themselves from the competitors in the consulting space.
CocoonIT's offerings include Microsoft Dynamics 365 Finance Operations, Business Analytics with Power BI & Cloud Services for Microsoft Azure. The services being offered for these products include the implementation services, support & development. The CocoonIT team also helps in providing services for complete overall process re-engineering or automation across the organization departments.
CocoonIT consistently thrives to
improve on its offerings through various reforms and latest technology upgrades. Ritesh says, "There is always a push to drive technology based unique offering to our customers and enhancing the deployments of their current IT landscape on the cloud. With new enhanced cloud offerings we were helping clients during the uncertain year of 2020 to move the infrastructure on the cloud and provide best services for managing their operations from home in terms of implementing best virtual assist solutions from Microsoft".
Meanwhile, todays clients are on the lookout for solutions & services for managing their businesses through the cloud stack and have less inclination towards building & managing solutions in their premises. "Solutions which can be managed by service providers and technology companies like CocoonIT and help client to grow in this journey are preferred and looked after across the globe", adds Gaurav Shah, Co-founder, CocoonIT.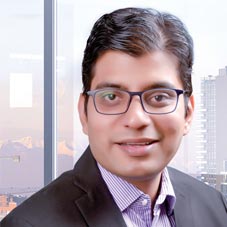 Ritesh Pandey, Director, Sales
Writing Success Stories
CocoonIT has been successfully servicing clients across industries. An FMCG company being run traditionally with no solutions for managing their inventory or financials, was being managed on custom software. CocoonIT was approached to deliver the FMCG business from its legacy systems. The CocoonIT team understood the requirements, chartered a detailed SOP, and mapped the growth plan of the organization with the best solution of Microsoft Dynamics.
Only post this, the implementation was carried out. Currently, the organization is managing its complete finance and operations on one single solution and has moved the deployment to cloud, thereby setting the stage for leveraging the next wave of growth at their end.
Prepped for the Future
At CocoonIT, there is a continuous stress on skilling new initiative technology for the teams and moving them for better challenges in their growth journey and career path with us and also for the future endeavors. In parallel, there are continuous new technology innovation and new enhancements being researched internally for providing better solutions to the customers across the globe.
Speaking on the future endeavors and how hopeful CocoonIT is for the years to come, Ritesh concludes by saying, "There has been good growth trajectory in the last couple of years. Also, the current year is opening new horizons of growth due the complete digital push by all companies for enhancing their IT landscape in order to be ready for future; should there be another distress in business, such firms want to be well prepared to sustain their business.