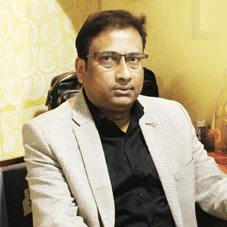 Today, the word innovation has gained momentum in every sphere of the business world. From marketing to sales, product design to manufacturing, customer service to customer engagement, almost every aspect of a business needs an innovative mind to help attain its goal while sustaining in the current dynamic business environment. Especially in the digital era, every organization cannot immerse deep into the innovation index and offer (online) services without a strategic mind. Hence, there is a dire need for industry experts to bring innovative digital transformation to an organization. In our quest of recognizing leaders who are driving success with innovation, we found Dibyendu Baral (Chief Innovation & Digital Officer, Senco Gold & Diamonds), a maven who is ensuring breakthroughs and improvements in the existing offerings at Senco Gold & Diamonds.
With befitting operational strategy and effective product innovation, Dibyendu helps an enterprise experience ground-breaking stability and success. Especially in the precious metal industry, Dibyendu is steering-up the status of Senco with fair plans for its growth. As a steward of governance, he transformed his role beyond a CIO and is more known as a culture curator, a creative leader, and an enabler.
While streamlining internal processes and boosting their business productivity, he is playing an imperative role in devising plans as per the market trends. He is helping the board to achieve their goal at minimum cost and make a long-lasting impact on the target audience. Considering Dibyendu as one of the innovative change-makers, CEO Insights engages in an exclusive conversation with him.
Take Us Through Your Educational And Professional Journey?
My association with Senco is since August 2017. However, I come with 25 years of extensive experience in digital, technology, and innovation. My journey in main stream IT industry began as a senior consultant at Tech Mahindra. Later, I worked as an Associate Director at KMPG. During my early career stint, I was operating full-fledged in software and ERP implementation in the overseas market. The managerial role at KMPG kick-started my journey of enabling digital transformation and large-scale ERP transformation across organizations.
After completing my graduation, I gained knowledge in computers by learning few programming languages. Digital Business Strategy from MIT Sloan Executive Education, Business Analytics from the Wharton School, Disruptive Strategy from Harvard Business
School, Digital & Social Media Strategy from Indian Institute of Management Bangalore, and Cyber Security from Charles Sturt University are some of the courses completed to upskill myself in the last three years.
As CIO, What Different Roles Have You Been Undertaking At Senco Gold And Diamonds
Apart from my key responsibility areas like taking the organization through a digital transformation journey and innovating products, I look after the strategies and customer-centricity. Working abreast with the CEO, achieving a defined KPI is part of my purpose.
Insisting the team to work on what they love to do is at the core of my leadership strategy
How Do You Keep Your Team Motivated To Complete An Assignment?
Insisting the team to work on what they love to do is at the core of my leadership strategy. Ensuring to experience different roles at various projects helps them to feel fresh and learn much more. Imparting inspiring vision to mould themselves and drive Senco towards the zenith is how we are achieving success of togetherness.
How Do Leverage The Extensive Industry Expertise And Experience To Chalk-Out Effective Business Operations For The Company?
In terms of technological innovations, Senco Gold & Diamond consumes technology and belongs to the user industry. On the other side, my earlier companies such as Tech Mahindra and KPMG implement technology to the brands. This experience absolutely helps to understand both sides of the coin. Today, when Senco is dealing with the vendors, I am able to suggest the right thing and enable appropriate digital transformation.
One another know-how is that digital strategy should go well with organizational strategies. Therefore, aligning the plan of action with the mid-term organization goal is my tool for success. At Senco, our leadership emphasizes focus and differentiation. We ensure to stand ahead of the contemporaries and focus on hyper-personalization for customers. As a pioneering jewelry retail brand with over 110 stores, we pick-up tools and technologies that bring immense customer satisfaction. The key is to keep the customer at the center and take them through a genial experience.
In Your Professional Journey So Far, Which Are The Milestones That Bestowed You With Utmost Satisfaction?
From village to city, from hopes & dreams to achievements and success, my entire journey is rewarding and exciting. Coming from not so privileged background to getting into the mainstream of industry and grabbing the leadership throne as CXO is a milestone. One event that I cherish the most is the migration of IT Infrastructure at Senco. While we decided to move from on-premise servers to cloud by April 2020, the lockdown declaration at the tail-end of March disrupted our operations. As a diligent worker, I never believe in plan B. The entire team and other stakeholders
worked day & night remotely and migrated to Cloud by the speculated time.

What Plans Have Your Crafted For Senco's Success? How Is The Company Gearing-Up For The Same?
Typically, any luxury and jewelry brand's day-to-day operations are inclined towards the consumers. With that said, my focus is definitely more towards the customer-orientation and experience. The first and foremost goal is frictionless interaction with clients ­ be it at brick & mortar stores, marketplaces, and/or e-Commerce sites. Co-creation is something we will continue to work on. We will also focus on crowd sourcing for various tasks such as design, concepts, ideas, and more.

How Do You Balance Your Personal And Professional Life? Highlight Your Success Mantra.
Honesty, I don't think there is an imbalance between my personal and professional life. I do what I love, and I love what I do, therefore, nothing feels like a burden. It is merely impossible to turn-off professional life and turn-on personal life as and when required. The key is to love what we do; only then it won't seem like an imbalance. This apart, adaptability and managing time according to the situation will also help. I ensure to not bring my office work home, hence avoiding work stress when I am with family.

Speaking about the success mantra, I don't go by success or failure. It's just enjoying the journey and making it more exciting each day by doing the right things at the right time. Initially, I was attached to the result of my actions; lately, with the experience, I have learned to take actions that are professionally righteous and to be responsible for the outcome(s) of the actions. My focus is not on success or failure, but on the journey. Bhagavad Gita is where I gain my strength, it drives me towards wholesome growth.

How Do You Continue To Help/Mentor For The Growth Of Budding Leaders In The Domain?
My experience has made several of the junior colleagues get in touch with me. I try to help them as much as possible. I keep their morale high and understand the issues they face. One thing I would like to suggest is to improve the cognitive ability and enhance interpersonal skills, empathy, and critical thinking. These attributes will give you an edge over others and take you forward in both personal and professional life.

Dibyendu Baral, Chief Innovation & Digital Officer, Senco Gold & Diamonds
Dibyendu Is An Open-Minded Learner Who Loves To Update Himself In All Realms -From Technology To Philosophy And Spirituality. He Ensures To Attend Webinars And Conferences, And Frequently Takes-Up Short Terms Courses From Reputed Indian And International B-Schools.

Role Model: Swami Vivekananda, JRD Tata, and Shaankar Sen (Ex-MD Senco Gold)
Hobby: Reading Books
Favorite Authors: He loves books by Charles Dickens, Yuval Noah Harari, Sunil Ganguly, and Manik Bandopadhyay
Favorite Travel destination: Maldives