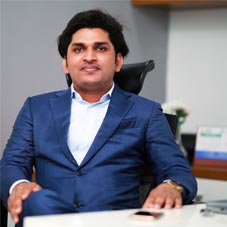 India's engineering and infrastructure industry accounts for 27 percent of the total factories in the industrial sector and represents 63 percent of the overall foreign collaborations. While by 2025, Construction market in India is expected to emerge as the third largest globally. Given the global market growth of infrastructural developments and the consequent rise of engineering and construction companies, it is imperative that the service provider communities level up their delivery approach and innovation to meet the global cross industry demands.
Standing tall at a fairly young age, DNC has left a unique footprint in various domains such as cement, power, irrigation and has been creating value additions for these sectors by constantly innovating and implementing relevant technologies. Such practices have played a major role in positioning DNC as one of the most reliable engineering and construction service providers among swarming market in India. With a humble beginning towards catering to the construction sector, DNC now has expanded to include Roads & Transportation, Energy, and Irrigation in our portfolio.
DNC has earned the reputation of being a world-class EPC, engineering & construction service provider. The firm takes pride in being one of the pioneers in the Indian infrastructure industry. Carrying forward a legacy of innovation, DNC aims for new milestones with every endeavour with a pride and determination that's 'made of steel'.
DNC is responsible for landmark projects that have put India on the global platform in terms of progress. While taking giant strides in multiple sectors executing revolutionary projects, DNC is creating opportunities for everyone.
DNC Infrastructure strives to be a new age infrastructure company that is changing the paradigm of the industry by adopting innovative technologies, benchmark quality, robust engineering and uncompromising business ethics.
DNC's efforts are directed toward changing the world through innovation, technology and integrity. Since its inception in 2013, the firm has functioned with marked distinction in infrastructure development and its related areas and has demonstrated timeless values and transparency in all spheres of businesses.
DNC values resources and believes in amalgamation of industry best practices and experienced resources. This engineering and construction service provider mogul has delivered unmatched dedication and tenacity to every challenge that came its way, and as a result, has erected unswerving infrastructure which has fuelled growth for the country as well as the world.
Goals as Explained by the Managing Director
We believe the philosophy of infrastructure development is a true reflection of nation's growth, well established infrastructure unlocks entries for global opportunities. The company is running towards to contribute in monumental development across the key verticals.
"Our primary goal behind creating DNC Infrastructure is to cater to clients with reliable quality and cost- effective solutions. Our objective is to make a significant contribution to the nation's growth by creating employment opportunities in the infrastructure domain through constantly innovating and adapting upcoming technology. With strong knowledge in civil engineering and the zest to create employment,
investment and value creation opportunities, thereby contributing to the development of the country, our team has been able to deliver projects with exceptional punctuality and quality.
Using our intellectual and managerial prowess, we at DNC, proudly claim of creating magnificent landmarks and edifices for rapidly flourishing India. Responding to the needs of contemporary society, our basic thrust has been to build constructions in every aspect of real estate for people of each strata of the signifies Naresh.
We also process of executing the acquisitions to expand into other verticals such as oil industries, Sugar factory, and manufacturing industries. Demographically, our current focus to expand our operations in Western-Europe, Middle east, and African Continent.
Construction & Infrastructure Projects
Time & again DNC has had the opportunity to prove its mettle and becoming one of the best service providers in the construction segment. The Managing Director, Naresh Chowdary gives the credit to the firm's dedicated efforts since the initial days. He adds, "As a result, we have now grown as one of the foremost infrastructure partners for our clients. A few of our commendable projects in the construction segment are the Kaleshwaram Project, Development of Residential plots of 400 acre, and Civil and Earthworks for Ultratech Cements, among others.
We believe the philosophy of infrastructure development is a true reflection of nation's growth. Well established infrastructure unlocks entries for global opportunities
The Kaleshwaram Project is one of the gems of DNC's project portfolio. This project included the construction of Annaram Barrage with radial gates, hoisting arrangements including the formation of guide bunds on either side of the barrage. The barrage was constructed across the Godavari River at Annaram (V), Mahadevpur (M), Acharya Jayashankar Bhupalpally District. It was completed in 2019 and the barrage is currently operational.
Transportation & Road Projects
Transportation and road works take the next seat to constructing infrastructure in DNC's portfolio. DNC has catered to many clients with regards to road works and has delivered exceptional quality results.
DNC's Road Network construction project involved constructing a road network for taxi and bus staging at Chhatrapati Shivaji Maharaj International Airport -Mumbai International Airport Ltd. Another significant feat for the firm!
As part of their MRIDC Projects undertaking, DNC has completed construction of Road Over Bridges (ROBs) at 5 Locations for Maharashtra Rail infrastructure Development Corporation Ltd, with a proposed budget of Rs. 110 crores.
DNC have wide diversified footprint across the verticals such as Energy & Power project, Residential projects, Construction, & Irrigation, Cement Factory, Transportation, Airports, Shipyards and Railways.
Building the Energy & Irrigation Sector's backbone
Like almost every other industry, DNC has set foot and established itself as a quality infrastructure provider in the energy sector as well as in the irrigation sector.
Completing a thermal power projects at Anuppur, DNC was responsible for the Design, Engineering, Supply, Erection and Completion of Balance Work of 2 X 600 MW Anuppur Thermal power projects at Anuppur, Madhya Pradesh for the MBMPL - Hindustan Power.
DNC also laid down their tools and expertise for an irrigation work at Bhadravathi, Karnataka for a KNNL Project.

Multi diverse verticals and significant projects
DNC ensure to execute the value addition every time while delivering the work accepted, The volume or tenure of work is not substantial, and is the key shortcut of why DNC could make distinct constructive remarks in every work that they have completed. These are the few specimens of the commitment level and command over the commitment.

The following are traces of few upright works here. Successfully completed the Ground levelling and landscaping works at HM6C with a project budget of 7.13 Crores for Hero Motor corp. Constructed a Multimodal IWT Terminal with a budget of 59.20 Crores for Afcons, Extremely assisted and completed major portions of Land development and civil works worth 25.56 Crores for L & T. Consistently supporting on Construction and civil work, DNC has completed project that is worth 11.92 Crores for Shapoorji Pallonji. Diligently delivered the completion of the project in the stipulated time with an overall project cost of 132.13 Crores for MB Power limited.

Took over the responsibility to assist in removal of over burden in this highly challenging project with an overall project cost of 822.33 Crores Northern coal fields and delivered on time as usual.

Youthful Energy, Innovation & Belief
DNC Infrastructure envisions becoming an innovative value partner in creation, development and management of sustainable infrastructure, energy, water, and services. In doing so, the firm intends to contribute to social, economic, ethical values of the society and create value for its stakeholders across the globe.

"Successfully completed the ground levelling and landscaping works at hm6c with a project budget of 7.13 crores for hero motor corp. Constructed a multimodal IWT terminal with a budget of 59.20 crores for afcons"

Naresh Chowdary, Managing Director. Goal Of Founding The DNC Infra In His Own Words.
Naresh's business is not just to focus on profits but, contribute in nation's growth, creating employment, opportunities for talent, along with social responsibility.

Taking the legacy of his father's vision to create employment for thousands of people, Naresh has always dreamt of bigger things aimed in life which are not realistically possible without honesty, hard work and aim.

Risk to reward ratio has always been running in Naresh's mind to take the unprecedent steps for his dreams of achieving big in the everevolving market.

After graduation, Naresh settled down to work in a Tier 2 MNC company for 2 years. Life was smooth and was promoted as a senior manager from middle management. From there he felt it was not part of his legacy and thought process that Naresh has aimed to be. So he started DNC with Rs. 0.32 crores and now the company is having a turnover of more than Rs. 1020 crores, growing exponentially.

Naresh's collective vision is to create 10,000 direct employments which implicate 50,000 indirect employments in the market. He is working with strong and upright team to build the nation together with a goal of achieving and delivering significant contribution towards Indian GPD.

He says, "I would like to express my heartfelt gratitude to our esteemed clientele, bankers and to record my sincere appreciation for the employees who work diligently and deliver the projects to everyone's delight. Success is my goal profit is it's by product."

Founder's Note
Our commitment is just ONE…
On time every time No compromise in quality, and be Ever reliable to our clients