Dr. Vetrivel Arumugam: Augmenting The Textile Industry Forging An Excellent Suite Of Business Skills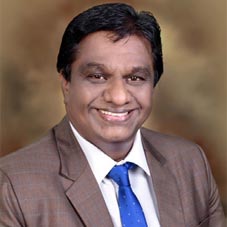 In an exclusive conversation with the CEO Insights, Dr. Vetrivel talks about his approach and his journey at Nimbark Fashions.
How did you traverse the journey from being a Shift In charge Officer to becoming the COO of a respective organization?
I have completed Diploma in Textile Technology (1983) from P.A.C.R. Polytechnic, Rajapalayam (Ramco Group). There I learnt some of the impressive life-lessons. One of the significant lessons which I have imbibed in my life is from the college days speech of the Ramco Chairman Late. Shri P.R. Ramasubramaniya Raja. His speech conjugated the three golden rules – Discipline, Education, and Continual Improvement, which I follow from then may be the reason for my achievements. His speech ignited a verve of discipline in me which actually helped me to improve my qualification and career continuously. Later, in 1995, post Diploma, I then pursued AMIE (Textile) from Institution of Engineers (India), followed by M.B.A (Marketing) in 2006, M.Phil. (Finance) in 2007 and PhD (Finance) in 2013.
1992 is an important year in my career, as at that time I was placed under Shri. N.M. Anantha Padmanabhan (EVP) at Lakshmi Mills (corporate office) as OfficerTechnical. Shri N.M.A. was the former CMD of NTC, Tamil Nadu & Pondicherry and had joined LMC, Coimbatore after his retirement from NTC. Under him, I had learned all the Corporate Governance, which helped me to attain this level.
My managerial experience started from Lakshmi Mills and continued as Factory Manager in Sri Venkatesa Mills (Udumalpet), DGM in Subiksha Spinners (Dindigul), Vice-President in Rajanarayan Textiles (Coimbatore) and currently I am working as Chief Operating Officer in Nimbark Fashions (Mumbai).
Given your illustrious career of over 37 years, what business operations management lessons have you imbibed in your approach to leading your team as COO?
My professional journey has been quite enriching. Along my career journey, I quite realized the fact that to run any firm successfully technology alone isn't sufficient. Hence, I have parallelly improved my expertise in Management & Finance purview, rather than going vertical on Technical facets.
Nimbark Fashions Ltd works on the belief that 'Innovation creates Value Addition' and it is this approach that has made it competent and progressive
There are four basic management principles that helped me for exercising better control over the cost & profit of the organizations, wherever I have worked. Foremost is the 360-degree management which teaches to bear control over all Key Performance Indicators (KPI). Second is Target Costing which delineates to exercise Lean Manufacturing for the existing product as well as designing a new profitable product, Product Mix Strategy. Third is Time-Driven Activity Based Costing (TDABC), a tool to measure the product cost according to the resource consumed and will eliminate the over or under costing of the products.
Profit of any organization can be improved without investment just by eliminating the loss-making product. This TDABC costing system is mostly adopted in US and Europe companies for enjoying profit. This can be used as Management Decision Supporting System. Last but not the least is 80/20 Principle which explains 20 percent of the product will yield 80 percent of the margin. Doing "Whale Curve Analysis" helped me in identifying the "Profit Black Hole". Every year, I will enhance the profit by developing future oriented products, to at least cover 10 percent of the turnover. This will help the company to sustain in any environment.
Brief us on the excellence of Nimbark Fashions in the current fashion industry of India. What are some of the latest technologies that you leverage and unique methodologies that you follow to escalate the growth of Nimbark Fashions?
Nimbark Fashions, a Mumbai-based company, is a renowned textile company. Its spirit of innovation has earned it the title of 'Originator of
Fashion in Fabrics' in the textile industry. It works on the belief that 'Innovation creates Value Addition' and it is this approach that has made it competent. Always looking ahead, it acquires market with rapid sampling of products.

In your professional journey so far, which are the milestones that bestowed your utmost satisfaction - both as an individual and a COO?
I have turned a loss-making spinning mill into profit making one in just a period of two months' time, in the year 2000, and it was my first independent achievement. Besides, I am an academician too. I am a visiting professor for leading colleges in and around Coimbatore and the subject covers Textiles, Commerce and MBA. "Once you stop learning, you start dying" - Albert Einstein.

They say, a man is the product of his surroundings. What role has your family and early life played in shaping you as a business leader?
Family is an important part of everyone's lives, and so is work. "We can't stop the waves in the ocean, but we can learn to surf it"… Proverb. I always accept the facts and ask myself one question "What next?". This approach certainly helps me drive to the next level. I have built the habit of reading at least one book a month of various topics. "Winners don't do different things; they do things differently" …Proverb. I balance my personal and professional life happily. Staying engaged is the mantra of my happiness.

Are you engaged in any sort of mentorship programs outside your organization? Also, how do you update yourself with the latest trends and technologies in the world of fashion?
I have benefited from delivering lectures in colleges regularly and attending business seminars as platforms to discuss current and future scenario. My lectures will cover wide topics like Profit Management, Impact of technology on Economy, Industry 4.0, Sustainability, Know your Competitors, and Employee first and so on. These interactions helped me to enhance my knowledge for upgrading myself and the company, where I am working.

Dr. Vetrivel Arumugam, COO, Nimbark Fashions
A professional leader with a diverse and stable career of over 37 years related to Corporate Planning and Reporting, Factory Administration, Profit Management, Production and Commercial Operations, he possesses expertise in number of crunching and business operations details

Hobbies: I am maintaining a small library in my house. The books are related to Literature, Technology, Management and Motivation.

Cuisines: I am a vegetarian and I like South Indian dishes.
TraveI: I like to visit Tiruchendur - Lord Subramanya Temple in South Tamil Nadu yearly once.
Youtube Search: Dr.Vetrivel Arumugam