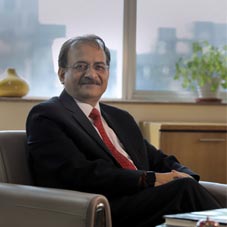 Ken Blanchard, an American author, once quoted, "Connect the dots be-tween individual roles and the goals of the organization. When people see that connection, they get a lot of energy out of work. They feel the importance, dignity, and meaning in their job". True, isn't it? Yet most of the enterprises tend to ignore the aforementioned fact. However, the truth is, organizations that actually adhere to such beliefs are the ones that undoubtedly excel in their space, and Gainwell Commosales Pvt. Ltd. (GAINWELL) is one such organization that truly manifests the aforementioned context. GAINWELL is an organization that holds a presence of almost 76 years in the industry, and for it, employee centricity and values in action have been the most important factors since its first day of operation. An expert in igniting inclusive work culture, GAINWELL's core competency lies in its strong belief system, wherein every employee shoulders each other in every thick and thin.
Established in 1944, GAINWELL is an ISO 9001:2015 certified organization and a proud partner of Caterpillar in India and operates out of East & North India and Bhutan. Apart from its employee-centric culture, the organization is renowned for creating and delivering outstanding value with integrated solutions and service excellence since its inception. Stepping into GAINWELL as its Chairman & Managing Director in 2014, Sunil Kumar Chaturvedi led Gainwell through a journey of transformation. Under his leadership, the company has emerged as a more empowered and inspired company today. In an exclusive interaction with CEO Insights, Sunil has elucidated the fortes of GAINWELL in attracting potential individuals, the various benefits offered, and many more aspects. Find the excerpts below.
Tell us more about your organization ­ Gainwell Commosales.
GAINWELL, formerly known as Tractors India Pvt. Ltd. (TIPL), is a seven decade old organization that has etched a name for itself in the construction and infrastructure industry of India. For over seven decades, our rich heritage has revolved around an impressive array of equipment that represent some of the finest in design and technology. We have built a strong reputation for quality and innovation, but have never been satisfied with the status quo. With a focus on establishing ourselves as a globally recognized, technology driven world-class solutions provider, rebuilder, product support and project executor, we have graduated from our core business of machine, engine and parts sales and expanded the horizons by enhancing our value addition. Today, we are a `Solutions Company'. We engage with multiple OEMs globally to complete our offerings to our customers in Construction Industry, Resource Industry and E&T fields.
Amongst the global dealership fraternity, we are proudly one of the oldest allies of Caterpillar and are present across Eastern & Northern India, Andaman & Nicobar Islands, Bhutan, and Nepal. Today, Gain-well-supplied products are playing a crucial role in building the nation's infrastructure, satiating its energy needs and benefitting millions.
What differentiates you from other organizations? Tell us about the
belief & culture that you follow.
We are an organization with strong beliefs, where our culture builds trusted relationships, and for us, our people come first. This is the nature of GAINWELL since its inception. We believe that our employees are the biggest strength of the organization, and the human capital that they represent is our most critical asset.
Tell us about the characteristics of GAINWELL that attract the best talents of today.
We promise a unique experience to all our employees through our Employee Value Proposition titled ­ Gainwell Circle of Growth. The main pillars that attract employees to our organization have been aligned with our people and practices in such a way that the employees feel more engaged, are more productive and are happy to be a part of the `Circle of Growth'.
We believe and practice an open door policy, wherein we address and resolve any grievance of our employees, thus maintaining a healthy balance across the workplace culture
The Circle of Growth provides exposure to global brands which helps to gain professional knowledge, respect, and pride. It commits an environment of personal and professional caring. It promotes an entrepreneurial culture to enable all employees to take the lead & innovate and also extends an opportunity of being rewarded for exceptional performance. The policies and processes in our organization are intrinsically linked with these employee experience promises, which help the individual to progress with pride in their professional journey.
At Gainwell, we put unwavering attention in the capability development of our people. The design and development of the training modules are essentially based on the competency framework, as applicable for different levels to ensure the effectiveness of the approach. The competency based learning interventions focus on the strategic imperatives of business to ensure a mutually beneficial developmental journey for both the individual as well as the organization. Our developmental initiatives are a hybrid of conventional classroom training and training on digital platform which a greater emphasis being now put on virtual instructor led training (VILT) on the digital platform.
How is hiring & retention simultaneously imparted and balanced at GAINWELL?
Besides our prime goal of recruiting the best talents, we promise to always keep them motivated with our available resources. Recruiting talent thus is based not only on competency fit, but also on value fit. However, what keeps our people to stay proactive at work is our spectrum of employee retention strategies. We are an equal opportunity employer and encourage recruiting women talent at all levels.
GAINWELL leverages a number of techniques to pamper its employees. Some of the few are sharing of success stories on social media, various rewards & recognition program, health check-up facilities, activities to maintain a better work-life balance, and scholarship for higher education. We even provide support for employees' children's higher education, thus creating and securing the future of the extended family in line of our caring and collaborative culture, hardship allowance and much more. We believe and practice an open door policy, wherein we address and resolve any grievance of our
employees, thus maintaining a healthy balance across the workplace culture. We constantly communicate with our employees through newsletters and employee townhall meetings in order to make them aware and engaged with the companies' performance and progress.
Walk us through the various benefits/facilities that employees can delight on at GAINWELL.
In order to live up to its organizational value of `Caring', GAINWELL has adopted several policies and initiatives to nurture and engage the employees. Our employees are endowed with an annual leave of 30 days leave every year, and for our underground mining employees, its 54 days/annum. This leave is over and above the sick leave entitled. Apart from this, we also provide special leaves like paternity leave, leaves for medical emergencies, and leaves for academic reasons. PF facilities along with medical insurance, term life policy, benevolent fund for supporting medical exigencies over and above the hospitalization insurance entitlement, and much more are also provided in order to support the employees in GAINWELL.
To create a safe environment for our women colleagues, a number of programs have been designed at GAINWELL. To celebrate the power and potential of the women, a meet titled `Sampurna' is organized every year. Sampurna is a unique platform that ensures that every female voice is heard, acknowledging the challenges that they face at work and creating opportunities for them to come-forth with new ideas to increase the gender diversity and chart-out a clear roadmap for making GAINWELL a more women friendly organization.
What is GAINWELL's and it employees' take towards CSR activities?
Giving back is at the heart of GAINWELL. Our social outreach initiatives supporting the causes of health, education and skill development of underprivileged communities are central to our corporate identity and define how we do business. Our CSR efforts are not merely spending money for discharge of our responsibilities, but more importantly, they represent a collective article of faith which we aspire to live and uphold every moment of our life. Our belief in giving back also enables our employees to reach-out to the ones who are rarely given a chance. It allows them to be change-makers and lead sustainable changes in the community.
Sunil Kumar Chaturvedi, Chairman & Managing Director
Sunil brings relentless focus on creating value to every GAINWELL endeavor. He joined the organization as its Managing Director and CEO in 2014. Since then, he has been leveraging his experience and skills to growth GAINWELL. Prior to GAINWELL, Sunil was associated with Bharat Forge as the Executive Director & Chief Operating Officer for five years and has also served a long tenure of 20 years in the Indian bureaucracy as an Indian Administrative Service officer.
Offices:
Kolkata (Head Office), Noida (Regional Headquarter) with a presence across 108 locations.
Offerings:
Products, Parts and Product Support for Caterpillar, FG Wilson, thyssenkrupp, SEM, SITECH, Tulip, Marini, Eickhoff, Phillips, RHAM , Ontrak, Resemin, Elphinstone, RPMGlobal, and Highwall.