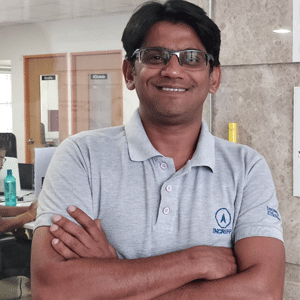 The capitalization of e-Commerce business induced convenience in consumer's shopping experience but simultaneously plagued brick and mortar stores, especially in retail segment, steering in them the need to revolutionize their operations. As online platforms operate on the motif of keeping customer as the king, it is high time for retailers to turn their attention towards customer's needs and embrace technology proactively. Discerning the need of revolutionizing offline retail and fashion space with technological solutions, Rajul Jain(Co-Founder & CEO) laid the inception of Increff in 2016 with focus on bringing technology and data-driven decision making in operations for retail and fashion brands.
Along with Romil Jain & Anshuman Agarwal (Co-Founders) onboard, Rajul succored offline retailers with two intelligent technological platforms–IRIS & ASSURE. Since inventory is the crux of retail, the triple maven designed these enterprise products to induce efficiency, improve sales velocity of inventory and predictability of sales. Explicating Increff's revolutionary platforms, Rajul shares with CEO Insights the company's incredible journey and how the ace startup is concocting participatory yet transparent work culture for its workforce.
How is your experience and business acumen instrumental in Increff's inception?
Post my graduation from IIT Delhi in 1996, I worked in textiles industry for nearly ten years and later cofounded Yebhi.com (India's first major fashion e-Commerce company) followed by heading supply chain at Myntra. During this time, I learned how technology solves problems in e-Commerce space and can be used as a tool to bring-in efficiency for remaining non e-Commerce players. This was the genesis of how Romil, Anshuman & I decided to start Increff and revolutionized offline retail market.
Elucidate on Increff's unique proposition that makes it outshine the competitive edge.
We developed two flagship products – IRIS and ASSURE, with the motive to make inventory more efficient.
While IRIS fundamentally helps merchandizers take far more accurate and real time decisions about a) what, how much and when to make our source b) what inventory to showcase and when at each and every store. Given that fashion is extremely complex category, IRIS adds huge value by enabling granular data-driven decision making. Till now, this is being done via excel sheets which is highly inefficient.

"As we position ourselves as premium tech-products provider, our products have impacted our clients businesses, who have seen highjump in their revenues and margins"

On the other hand, ASSURE is a fulfillment platform for warehouse management system that takes away the need of physical automation and instills digital automation. Here, technology takes all the decisions, eliminating chances of human errors and showcases single view of inventory to all sales channels. Instead of fragmented inventory, the platform allows room for consolidated inventory and improves inventory efficiency drastically.

What strategies do you deploy to ensure maximum customer satisfaction & quality delivery of your services?
As we position ourselves as premium tech-products provider, our products have impacted our clients' businesses, who have seen high jump in their revenues and margins. Our products bring lot of intelligence, accuracy and speed in decision making and operations. Earlier, brands and retailers were skeptical about adopting technology. But now, most believe that it will play a very crucial role to remain ahead in a very competitive environment. Within a short duration, we have clients like Puma, Reliance, Myntra, WROGN, Mango, ESPRIT, Ruf n Tuf, New Port and more.

When it comes to enhancing in-house operations and quality deliverables, we leverage latest technologies such as Java spring hibernate architecture for back-end operations and single page architecture like Angular/jQuery for front-end execution. We have processes and org structure in place which delivers B2C type of customer service to B2B customers.

What is your mantra for striking right chords of work-life balance and instill collaborative culture?
Our culture is of paramount importance to us. We have an open, transparent and participatory culture where everyone is encouraged to take decisions. We have built a culture where democracy doesn't hurt speed of decision making and execution. We have very few HR policies and we believe that
key roles of HR have to be played each and every employee.

We have dedicated budgets for training and recreation where employees themselves decide what to do with it within small set of guidelines. Besides regular meetings, we constantly engage in informal talks and conversations. All hands meeting, which we call as 'chai pe charcha', is organized once in two weeks for discussing anything and everything related to INCREFF. We have very simple yet effective way of doing bi-annual 360 degree appraisal.

How are you constantly innovating your platformto stay ahead in today's competition?
We believe that innovation is the only way to win and be always ahead. We constantly innovate not only our offerings to clients, but also our internal operations. We are already building next versions of our IRIS and ASSURE platforms. Will soon be launching pure SaaS version of IRIS platform which should revolutionize the way merchandizers and planners work today. Automation is key to us. In fact the most important KRA for everyone in the company is: How good you are in automating your own work.

What opportunities do you foresee for Increff's growth & how are you strategizing your actions to scale-up your profitability & revenues?
After successfully proving the model in India, we are now focusing on Global expansion. India itself is a huge market for our products, but we aim to be a global dominant player. We have entered into partnerships with various organizations and people to help us in our business development across globe.

We are already acting on our next three year plan forlaunching more products. We will be automating quite a few elements on supply side of things for same customers via various SaaS products. Focus is on growth. Profitability can be achieved when ever we want after a year. We envision becoming a multi-billion dollar company in 5-7 years from now.

Key Management:
Rajul Jain, Co-Founder & CEO
An innovation-driven enthusiast, Rajul spearheads strategy, business development, funding and hiring at Increff. He constantly engages in informal sessions with his personnel and drives team spirit among them.

Headquarter:
Bengaluru

Enterprise Products:
Increff IRIS (Science of Merchandising)& Increff ASSURE(Web based Fulfillment Platform)