The ever-growing IT industry is highly inclined towards Charles Darwin's evolution theory: Survival of the Fittest. In truth, ruling the IT services industry is hardly a handful of organizations, the A-team, which reside at the cutting-edge of all of the emerging technologies across the world. A constituent of this A-team IT club, iSAP Global Solutions – a global IT solutions provider – today is transitioning from an SMB to Enterprise with an increasing focus on the government & public sectors.

iSAP has its core-competencies in delivering projects that are diversified into Hardware, Software and Networking within IT space, including the facilitation of the Platform, Network Software, and Power Electronics products. The project delivery also incorporates solutions such as Hyper-Converged Infrastructure, Virtual Desktop Infrastructure, and Office 365. With iSAP, something that prevails as profound as its commitment, impeccable quality, and excellent turnaround time is its customer-centric service approach. Additionally, iSAP is also best known for its Pre-Sales & Post-Sales service with no alteration in commitment, consistent follow-ups, and timely responses. The company has a very high conversion rate.

Today, iSAP is looking forward to conquer non-IT stream as well, by diversifying into HR, ISO 9001 and CCTV Surveillance camera market with a promise to excel its specializations. CEO Insights Interviews the men behind this success – Peters Peter, Founder & Director –India & APAC Operations, iSAP Global Solutions, and Charles L M, Co-Founder & Director – ANZ & APAC Operations, iSAP Global Technology Solutions Pty Ltd.

How has the journey been so far?What are the challenges that you encounter while constantly maintaining the quality and timely delivery of your services?

Peters: The journey has been profusely heading in the right direction. After few challenging bottlenecks and roadblocks in the initial phase, we have been a host to several big achievements. We overcame the challenges by building long relationship through Quality Services, while TAT being one of the prime focuses.

We seek to deliver world-class services to all our customers with less downtime by ensuring that we have the buffer or an adhoc headcount to cover the bandwidth, whenever there are critical issues to resolve on priority. By constantly meeting the business deadlines, we were able to grab several MSP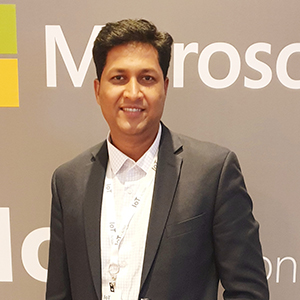 projects based out in the Middle-East and ASEAN region. We take pride in the fact that some of them were channeled to us through word of mouth – recommended by our long-term customers.
We seek to deliver world-class services to all our customers with less downtime by ensuring that we have the buffer or an adhoc headcount to cover the bandwidth
Recognized as a strong & reliable ICT Solutions Provider in ASEAN Region, what opportunities do you foresee in the current managed services market, and how are you molding your company with respect to this?
Charles:
We want to revolutionize our business in this growing market, converting challenges into opportunities. Having clients who have a global presence, operating different geographic locations, we are keen on delivering uncompromised quality. We are transitioning from SMB to enterprise, focusing more on government & public sector projects, back-lifted by our widespread offerings and capabilities.
Are you coming-up with any innovation or up-gradation to enhance your existing managed services portfolio?
Charles:
Considering the need for quick-fix with the downtime, we need to have a robust automated system which can work regardless of any environment. From ticketing system to SMS alerts, we want to
drive everything into the Cloud, giving all access to our team-members as well as our customers getting real-time updates. We definitely want to also focus into other streams of our business acumen, to optimize full potentials of our abilities in driving key strategies.

What is the future roadmap set for your company? How are you updating yourself with the latest technologies/industry trends in order to make iSAP reach its future goals?

In the long run, we want to definitely compete with our biggest competitors across all regions as we are focused to go global in a widespread propaganda. Especially with the futuristic technologies like Cloud, IoT, AI and ML, we want to ensure that we are always scaling-up our capabilities to new horizons. With us currently operating in three geographic locations, we want to multiply across other regions (mainly in U.S., UK, China & Hong Kong regions) through building partnerships and collaborations to have win-win negotiations.

Key Management:

Peters Peter, Founder & Director – India & APAC Operations

A technocrat with rich experience in the ICT industry, Peters comes from a diversified IT background. He has an excellent track record in designing the ICT Infrastructure solution, execution, project management, managing ICT operations and leadership, while quality driving business to achieve business goals.

Charles L M, Co-Founder & Director - ANZ & APAC Operations

A technologist with a strong passion to excel in the field of IT, Charles has worked for top notch IT Fortune 500 MNCs with an excellent proven record in Infrastructure related projects, implementation and deployment in driving business acumen with true leadership. He is a strategical technology chief in Innovation.

Offices: Bangalore (Headquarter), Singapore, & Australia

Offerings:

Product:

Platform Products
Network
Software Power Electronics

Services:


Hyper-Converged Infrastructure
Virtual Desktop Infrastructure
Office 365