Kakatiya Energy Systems: A New-Age Technology Company Engaged In Offering Intelligent Lighting Controls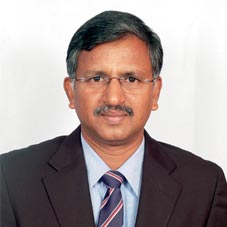 Advancing in every sphere by triumphing the innovating technologies competently, India is gradually evolving to a smarter and renewed version of itself by adopting the concept of 'smart city'. To highlight this ground-breaking ingenuity of the Indian govt. which is just another step towards making the lives of its citizens easier and flexible, many organizations are bravely extending their support by introducing smarter technologies in the Indian infrastructure market. One such name is Kakatiya Energy Systems(KES) which is a new-age technology company engaged in offering intelligent lighting controls for energy efficiency in lighting. The pioneers in innovative lighting control based on patented sensing technology and state-of-the-art electronics, KES is currently offering the latest communication technologies for internet-based smart controls.
CEO Insights engages in an exclusive conversation with P R Lakshmana Rao, Managing Director, Kakatiya Energy Systems to know more about KES and its determination to change the landscape of modern India through innovative and attractive modern lighting technologies.
Tell us about Kakatiya Energy Systems (KES) and emphasize the exceptionality of the brand as a frontrunner in the lighting industry?
Incorporated in the year 1999, Kakatiya Energy Systems (KES)has been the pioneer in implementing patented sensing technology for automation of outdoor lighting. KES is specialized in the manufacture of lighting controls using advanced and innovative patented technologies that offer energy conservation and automation. With a vision to change the way people interact with their lights, KES is leading the way in providing interactive smart controls for lighting with state-of-the-art technologies by successfully developing in-house products and implementing novel sensing technologies unknown and unheard to the world, acting as the foundation of this company. Following ethical practices while dealing with stakeholders, KES always engages in productive
activities offering real value addition to society. It not only encourages innovation and rewards for productive contributions of organizational participants to sustain relationships but also practices good corporate governance in letter and spirit so that the company can grow on a global scale.
Moreover, under the aegis of Bureau of Energy Efficiency, Ministry of Power, and Government of India, we were assigned a CRISIL-BEE Grade 2. From March 20, 2020, the grading is valid for two years.
The pioneers in innovative lighting control based on patented sensing technology and state-of-the-art electronics, KES is currently offering the latest communication technologies for internet-based smart controls
How is KES working over the latest trends in the lighting industry? What is the USP of KES which makes it stand apart in the industry?
Long experience in the lighting industry and vision for the future has enabled KES to develop expertise in the applicative technology areas of light-sensing, advanced electronics, electrical switching operations, signal processing, selective spectral responses, low light detection, advanced wireless communication systems, internet-enabled interactive devices. Automatic sensor based electrical switches that are immune to artificial lights were introduced by KES under the brand Nature Switch. Every year more than 55 Million Units of electricity are being saved by Nature Switches globally. Top of the line control systems with globally unique and patented technology holds key to the growth of KES.
Highlight the range and distinctiveness of the products prepared by KES.
Our product offerings for intelligent switching range from stand-alone sensor-based switches to interactive web-based solutions. The range of stand-alone products is based on light-sensing technique coupled with a microcontroller-based duration clock to automatically control the outdoor lamps. We provide switches that will independently switch ON at dusk and switch OFF at dawn for applications like street lighting and variants that can be turned OFF in
the middle of the night with timer-based logic for applications like signboards for increased saving. The standalone products are also offered along with the power contractor for load switching and MCB/MCCB for protection. In-built voltage protection to the load increases the lifetime of lamps being operated in turn reducing maintenance costs. Additionally, internet-enabled solutions are also available for controlling eachlamp independently or a group of lights. With multiple switching modes, remote energy meter reading and interactive charts and graphs for real-time control and preventive maintenance. We also offer products for IoT applications in sectors like Elevator Control, Motor Control, Aircon Control, Fire detection, and more. All the integrated products are offered along with controllers equipped with remote communication capability based on wireless communication for monitoring, analysis and control of the devices.

How are the distinctive products ensured by KES impacting the environment? What is the future roadmap of the company?
KES is an electronic products company focusing on innovative technology-based products having a societal impact. The company has developed and commercialized automated switching devices along with a range of products to automatically control outdoor lamps like street lights, campus lights, signage lighting and more along with automated Meter reading. With the remote systems, the company has entered into IoT business and is regarded as a pioneer in the field of innovative lighting controls, based on its patented unique Infrared Sensing called Nature Switch. These products directly benefit the environment by helping in the elimination of wastages in the use of lighting without compromising on lighting and effectively assisting in energy saving, energy efficiency and energy management. The company has obtained a patent; TM and three patents are in the process of including an EP. Maintaining a YOY growth of 100 percent from FY 2014-15 to 2017-18 KES is aiming at similar growth going ahead.

P R Lakshmana Rao, Managing Director
The promotor of the company with more than 30m years of Industry experience, P R Lakshmana Rao founded Kakatiya Electronics which commercialized Auto Dipper for automobiles, prior to promoting KESPL. Under his guidance, the Company has dedicated teams for Mechanical, Plastic, Tooling and Designs along with in-house IT teams to work on Web Application development, Database Management, User Interface and communication Protocols.