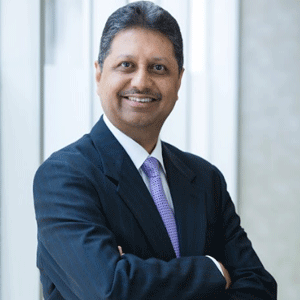 Everyone has a success story. What's yours? Please share in detail for our readers.
After completing my Chartered Accountancy, I joined Rallis (a Tata Group company) as an Internal Auditor and then moved across to Group Treasury. Given my forte was always accounts and not the treasury; this was not a smooth transition. But I have always believed in challenging myself and stepping up to meet any responsibility. My role in the Group Treasury required me to be aggressive as I was dealing with multiple banks and bankers. I was also fortunate to have spent a great deal of time working internationally during my stint, most frequently in Israel, dealing with Israeli businessmen who are known to be tough negotiators.
My journey with the Piramal Group started within the Group Treasury function. However, within eight months, I had the opportunity of interacting closely with and working directly for the Chairman - Ajay Piramal. Since then, I have had the pleasure and privilege of working closely with him through all the ups and downs of the Group – be it the difficult textile days, the restructuring of the business, the days of the financial crisis post Lehman, the turnaround of the real estate private equity business, or eventual scale up of the financial services vertical (PCHFL).
After a few years spent within the Treasury function, I expressed a keen interest to join the real estate business of the Group. Our Chairman gave me the opportunity
to become a founding team member of one of the first few real estate private equity platforms in India (Indiareit Fund Advisors). I worked with Indiareit for a period of two years, raising money for them both in the domestic and international market. Subsequently, I moved to lead a joint venture development company called Piramal Sunteck Realty as the Executive Director. This exposed me to the bricks and mortar world of real estate development, which was extremely enriching as we completed a few projects across various geographies. In 2010, post the sales of domestic formulations business to Abbot, our Chairman decided to start a Real Estate company – Piramal Realty and I had the opportunity of working closely alongside Anand Piramal (son of Ajay Piramal) for a few years.

"I have always believed in challenging myself and stepping up to meet any responsibility"

In September 2012, after a management change had taken place in IndiaREIT, I moved back as the Managing Director of the business, given our fiduciary relationship with over 9,000 investors needed to be prioritized. This started a journey that has been bothpersonally and professionally fulfilling and continues to date. Along side the private equity business (Indiareit), which was rebranded to be called Piramal Fund Management, we also set up an NBFC called Piramal Finance Limited to create a proprietary lending business. Both these arms were later integrated into a single platform in 2014. This reorganization served as the single most defining USP for the business and its subsequent growth. In combining the debt and equity business, the company was able to provide perpetual capital to real estate developers across the entire capital stack. Over time, apart from real estate, we also diversified into other sectors to provide customised funding solutions to companies. This was mainly the non-real estate vertical called Corporate Finance Group. In addition, PCHF also set up a vertical called Emerging Corporate Lending team to address the financing requirements of small and mid-market companies on a sector agnostic basis. In 2017, PCHF announced its foray in Housing Finance. With this, the company is now building out on its retail capabilities and I am confident that we will disrupt the home loan marketplace. Today, the business extends across a combined AUM of more than Rs.52,000 crore and makes a substantial contribution to the markets we operate in.
With the benefit of hindsight, I always attribute my success to the confidence that our Chairman had placed in me and the subsequent opportunities that allowed me to challenge myself and achieve something extraordinary. And all of this wouldn't have been possible without my team, which over the years has been instrumental in converting our vision into reality.

What inspires you? Also, what is your motto?
I believe in keeping an open mind and being flexible in my ideas. Change is the only constant in life. Often, alongside your journey, you will encounter situations, ideas or people that will require you to change the blueprint you began with but it can also help you grow and open your mind to new possibilities. The younger generation today must seek to challenge the norms constantly as I truly believe that limitations only exist in the mind and can be overcome with sheer will and tenacity.

The Piramal Group's values of Knowledge, Action, Care and Impact guide our culture and are also personified by our purpose – 'Doing Well and Doing Good'. In the same mould, I would encourage the youth today to take a very long term view when starting out in their professional lives and careers – your work ethic/conduct /integrity must be prioritized above all else as it is the only thing you will leave behind as your lasting legacy.

Your leadership advises to young entrepreneurs who look at personalities?
I have always believed that the most important advice that can be given to the younger generation is to be true to themselves; to not to act in haste and take the wrong path, to be ambitious but humble, and to have the courage to say & do what they truly believe in, even if others try to discourage you. Stay true to your values & beliefs and remember that the path is never easy. Believe in yourself, build a long term vision and work towards it consistently, passionately, and with an overarching sense of purpose.

Key Management:
Khushru Jijina, Managing Director
Khushru is a Chartered Accountant with an illustrious career spanning across three decades in the field of real estate, corporate finance, and treasury management. He has been with the Piramal Group for close to two decades.

Headquarter:
Mumbai
Offering:
Non-Banking Financial Services