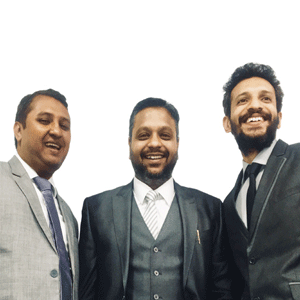 The mid-90s exhibited some unstable elements associated with laissez faire while the banking segment was still in its nascent stage. By 1990s, however, the Indian financial sector witnessed a sea change characterized by calibrated financial deepening and liberalization. While this transformation continues to fetch scores of economical growth and stability, wealth management players like LadCo Crest carves tailor-made financial investment and planning solutions for maximum market dividends on investments. Founded in 2014, the brainchild of Piyush Jain & Prem Shankar Ladha(Co-Founders), LadCo places its clients at priority while the team of 22 mavens exercise all their efforts to align the company's services with customer's requisites.
Right from resource identification to service planning, this Bangalore-based company offers an array of solutions for wealth management, asset & loan engagement and insurance planning. The scenario under which the company operates is one for all and all for one, thus merging company, customer and human capital outlook in one direction. In an exclusive conversation with CEO Insights, Piyush and Prem explicate the changing financial industry and how LadCo Crest is leveraging this opportunity to deliver niche monetary management solutions.
How are you aligning customer's financial management needs with your services and what are your strategies to leverage this ever-changing economic scenario?
The foremost task is to safeguard clients'investments from market momentum and fluctuating sentiments. Though government policies hit the income scale directly, the availability of industry
consultation makes it easier to achieve financial stability. Imbedding this approach as LadCo's stratagem for client servicing, we provide customer-oriented services and value added benefits while allying with the changing scenario. This helps in bridging products/services gap and incorporating complete financial solutions on one platform. Further, the interrelated cords between accounting, wealth management and investment creates a positive layout that attracts new clients and accords space for better servicing.

We offer an array of services starting from equity broking, equity products, mutual funds, PMS, AIF, Structured products, insurance and insurance advisory to mortgage planning and loans. Right from bookkeeping to tax filing and investment management, we have expertise in delivering optimal advisory and distribution services making it one-stop-shop for all financial solutions. By dividing our modus operandi into ideology and implementation, we are establishing long-term relationship with the clients.

What are your methodologies to deliver holistic and informative experience to your customers?
LadCo's research team bring on-board comprehensive ideas, more likely formatted advisory that enables client to invest in suitable products/services, the execution of which is supervised by its operations team. While for mutual fund investments, we formulate a list of recommendations through extensive research and circulates them among the advisory team for further feedbacks. Additionally, investment awareness programs conducted for mid-segment corporates (employees) including TCS, Tech Mahindra and EFD, to name a few, helps them gain thorough knowledge about various financial instruments.

Provided that loan and mortgage vertical demands meticulous understanding of proposals, LadCo's in-house experts render comprehensive information to clients for multiple loan requirements. The insurance segment, however, is managed by a team of two endowing complete counseling for health insurance and term insurance which is service-based only. It's a gap analysis practice for us, leveraging which we advise clients on how they should manage their finances. We understand the weak points in
client's finances and try plucking them out with suitable products/services through LadCo's offerings.

How are you leveraging advanced technology and what opportunities do you foresee in today's industry for LadCo's sustainable growth?
We emphasize on building a tech-centric, paperless organization. LadCo's mobile app 'LC Wealth' enables customers to track their investments and processes including online transactions, investment portfolio, logins, financial calculators and scheme performance, to name a few. This integrated dashboard allows ease of operations, strengthens clientele trust in us and proves convenient for both, the clients and the company. Hence, the delivery of structured, consolidated service and holistic experiences just a click away.

Noting that Indian audience is shifting towards wealth management and financial planning services, we envisage building more resources for client management on our technological platform and proffer convenience upgradation along with value additions for property management and legal services. By hiring more relationship managers for personalized discussions, we are trying to free an individual from his financial planning concerns and create space for concentration on core responsibilities. With this family office structure, we are sure to join smaller families' strings with financial services.

Key Management:
Piyush Jain, Co-Founder
Enjoying a reputed resume with Religare Securities(PCG)and HDFC Bank on list, Piyush implements resilient business strategies to keep LadCo abreast with market modifications.

Prem Shankar Ladha, Co-Founder
With seven years of profound experience in technical analysis & research, Prem has strong insights of market makeshifts and ideates robust solutions for scaling client's stability with economic growth.

Offices: Bangalore(HQ), Erode & Mumbai
Offerings:
• Wealth Management
• Financial Planning
• Alternative Investments & PMS
• Direct Equity & Derivatives
• Mutual Funds & Commodities
• Life Insurance & General Insurance