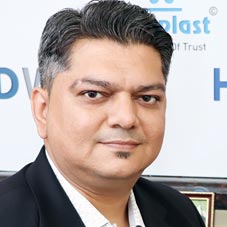 Milan's story is hugely about his vision, beliefs and a disciplined approach. An engineering graduate with an MBA, Milan kick-started his career with ICICI in the early 2000s. Global experience was always in his bucket list, which drove him to have a short stint in Africa when an opportunity came knocking. He soon came back to India and resumed his corporate career with TCS. In 2013, he marked a milestone by realizing his entrepreneurial dreams by joining a management consulting firm as a consulting partner. With the matchless experience his new role offered – identifying the reasons for stunted growth of organizations,
especially SMEs and eventually reinventing those companies itself with well-defined growth trajectories – he discovered himself alongside the ways in which he could add value. By the year 2015, he was ready for a new challenge. Milan joined Walplast as its business head, and everything that followed was about driving the hitherto unchartered territory. As he adjoined a whole new dimension to Walplast's business model, the company recorded a growth of over 80 percent within just three years. Milan assumed the CEO's office in 2018, adjoining a golden feather to his hat. CEO Insights engages in an exclusive interview with Milan.
Joining Walplast must have unlocked a new set of challenges right away. What were they and how did you tackle them?
The first and foremost challenge was acceptance by the founders, which has no shortcut other than contributing to tangible growth. Alongside, in a bespoke manufacturing organization like Walplast, growing a sales culture and developing an infrastructure was another challenge that I had to come through. My experience in management consulting was something that acted as a boon in this journey, while I could also bring my convictions to life.
My experience in management consulting was something that acted as a boon in this journey, while I could also bring my convictions to life
What are the current roles that you play in the company?
If my role was initially about firefighting and reviving the business, now I am responsible for contributing to various aspects of the group like growth, finding stability amidst the turbulence in the manufacturing industry, and constantly bettering our 'tomorrow'. In addition, my role majorly pertains to mentorship and building the leaders of tomorrow – TODAY!
While the industry is passing through its transitional state – from unorganized to organized, framing strategies in our favor however remains my core responsibility. Focusing on government projects and restoration projects is a part of that strategy. For the past many years, people have only built things; now it's time to restore them.

You must be having busy schedules on a daily basis. How do you maintain your work-life balance?
To be honest, that's a tough question to answer. The lion's share of credit goes to my wife and family. I do travel a lot, but they have been really supportive. In fact, it took some time for my family to sink in the truth that I have decided to quit a stable career and am going to take-up entrepreneurship. To be precise, the initial reaction was: 'Are you serious?' But once I was aboard, they saw the happiness on my face and their support ever since has been ceaseless and unparalleled. I take pride in saying that my organization has always been there to support me as well. It's another pillar when it comes to having that balance in life.

How would you describe your future roadmap?
We are constantly socializing in the industry to leverage more of the advent of technology. Our plan is to move forward with strong technology integration.

Milan Thakkar, CEO
A Bachelor of Engineering from University of Mumbai and an MBA from Pune University, Milan started his entrepreneurial journey as consultant-partner in a management consulting firm. Having joined Walplast as Business Head, his management skills elevated him to the company's CEO post within just three years.

Favorites:
• Hobbies: A passionate runner and also loves to read books pertaining to management and leadership.
• Food: A foodie, he likes simplicity in his food and 'Thali' is his favorite.
• Travel Destination: A water-loving person, untouched beaches around the globe are his favorite destinations.