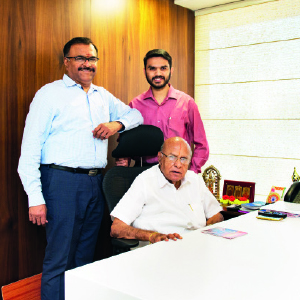 N. Anjaneyulu Chetty
Chairman
Indian mores and Indian Jewelry depict a better love story than Romeo and Juliet. The trails probe into the ancient beaded jewelries found in the 5000 years old ruins of Indus Valley civilization. Though the designs and staples have undergone sea changes over time in parallel with the cultural diversification, our country hasn't lost that crush on Jewelry even today. Construing into numbers, India's gold demand grew by 9.1 percent in 2017 to hit 727tonnes, against 666tonnes in the previous year. As constant as innovative designs remain the crowd puller, the mass market upholds its deep rooted sentiments towards legacy brands such as NAC Jewellers - a Jewelry group based out of Tamil Nadu, boasting a legacy of more than a century.
The epilogue of NAC's story takes us all the way back to 1917, when N Narayana Chetty started at 1972 with a small jewelry business at home, and fashioned handmade jewels for a few loyal patrons, which after a decade led to opening a shop. Third generation entrepreneur, N. Anjaneyulu Chetty (Chairman) founded the brand-NAC Jewellers in 1973, and his son AnanthaPadmanaban (Managing Director) who joined NAC in 1979 transformed the small store into a chain of jewelry showrooms across Tamil Nadu.
Today, after four generations and hundred years, the Young Turk, N. AnandhaRamanujam (Director) is on a mission to take NAC towards new destinations across the country. Within five years from his joining, he has already shouldered the organization beyond Tamil Nadu. Ananda's endeavors are back boned by business excellence & knowledge gained from his stellar academic career that spans across top
universities such as Loyola College - Chennai(B.Com), University of Glasgow - Scotland (Master of International Business and Entrepreneurship),and GIA - California (Graduate Gemology). CEO Insights indulges in an exclusive interaction with Anand.

" We have no secret recipe, but a culture of delving deep into the customers' desires and constantly delivering quality Jewels imbued with great designs capable of touching their heart"

What has been the strength of the organization to abide over such a long period while the trends change almost every week?
We have no secret recipe, but a culture of delving deep into the customers' desires and constantly delivering quality Jewels imbued with great designs capable of touching their heart. We keep innovating, striving to provide our customers with something new every time. We have carved array of innovative designs over the years including switchable (six in one) Necklace, kids' jewelry collection (The Young Ones), affordable diamond Jewelry collection (Stylori), and lightweight work-wear collection (Brezee) to name a few. We are pioneers in this segment with Gold, Silver, Diamond and Platinum Varieties.

Apart from this, we always endeavor to impart additional value to our customers. We were the first showroom to sell a set of five products in MRP, in addition to being the pioneers of designing silver plates and silver lamps in house. Furthermore, we recently broke the sentiments of diamond jewelry in 18 carat gold, and started offering diamond jewelry in 14 Carat gold.

There must be some collections, which are favorites of your customers! What are the latest trends coming out from the NAC's manufacturing unit?
We take pride in our genuine antique (80-100 years old) collection - Rewind, which is one of our flagship offering, besides 'Kanakadhara'(2-8 percent wastage) and 'Muhurtham' collections. One of our latest designs is Mayura, a tale of complete 40 different designs
inspired by Peacock, which indulged in a remarkable response. We used a form of liquid enamel to accentuate the product.

How has been the structuring of your in-house in alignment with an ever growing demand and need for innovation?
Engendering such mind blowing designs for us is an expert team, which is an amalgamation of professional expertise (from NIFT) and local talent bringing immense know-how & amazing sense of design. It's quite appreciable the way they align with the organization's vision of bestowing its customers with best quality and value for money. Apart from our own manufacturing unit, we have a lot of manufacture units which work exclusively for us, though we don't own them. On the delivery side, we have 11 showrooms spread across Tamil Nadu and Andhra Pradesh.

Considering that the Jewelry demand in the country is currently on one of the best growth curves, how do you envision the future?
The industry is transforming. People look for lighter weight products with best quality and a lower price. Thus, light weight design has always been one of the areas where we keep experimenting and innovating. Most interestingly, the big boom the industry has been expecting is e-Commerce. We have always been ahead in leveraging technology to good use, and we keep improving our online business.

When it comes to expansion, we are all set to open our second showroom in Andhra Pradesh. En route to the future, we will be moving forward with the flow, while the focus will remain on taking one step at a time.

Key Management:
N. AnandhaRamanujam, Director
A graduate from GIA – one of the premier gemological institutions in the world, Ananda brings in insight & know-how of modern trends, and he backs it up with his deep rooted passion towards traditional Jewellery.

Location: Chennai(10 showrooms)& Andhra Pradesh (Vijayawada).