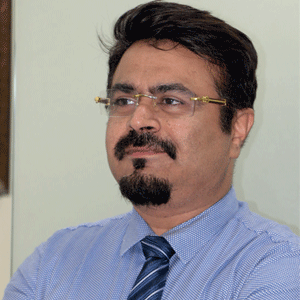 Chairman & Managing Director
A visionary leader with willful and progressive personality, Nimish has always been inclined towards innovation & technology and is confident that there is no age limit to be a student. A strong proponent of information sharing, Nimish has recently been invited to speak at the 2019 Horasis India Meeting, to be held in Segovia, Spain.
Nimish G. Thakkar is a self-made entrepreneur in the truest sense, who had a very humble beginning at the age of 19 when he started a medical distribution company with a mere sum of Rs.5,000. Albeit his entire journey was full of struggles, highs and lows, Nimish's 'never back down' attitude and passion for making it big kept him going. A challenging but victorious journey paved his way towards an illustrious career as the creator of Zuvius Lifesciences, a Mumbai-based leading research-based Pharmaceutical company that focuses on the super-specialty segment of anti-cancer formulations.
Today, Zuvius is among one of top three companies renowned for its wide range of products (around 106 products in the oncology segment and 40 supportive products) and consistent availability. With three consecutive National Awards and two international awards, the company now stands tall as one of the major players in the anti-cancer drug segment and a trusted brand name among healthcare professionals & patients worldwide. In an exclusive conversation with CEO Insights, Nimish shares the peaks & valleys of his journey, the role his experience has played in chiseling him and his thirst for learning. Here are the excerpts:
You became your own boss at quite an early age. Kindly tell us what inspired you to take this path.
Born in a business family, entrepreneurship has always been in my blood. As Pharmacology was my passion, I decided to merge both together. After completing my Pharmacy from Kundanani College of Pharmacy, I stepped into the outside world to start my career. My encounter with the corporate world outside further fueled my fire of starting some thing of my own, as I was determined not to be a part of that world.

"I learnt that no experience is irrelevant, and every incident/ person has a lesson to teach"

Being a fresher, I faced many rejections, but I promised myself I will do something big one day. Eventually, I started Nimish Medical Services, a medical distribution service firm with just Rs.5,000 and the dreams to make it big. In no time, the distribution company grew big and was catering to specialty products like cardiology, immunology, gynecology, oncology and more. When I realized that Oncology was one of the segments with very few players and inconsistent product line, I decided to tap the opportunity in this niche segment. That's when Zuvius Lifesciences was born.

Kindly throw some light on how your 20+ years of experience in the industry has helped you in your journey so far?
I honed my entrepreneurial skills while I was in my distribution business. Interacting with different people from all walks of life helped me develop the ability to listen, which is an important but much underestimated skill. During those days, my interaction with patients, doctors and company made me understand their requirements and goals clearly – a knowledge that helped me in my manufacturing business & better product placement. I learnt that no experience is irrelevant, and every incident /person has a lesson to teach. It has helped me in my difficult times to make a better judgement.

Briefly explain how do you churn-out efficient business strategies for Zuvius Lifesciences?
Zuvius' strength is its core team of people with expertise in diverse subjects ranging from finance, marketing, management, and technical to scientific faculties. We stand by the ethical approach and follow regulatory norms religiously. Product quality is sacrosanct to us. With our focus on the super-specialty product line, Zuvius specializes in chemotherapeutic formulations offering a diverse array of innovative solutions and therapies.

As a leader, I encourage innovative ideas from all the employees in the firm. These attributes have won us several national and international awards.

You ventured into entrepreneurship when you had just begun your family – a time when personal responsibility mostly takes-over professional needs. How did you manage to balance both the worlds and how supportive have been your family towards your entrepreneurial aspirations?
As I never wanted to go back to the corporate world, failing wasn't an option for me. Understanding my vision and mission to do something big for me and the society, the family took all responsibilities on to themselves leaving me with enough time to learn, explore, innovate and make it big in the world of pharmacy. Thanks to them, Zuvius today needs no introduction and is well-known for its innovative solutions. I am a stern believer of quality lifestyle and I ensure to promote the same to my family and my employees.

Self-rejuvenation is as important as constant learning. How do you treat them both?
To me, they are parallel. Playing badminton rejuvenates me as much as mastering new concepts and innovative technologies. I love to learn something new and I keep researching the topics that interest me the most. Though I visit different expos, conference and workshops, meeting people is one of my favorite things to do and also the best way I keep myself updated. If anyone approaches me with something new, I am always receptive to their ideas and more than willing to guide the, young entrepreneurs.