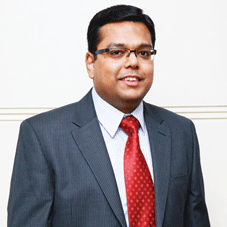 Under the aegis of Niraj, Saksoft has completed five acquisitions from sourcing to completion of the transaction. The acquisitions of these five specialist organizations have provided the company with a faster 'Go-to-Market' in certain untapped market segments and eventually organic growth year after year. Headquartered in Chennai (India), Saksoft today has 14 offices across the USA, Europe and Asia is home to over 1100 people. CEO Insights engages in an exclusive interview with Niraj to further explore his endeavors with Saksoft.
You have completed five successful acquisitions with Saksoft. What were the strategies adopted? I bet it was an unparalleled experience.
Yes, it was. Any M&A is only as successful as the success of its post-transaction implementation. I am proud to be playing a crucial role in the seamless integration of acquired companies to the parent entity. The 'String of Pearls' strategy has not only helped us grow
consistently over the past few years but has also given us a blueprint for the future road map.
I have enjoyed this journey and my evolution from handling just the finance function to becoming a group CFO and managing multiple functions like treasury, multi-currency operations, tax, legal, compliance, regulatory, M&A, operational &organizational performance, investor relations, and much more.
A true leader's attitude/ambition will be higher than the resources available. These leaders always devise their strategy to achieve their goal irrespective of resources at their disposal.
In your professional journey over the last two decades, which are the milestones that bestowed your utmost satisfaction - both as an individual and a CFO? What was the take away?
I would rate a couple of initiatives as my favorites. The first one would be the acquisitions that I completed at Saksoft. It gave me a very different perspective on how to strike a deal with the seller. What I have learnt is that in a deal, unless the seller and the buyer are benefited, the transaction will fail. Also, we need to have a defined value and not get desperate.
Converting the support function from a mere cost center to a value addition/ profit center ensuring that team members contribute in a way to the profitability of the company by optimizing costs and eliminating in efficiencies was another instance. I am a firm believer that a true leader's attitude & ambition will be a step higher than the resources available. Those leaders always devise their strategy to achieve their goal irrespective of resources at their disposal.
What are some of the latest accounting & financing technologies that you leverage to benefit the organization?
The indigenously developed advanced analytics tools and extensive use of ERP & CRMs play a major role in quick decision making. Since most of our tools are integrated, this has helped in error-free accounting and faster turnaround. To access data anywhere & anytime and ensure BCP, we leverage Cloud and mobility
solutions. Besides, outsourcing certain functions (such as payroll processing) ensures the use of specialists and having cost efficiency in operations.

We also have a dedicated research team, which tracks legal & regulatory policy changes in national and international trade regimes that can have an impact on our businesses. I get all these near real-time updates on my iPhone.

Managing finance means a lot of stress, skill, and time. How do you manage to balance between your personal & professional life?
I work with a simple concept 'work while you work and play while you play'. I take pride in my team that makes my life easier. However, my weekends are completely blocked for spending quality time with my family and friends. I frequently sneak short vacations with them. I'm still in touch with my school friends and I have never missed our December school reunions.

Family plays an important role in every professional's life. How has been the support & inspiration from your family in your journey so far?
I couldn't have achieved what I am today without the support of my family. Preethi (his spouse) is a homemaker and has front-ended the responsibility of managing the entire house and kids, ensuring there is enough time for me to focus on the professional work. My professional life that calls for unannounced and frequent travel, the comfort of thinking that someone back home is managing the day-to-day affairs like a child's play is beyond words.In fact, my better half is a great source of inspiration for me with her multitasking abilities. Also, there is so much learning from my kids too. The way new age kids think and handle situations & circumstances is very different from what we would have done twenty-five years ago.

Key Management:
Niraj Kumar Ganeriwal, CFO
A commerce graduate from D G Vaishnav College Chennai and a Chartered Accountant with about 20 years of experience, Niraj started his career with EY(India & US), and later joined a Pharma company as a Finance Controller prior to joining Saksoft.

Offices: US, UK,India and Singapore

Favorites:

Mobile Apps: Outlook, Microsoft Teams, Hangout, Moneycontrol, XE, WhatsApp, News Apps and LinkedIn

Hobbies: Listening to music and going on long drives

Food: A foodie, Niraj loves vegetarian foods, deserts and Chinese cuisines