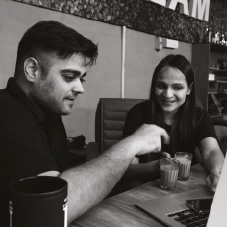 It's a great omen that we are finally retreating from the 'Chemical-Age' at least in the world of Lifestyle products. This in turn has big time opened the doorway for alternatives like Ayurveda, making its global market post a potential future that would be worth $9.7 billion by 2022. The report also says that around 80 percent of Indian households use Ayurvedic products. Undeniably, it offers an increasing competition to the established modern brands. Creating a niche for itself in this populous market by blending the power of both worlds is POSITIVE an umbrella brand from the house of Donna FMCG, catering to all well being needs of customers. Having launched its first product only a year ago, POSITIVE boasts of a wonderful anecdote that elucidates the amazing aftermaths of amalgamating modern ingredients with Ayurvedic & ancient ingredients. The brand today celebrates the happiness of more than 200,000 happy customers.
Under the aegis of young turks Akshay Dua (Founder & CEO) and Tanisha Pant(Co-Founder & CXO ), POSITIVE has been excellent at reading the consumer behavior & mindset and molding their product strategy accordingly, thus giving the brand an immediate identity. To further explore the inside stories of this emerging brand, CEO Insights engages in an exclusive conversation with Akshay & Tanisha.
What was your inspiration to launch into such a populous market?
We started our operations with a mission to revolutionize the personal care industry. We aim to bring a positive difference in the well being of the people through our varied product portfolio. Wellness starts with selflove and POSITIVE will make you fall in love with yourself, once again!
Wellness starts with self love and POSITIVE will make you fall in love with yourself, once again!
POSITIVE, unlike any other brand, was not introduced to be forgotten in the long run. We're here to build brand value; value for every single customer who uses our products. We look forward to becoming a one-stop-shop for building a better lifestyle.
What makes your products unique?
The satisfaction of customers makes our products unique. We are always focused on solving the problems of our customers by not just talking about it, but actually figuring-out solutions through our products. For instance our flagship product: 'POSITIVE Root Therapy plus Advanced Onion Oil' is specially formulated with the goodness of pure red onions procured from the lush green lands of Karnataka, with proven essential oils and extracts. The 100 percent pure hair oil helps in promoting hair growth cycle for any adult and improves the quality of hair. We are overwhelmed with the market response.
You have a leaf in your brand logo! What does it signify?
Our logo signifies the essence of our brand. The leaf depicts the presence of natural elements, as all our products are nature inspired. This simple yet powerful logo connects with customer's mindset, which of late has developed an affinity towards more organic & chemical free products.
How do you source the best quality ingredients for your products and how do you ensure that the same quality is kept intact till it reaches the customers?
Research and Results are our two Rs. Our R&D team works really hard to select and procure the best quality ingredients from across the globe. We also do sample testing as well. Our facilities are equipped with state-of-the-art manufacturing machineries that require minimalistic human intervention during the production and packaging process. We also have a multilayered quality assurance process.

Going forward, how are you planning to mold your brand and its products in accordance with the consumer demands?
Our target audience is anyone who is above 18 years of age. As a growing brand, we're ready to mold ourselves the way our customers want it. Within a year of launch, our customer return percentage is measured at 55 percent. No matter what changes the customer needs, we're ready for it.

'Beware of monotony it's the mother of all sins'. True that! Innovative products do takeup a keen place in the customer's subconscience wish list if marketed well. But for us, consistency comes prior to upgrade. We have a vision of 'Har Ghar POSITIVE'(Every Home a 'Positive' Home), where we aim to reach the lives of millions of people and remold their lifestyle. We are determined to impact the lives of people by bringing a positive difference that they love, and had always dreamt of.

KEY MANAGEMENT:
•Akshay Dua, Founder & CEO
•Tanisha Pant, Co-Founder & CXO

Offices: New Delhi

Products:
•Positive Root Therapy+–- Hair Care
•Positive Skin Therapy+ – Skin Care
•Positive Aromatherapy – Essential Oils
•Positive Everyday – Everyday
•Positive Men – Products for Men