Leaders who have reached the pinnacle of success have one thing in common –"Imparting confidence and rising as a game-changer while lifting others." Such business stalwart who believes in the wise words "Alone we can do so little, together we can do so much," is Pradeep Nenumal Lala, the most impartial 'constructive' critic, MD & CEO of Embassy Services. Right from the time he was pursuing mechanical engineering and MBA, leadership & mettle was deep-rooted within him. From the point of being Manager at Ingersoll Rand to establishing Horizon Airtech - one of the largest distributor of compressors manufactured by Ingersoll Rand, and today, outshining as a well-versed Chief Executive of Embassy Services, Pradeep always proved to be the best. It is the hard work, dedication, and determination that made him climb the success ladder and stand as an inspiration for many.
As a leader with a foresighted vision, Pradeep enjoys finding solutions to problems and believes in streamlined processes that impact efficiency and productivity positively. Speaking about his success journey, Pradeep says, "I quote a popular nugget by Ben Hogan on golf, "The Most Important Shot in Golf is the Next One". The 3 decades of my professional life has been about looking at the horizon and taking that next important shot." The career began at Ingersoll Rand where post-employment he seized the opportunity to become their channel partner for which he founded the Horizon Group in 2000 and established a strong leadership for the company so it could run independently. In 2013, he embraced his role as the Chief Executive Officer at Embassy Services. Leveraging professional skills & potential, he worked his way up and became the winner of "The Best CEO of an Integrated Facilities Management Services Company' 2018-19" by the Marketing Maverick.
The Steward of Governance
Embassy Services is a leader in the IFM industry. The organization is a trendsetter within the business fraternity. With over 170+ clients and 70+ million sq. ft. of property under management, it is one of India's largest and most trusted integrated facilities management players. All this growth wouldn't have been possible without the governance of Pradeep Nenumal Lala. He anchors ESPL's growth both as a business visionary and industry expert. Under his stewardship, ESPL has steadily expanded its services portfolio by adopting technology-driven best practices. Pradeep drives the firm's footprint through genuine service that builds client relationships. "Our pan-India presence across commercial, industrial, warehousing, co-working spaces, retail, hospitality, and other segments gives us a unique opportunity to deliver operational efficiency, environmental sustainability, and engaging experiences. Most importantly as
the management, we take action with integrity, proactivity, and trust. Our core purpose is driven on values of 'customer-centricity and 'futurefirst.' We leverage our strengths in technology and experience managing owned assets to meet the goals of the organization," he remarks.
Team Efforts to the Path of Glory
The valuable strategies from Pradeep reap win-win situations for people, organizations, business ecosystems, and society. With his ability to communicate an inspiring vision, design effective business modules, and make the employees feel they matter, he forms an accurate picture of a true leader. He believes in strong leadership, a stronger team, and effective communication between all parties, and insists on the fact that any success achieved is truly a collaborative effort.
"At ESPL, I am responsible to fulfill our ambition to be a preferred brand in FM services by building strong client connections and a winning team to accomplish our mission. I am proud of the incredible talent we have brought together to make it possible. Embassy Services is also the proud recipient of the Sword of Honor from the British Safety Council and managers of LEED certified properties which make our processes and practices globally acceptable" he informs cheerfully. "Over the last 25 years, Embassy Services has grown into a corporate giant with a distinct identity of its own. The one thing I have learned is that to be a successful leader, you need a strong team. I strongly believe in being available for my team when needed and I follow an Open-Door policy. We are also a family knit organization so, over the last few years, there are times where I have even played the role of father, brother, and friend."
Under the leadership of Pradeep, Espl's focus will be on technology, spreading the reach in the industrial & warehousing markets and spanning the activities to other regions
He further adds, "With the right blend of management and operation strategy, financial planning and risk management, we as a team have been able to bring perspectives that help us work and grow seamlessly."
Standing by the Clients during the Pandemic
"If you take care of your employees, they will take care of the clients" - these profound words of Richard Branson have inspired Pradeep to a great extent to pamper his workforce with a vibrant, hygienic & healthy workplace. With this, the dextrous team working with this perfect leader is taking away all the hassles in servicing the clients.
When the whole world was taken back by the pandemic, Embassy Services made its utmost efforts to serve its clientele. "Our approach towards trendsetting can be acknowledged by our presence at the forefront of the COVID battle. Despite the challenges, we have stood by our clients and our people to extend safety, hygiene, and security round the clock. This in itself will create a ripple of opportunity for us and the entire FM sector," he mentions.
Milestones in the Journey to Success
One of the major milestones for the organization is the completion of 25 years in service. In the span, the company has inculcated unimaginable innovations and became the market leader. This was coupled with Pradeep's personal receipt of the Embassy Group Chairman's Award – one of the highest honorary of the Embassy Group. "Both achievements have been a collective effort of my team which is an even bigger win. This also came along with other medals from the Times Group and Confederation for Indian Industry for excellence in Facility Management," remarks he.
Family: The Backbone of Success
It is true that family plays an important role in every person's life. It is their support that boosts us to achieve more without having to worry much and relax when we are back home. "The greatest sacrifice my family and I made was when I chose to move to Bangalore. It was a challenge to live separately from each other, but they have always supported me and I go back as often as I can to visit them. It has been an adjustment, but we always power through. I believe balance is essential to our overall wellbeing. I try sure to spend as much time in leisure despite tight work schedules," he concludes.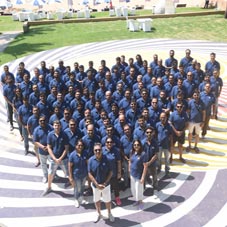 Personal Front
Pradeep is an ardent golfer with a passion for thoroughbred horses. He also enjoys reading and traveling. As the saying of APJ Abdul Kalam - 'The essence of a happy life and a peaceful society lies in one sentence - what can I give?', he is actively involved in CSR initiatives for giving back to our society.
"I love listening to music. Nothing like kicking back after a hard day sipping on some wine and listening to classic rock! I also enjoy sweets and street food from the city of Mumbai. While my usual holidays lead me straight to the beaches of Goa, I also enjoy visiting London for its liveliness and would love to explore more of Eastern Europe for its astounding art, culture and architecture."
Wise Words
There are times when a strategy is at the forefront of making decisions. These strategies can be applied from real-life situations as well – not everything can be learned in business school. There is a lot more that you learn by experience, by talking to those more knowledgeable than you and learning from mistakes. These are all forms of growth that play different roles and can be tapped into for insights for different situations.
You have to know when to make aggressive decisions, assess risks, and always have a plan-b ready to deploy. Ultimately, you must be responsible for your team. As a business, one of the things you need to constantly keep an eye on is the numbers. You cannot make a smart deal without being strong with your numbers.