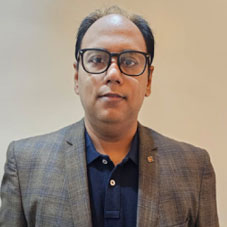 The University of London is widely recognized as one of the finest academic institutions in the world. Since its founding in 1895, the university has consistently produced some of the most renowned figures in history, including some from India. Praphul Sinha is one such recognized person. An IIT Patna Alumini, Praphul founded Slash Discounts in 2021 after realizing that local businesses were losing ground to online retailers despite a proliferation of online coupons, promo codes, and cashback offers. Praphul received an overwhelming response when he approached some of the local stores with the idea of a rewards platform that required no extra work on their part. He launched Slash Discounts, a rewards app with multiple categories for frequenting reputable neighborhood businesses. He makes a single, straightforward guarantee: customers will never pay full price at any of their affiliated businesses.
Engaging in an exclusive interaction with CEO Insight's magazine, Praphul Sinha, also an IIT Patna alumni, spoke about Slash Discounts' journey so far and the position of the firm in the market.
Give us a brief overview of your professional background and explain the motivation behind the creation of Slash Discounts.
Having a background in e-learning, I started my professional journey 19 years ago and immediately entered the software industry after receiving my engineering degree. I quickly stepped into leadership positions and advanced to the position of technology leader, managing sizable teams and interacting with stakeholders to identify the critical success factors for projects. My mindset was shaped by this early exposure, which enabled me to succeed in various professional contexts. After gaining experience in a number of businesses, I made the decision to go into business for myself and co-founded Slashter
Technologies, formerly known as Slash Discounts. A credit card reward experience for UPI (Unified Payments Interface) transactions was the inspiration behind Slash Discounts. I wanted to encourage UPI payments because they lacked incentives by providing rewards based on transaction volume and value. I wanted to create a platform that could integrate neighborhood shops as partner merchants and launch targeted marketing campaigns to increase their sales as UPI payments are expanding quickly. I aimed to develop a business model with minimal burn and pursue profitability from day one by offering value-added services and earning from merchant partnerships. My lofty goal is to bring every merchant in India onto our platform and turn it into a profitable business within the first year. We are diligently developing our engineering and platform to support this vision because we think this dream is realistic.
With a focus on being lean, frugal, and digitally advanced, Slash Discounts aims to capitalize on the ongoing market transformation
Also, tell us about your university academic experience and how these lessons have helped you so far.
I had the opportunity to explore various leadership models and their applications, particularly in the context of video content, during my time at university. I gained knowledge of transformational, democratic, and contemporary leadership models and realized the necessity of adapting my leadership style to various situations. In consumer-heavy industries, leadership was essential because it aligned with the need to effectively serve customers, internal employees, and external stakeholders. I realized that leadership styles should vary depending on the situation and role. I learned how to navigate multiple layers of stakeholders with varying levels of power and influence. Using data, statistics, and decision making skills, I was able to influence stakeholders and ensure their participation in the successful completion of projects. These leadership abilities are not typically taught, but they have proven invaluable throughout my journey.
Could you explain Slash Discounts' unique value proposition?
The distinctive value proposition that Slash Discounts brings to the table is centered on the provision of a rewarding UPI transaction experience. Slash aims to provide incentives for UPI payments, similar to how credit cards offer rewards for spending. The emphasis is not only on the transaction itself but also on the business's marketing technology. Slash Discounts is a marketing technology company that utilizes coupons, reward points, and cashback to create a robust customer rewards and recognition system. Offering the best rewards and discounts to users is central to the business model, making it an attractive proposition for customers. UPI serves as the payment method, but the ultimate objective is to incentivize every UPI transaction, even if not made through the Slash app. To accomplish this, the company is constructing an AI-driven platform to facilitate the seamless integration of rewards across all types of transactions.

What are your future aspirations?
The future outlook for Slash Discounts in the market looks promising, especially in UPI-heavy regions like Delhi and Mumbai. The market is rapidly embracing digital transformation, creating opportunities for the company's expansion. The long-term vision is to onboard every local merchant in India onto the platform, enabling them to run their businesses more effectively. With a focus on being lean, frugal, and digitally advanced, Slash Discounts aims to capitalize on the ongoing market transformation and become a key player in the digital rewards and marketing tech industry.

Praphul Sinha, Co-Founder, Slash Discounts
Praphul Sinha is a distinguished engineering leader and engineer with expertise in a diverse range of technologies in multiple industry settings. Having more than 19+ years of demonstrated success, he manages and builds startups from 0 to 1 and then takes it to 10.

Quick fact
Hobby– Reading biographies, collecting pens(has more than 5000 pens)
Favorite Cuisine– Indian
Favorite Book– Enigma by Robert Harris
Favorite Travel Destination– Goa