The role of CFO in an organization today is more important and more complex than ever before. By perceiving the 'big picture', CFOs are in a unique position to help businesses understand and predict the way outcomes and trade-offs for any strategic decision can impact growth under multiple scenarios. It takes drilling down to granular details. In this situation, experience and walking ahead of the curve are the buzzwords. An ideal combination of both is Rajesh Bhatia, Group President (Finance & Accounts) & CFO, UFlex Ltd. – the world's leading player in polymer plastic and India's largest flexible packaging solutions company. Amalgamating his intrinsic inclination to travel ahead of the trends with his three-decade strong experience that spans across Finance, Commercial, Business Development, Mergers & Acquisitions and Managing Businesses, Rajesh goes beyond conventional metrics like margin, operating cash flow and revenue to drive more strategic business decisions by diving deeper into data and information.

Before joining UFlex a couple of years ago, Rajesh had an overwhelming career across industry leaders Reliance Industries, Dalmia Cement (Bharat) Limited, DCM Shriram Industries, Oswal Chemicals & Fertilizers Ltd. and Jindal Steel & Power Limited (JSPL), and played a key role in the growth of JSPL – right from its formation to making it a $12 billion+ asset based company. Prior to JSPL, he served as the Director of Finance at Oswal and helped the company through a significant turnaround to venture into new business initiatives. In truth, Rajesh today lives up to his reputation, contributing significantly in UFlex's exponential global growth. CEO Insights engages in an exclusive conversation with Rajesh.

You had an exciting journey over the last three decades. What inspired you to join UFlex and how has been your journey so far?
UFlex is the indisputable leader in India in Flexible Packaging, and globally, it is the third largest manufacturer of BOPET films. The company has grown tremendously in other global locations and is a truly trans-national company. The vastness of the business being present across the value chain of flexible packaging offers remarkable opportunities and challenges. That's one of the predominant things that got me excited about the company. Besides, the strong leadership led by our Chairman Ashok Chaturvedi, who is a first generation entrepreneur and a self-made man, inspired me to be a part of UFlex' success journey.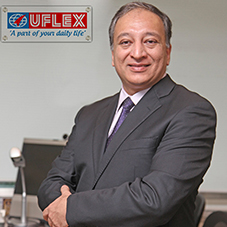 As a CFO, my constant endeavor is to turn business risks into opportunities for growth and profitability which requires a much closer integration between strategy and risk thinking
As you know, a CFO is not just a CFO today, but a growth enabler. How are you responding to this new age challenge?
Yes, a CFO today plays a key role in strategy formulation and implementation. This requires leveraging real-time data from multiple sources – both internal and external – to support decision-making and drive growth in revenues & profitability. The ability to think holistically across these diverse data sets, including macro & micro-economic factors, competitors, market & Board's expectations, as well as past performance, can add specificity to discussions about defining the company's future growth direction. Obviously, this also leads to well-informed decisions regarding resource allocation, spending and capital management.
Besides, as a CFO, my constant endeavor is to turn business risks into opportunities for growth and profitability which requires a much closer integration between strategy and risk thinking. This apart, I am also on constant look-out for opportunities in M&A to enhance growth, profitability, and stakeholder value. By the virtue of holding such an important portfolio in a company with worldwide operations, it is also imperative that I stay on top of the trends and developments not only in the packaging industry but also on whatever is happening globally that could have any bearing on our company and its operations.
Fundraising is an important subset of every CFO's role, and you have managed Rs.50,000 crore JSPL treasury. How do you leverage that rare and demanding experience?
I consider myself fortunate to manage treasury that's amongst the top 12-15 treasuries in India. Once you are managing that size of treasury, you probably know all the lending institutions or they will know you and this has helped me to build strong relationships at all levels across banks and financial institutions globally. This apart, I have managed quite a few JV partnerships. I say that flexibility in structuring is the key to success in managing large treasuries. At UFlex, I follow the same principle when it comes to structuring a financing deal. Besides, I strongly believe that as CFO, one should be absolutely honest and forthright in dealings with stakeholders. I am always ready to sacrifice a deal if it is not in the interest of stakeholders. This is the only way you can build a sustainable credibility, which will ultimately make your organization respectable.

Do you have any advice or suggestion in mind for budding entrepreneurs in your domain?
With my limited knowledge of the packaging industry, I can say that it is highly competitive and R&D driven. Currently, we are experiencing consolidation in the packaging Industry with some of the entrepreneurs who had ventured into packaging, now realizing how competitive the industry is and are looking to exit. My advice to all the new entrepreneurs is that they must do a thorough diligence, build a good team and be absolutely passionate.

KEY MANAGEMENT:

Rajesh Bhatia, Group President (Finance & Accounts) & CFO, UFlex
An industry veteran with an experience of three decades, Rajesh is responsible for developing the group's strategic financial policies to streamlining capital structure, economic forecasting to risk assessment, supervising corporate governance & regulatory compliances to mitigation, and much more. He also spearheads the Investor Relations, M&A, Information Technology and Corporate Communications among other pertinent functions of the Group.

Hobby: Watching Cricket
Cuisines: Indian (Mughlai), Chinese, Italian, Japanese and Thai
Travel Destinations: Switzerland and Austria