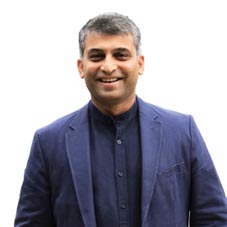 Rajesh Shah, Managing Director, Evolve Energy Group, a solution provider for solar power solutions and solar water heating solutions, is equal parts a thorough sportsman and a dynamic business leader. Often indulging in a game of cricket or badminton post work, he believes that sports can teach an individual critical lessons such as the importance of diligence, discipline, team work and leadership. Bringing these facets of being a thorough sportsman to the 'businessverse', Rajesh has built an organization that is an industry leader and a trail blazer in the solar energy industry.
A commerce graduate by qualification, Rajesh manages strategy and growth at Evolve. Since solar energy products require to sustain through long time periods and must undergo harsh weather conditions, he lays strong emphasis on rendering the best quality of products & solutions to clients. In an in-depth conversation with the CEO Insights, Rajesh speaks to us about the various factors that have contributed in making Evolve Energy Group an accomplished player in the Indian solar power industry.
How did Evolve Energy Group come into being? Take us through the various roles you play at the organization?
I belong to a business family which has been involved in the heavy engineering industry for several years. Since a young age, I was exposed to the complex amalgamation of mechanical, electrical, hydraulic and electronic engineering, which eventually propelled me to develop a keen interest in the solar industry which was comparatively simpler. Circa 2007, our company was looking to expand into environmental friendly and sustainable avenues. We ventured into the solar energy space in 2009 and formally founded Evolve Energy Group in 2011.
I play a major role in designing the
strategy for our organization. My primary focus is on fine tuning our products, enhancing our product portfolio, bringing on board new technologies, signing-up new projects and bringing-in new principals for the firm. I also contribute to strategy building and act as a trouble shooter for various departments. My aim is to ensure that every process across divisions functions smoothly and adds to the growth of the entire organization as a whole.
In your opinion, how does Evolve Energy Group cater to the various needs of its clients in the solar energy space?
While foraying into the solar energy space, we identified that several customers were finding it difficult to source quality IP panels that suited the requirements of the solar industry. While several organizations were offering these products and solutions from a generalized perspective, the specific knowledge was missing. Therefore, Evolve Energy Group focuses on having a 360 degree vision of the entire space and can cater to every need of clients pertaining to solar energy.
Our foundation has been built upon our wide distribution division which focuses on procuring the best products and technologies from across the globe
Our foundation has been built upon our wide distribution division which focuses on procuring the best products and technologies from across the globe. We work with the segment leaders from countries such as Germany, Korea, China and Singapore, among others. We also ventured into manufacturing products for the solar energy industry, which has helped us attract more clients since we are able to offer them a packaged solution covering solar panels, solar invertors, solar structures and solar complainer boxes.
Manufacturing structures is another lucrative area that we ventured into in order to strengthen our 360 degree vision of the industry. A dedicated unit was set-up for manufacturing aluminum structures, which has helped us become a one-stop-solution provider in terms of
products. Given our vast knowledge and experience in the field, we are able to deliver high quality projects at reasonable costs to all our clients.

How is Evolve Energy Group's journey evolving along with the needs of the industry? Can you throw some light on the various achievements that the firm has amassed recently?
In keeping with the expectations of the highest quality associated with Evolve Energy Group, we have launched our brand Evvo that includes solar heater, solar invertor and solar panels. The brand garnered tremendous response across the market, and we successfully delivered 3,000 inverters last year, which is a record in the Indian market. Given our strong quality, service and customer support capabilities, we count some of the largest companies as our clients.

Our firm recently executed one of the largest and most advanced solar rooftop projects in India for LG Electronics, Noida.
Additionally, Evolve Energy Group also contributes towards strengthening the solar energy ecosystem as a whole. We have launched ASTARA (Advanced Solar Training & Research Academy) that intends to train EPC companies across India for delivering quality solar projects. The academy trains engineers to be site ready and empowers them with the know-how to install projects sans any mistakes.

You have provided us with a peek into the professional aspects of your life. Introduce us to a few facets from your personal life.
My strongest support throughout my entrepreneurial journey has been my wife who works alongside me and handles a department at Evolve. She is also the emotional anchor of the entire family and provides me and the children with the love and encouragement that we need.

Rajesh Shah, Managing Director
A commerce graduate from qualification, Rajesh leads strategy and growth at Evolve Energy group. The astute business leader functions as a trouble shooter across all division of the firm and ensures a smooth sailing for all.

Favourites:
• Vacation: London & Switzerland
• Sports: Cricket & Badminton
• Hobbies: Watching TV series on streaming platforms