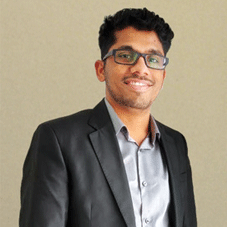 "When health is absent, wisdom cannot reveal itself, art cannot manifest, strength cannot fight, wealth becomes useless and intelligence cannot be applied,"~ Herophilus. But in today's fast paced world where time crunch sits just next to us, we usually neglect or do not have time to take care of ours and/or our beloved's health. Hence, there is an increasing need to integrate technology into healthcare service to ensure it reaches the last mile. Especially in countries like India that has huge disparity between the urban and rural areas when it comes to healthcare, such measures are necessary to ensure that people have access to their fundamental rights of better health.
Filling exactly this gap is Rx365, a Bangalore-based online healthcare service provider that was founded with the sole vision of 'giving back to the society'. Under the headship of Rajeesh Rajan (Founder & CEO), the company is serving both urban and rural areas to ensure optimum health at their doorstep. In a detailed conversation with CEO Insights, Rajeesh discusses about the company, its uniqueness and the change it brings in the life of its customers.
What inspired you to incept Rx365? How are you bringing a change in people's life through your company?
Many of us suffer due to unavailability of healthcare services at times when it is required the most. The trauma that is created in our life due to this short coming is reverberated throughout our lifetime. Hence, we came-up with the idea of quality healthcare services at door step, where our customers can avail our services on time at very affordable cost.
Our country still lacks proper healthcare regime, especially in the rural areas where the transportation of medicines and other facilities akin to doctor consultation still remains a herculean task. This was another factor that inspired us to incept Rx365, as we believe in a healthcare system where medicine
is available not only to the people who can afford it, but also the weaker sections of the society. Hence, we offer huge discounts on all sorts of medicines that are genuine and from the best manufacturers. We currently have two lakh products and are increasing the count every day after closely monitoring the new product quality. To ensure affordability, we are weaved in collaboration with key health system partners to apply the technology that can achieve these changes.
We at Rx365 aim at improving the revenue generation for Pharmaceutical companies by linking the demand of end-users to the supply by these companies
How do you bridge this existing gap apart from providing medicines at discounted prices?
Our busy schedules usually take us away from better healthcare. Hence, we bring the healthcare services at the customers' doorsteps, whether at their home or work. We are spread across the country, thereby enabling our customers to reach us anytime, anywhere. This way, we are changing the conventional ways of availing medical services, thus making it easy and hassle-free. For that we are just a click away.
We put customers at the 'centre' of care and services. We utilize the technical advancements to provide the best healthcare services by alliancing with their medical service providers in their proximity. Our services are focused not only on regular customers, but also on the weaker sections of the society. We directly deal with pharma manufacturers/ suppliers hence, we don't have any middle men between us thus making our offerings affordable.
Where are you positioned in the healthcare services industry of India, and how do you ensure to leverage the best of emerging business opportunities?
With the upstream pharma companies and the downstream markets transforming the supply chain and pushing-out the middleman, pharma suppliers are facing a wide array of challenges in generating revenues because of a rigid distribution system in India and the limited convenience offered to the end customers in obtaining the
medical products. Additionally the industry is contending with intense competitive pressures, which is indicative of its volatility.

We at Rx365 aim at improving the revenue generation for Pharmaceutical companies by linking the demand of end-users to the supply by these companies. We also aim at creating more demand in the market for the products sold by these companies through our various marketing endeavours which will directly impact their annual turnover and profit margins.

Kindly tell us about you and your team's expertise that helps attain such success.
I have over 13 years of experience in software industry and have worked in development, database and people management. This experience definitely helps me identify the best technology solutions for my dream venture. Also, my team of well qualified pharmacists, engineers, industry experts and doctors further ensures that each request is handled properly. Every request is assessed and verified through multiple levels and making sure it is fulfilled on time.

How do you keep yourself and your team abreast with the latest developments in the industry? How are you gearing-up for the future?
Learning is a never ending process and is an integral part of our entire team. I spend a good amount of time learning the current healthcare industry and its mode of working. As a team, we are always working to become a better version every day. My team spends enough time in doing R&D to make ourselves updated and satisfy all the requirements of our customers.

We are working towards being the one-stop-shop for all healthcare needs, and our vision is to become the best service provider in the industry. To achieve this, we are constantly mentoring our team to be equipped with the latest technology, which helps us meet the increasing demands of customer satisfaction.

Key Management
Rajeesh Rajan, Founder & CEO
Having 13+ years of work experience, Rajeesh uses this expertise to frame solutions for the healthcare sector that are the need of the hour.

Office: Bangalore

Offerings: Digital Healthcare Records, Second Opinions, & Home Delivery of Medicines & Solutions