Shankar Sharma Of First Global: A Disruptor, Bringing A New Secret Sauce To The Global Wealth & Investing Business: Science + Conscience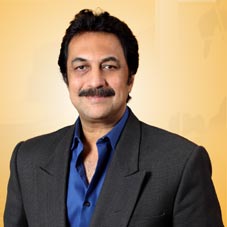 First Global, founded nearly 30 years back, by two young MBAs, in their 20s, Shankar Sharma and Ms Devina Mehra, both ex- Citibank, disrupted the Broking industry back then, offering top quality investment research, of a level, depth and integrity unheard of in India and Emerging Markets.
Now, they are repeating the same Strategy in the Investment and Wealth Management Business, worldwide and in India.
Their deep sense of ethics, combined with the most advanced Proprietary Investment Tech in the world, has put First Global into a unique category of Investment & Wealth Management firms globally: a firm that doesn't care for its own bottom line: it cares only for its clients'.
In an industry driven by rampant mis-selling, abounding selfish interest, and shoddy, inexpert advice rendered by people unqualified to do so, First Global has stood out, through its neutral, unbiased, deep- data driven investment tech.
In an exclusive interview with CEO INSIGHTS, Shankar talks in detail about First Global and their operations, in India and globally.
How do you help clients meet their financial objectives? Also, what are the various challenges that your clients usually come up to you with?
We understand all the pain points cliens have, deeply. And we understand the Investment Game inside out.
Our Global Funds finished in the Top 2 percent of Global Funds, in 2020. We beat folks like Jim Simons and Ray Dalio's Funds in 2020.
Our India PMS finished at the Top in 2020.
No less than Barrons magazine, called us "Credible...and often, more than that".
That's the kind of pedigree we have built.
Every financial advisor will have their own opinions when it comes to what will help their clients but what we do is through the analysis of data, we are able to offer Products that fit the clients' needs like a well tailored suit!
This means that we are able to cut through the irrelevant stuff and go to the essence of what that client needs.
We go into the details and take a granular approach when advising clients regarding what to do and where to invest in and I don't think no one else in the industry comes even close to this.
There are so many pain points that our clients have when they come to us and one major one is miss-selling by their previous advisor and looking from a global perspective, we find that miss-selling by wealth managers, private bankers, and brokers is a common thing in the industry.
Apart from this, we also see Wealth Management companies, with no real expertise when dealing with intricate finance and investment
science, offering investment advice as financial experts.
It's downright dangerous. Another important thing is that there are a lot of investment options available globally, but identifying what suits you the most is crucial if you want to make a successful investment.
So, it is important that you have a financial advisor who understands the Inner Game of Investing, deeply, through Science and Experience.
We cover everything from Australian equities to Chinese to Canadian to Argentinian, with everything in the middle. We cover global sovereign debt, corporate debt, REITS, FX, derivatives
As First Global, we have both. We don't miss-sell at all and our core philosophy, the most important thing, is how much the client can make through our service and not the other way around.
The second thing is we understand the end-to-end workings of investment world, every nook and corner of it, worldwide, so that our advice is deep and thorough.
Very, very few firms in the world have this level of depth and breadth in their Global Investment knowledge.
We cover everything from Australian Equities to Chinese to Canadian to Argentinian, with everything in the middle. We cover Global sovereign debt, corporate debt, REITs, FX, Derivatives. You name it!
The result of this level of breadth is that our Funds deliver tremendous, uncorrelated returns: in 2020, the trickiest year in decades, we delivered 36 percent on our Global PMS and Global Fund, and we delivered around the same, on our India PMS.
But what's most important is that, we delivered these returns with half the market risk!
That's absolutely the key. High returns with lower than market risk, is the Holy Grail of Investing and we manage that through cutting edge Investment Tech that few in the world have. And we improve our Tech every single day.
What Are The Rules And Regulatory Compliances That You Adhere To?
We are regulated across the world, so we have to comply with the best regulatory practices of authorities from all over the globe.
Everything we do, keeps in mind, one over-arching principle which is that we don't give advice which is inappropriate for the client. We comply with the spirit of the law and not just the letter of the law.
So, we don't recommend a product to a client if it is inappropriate and even if that means, we will be paid less, we don't really care about that. This is also in stark contrast with what is happening in the industry currently.
There are many clients we turn down, where we feel we can't deliver on their return expectations, which other firms promise.
How has been the growth of your company since its inception? Also, how do you keep yourself updated with the latest trends in the industry?
We have been in the institutional advisory service for the last 30 years and we have advised some of
the largest institutions across the globe for decades.

For the last five years, we are offering these Investment Management services to family businesses and this has helped us to increase our assets dramatically for the last two to three years. We are now closing in on one billion dollars in assets under management.

Our clients also tell us that our responses are unmatched in the investment management industry and even our senior management is completely focused on offering the best possible and timely customer service.

Almost no company has its senior management so committed to customer service, as First Global is. Also, we are absolutely abreast with the latest industry trends and tech: we have an excellent team of computer scientists and mathematicians that helps us to constantly improve the investment technology that we use and we have built (and continue building) some of the most advanced investment management models, in the world.

Also, we are a knowledge-based organization and we learn on a consistent basis and we give importance to reading, so we read a lot which helps us to keep ourselves updated with the latest industry trends. We also attend seminars that deal with the latest trends and technologies in investment management on a regular basis.

"Our clients also tell us that our responses are unmatched in the investment management industry and even our senior management is completely focused on offering the best possible and timely customer service"

Knowledge is Power. And we learn, implement, re-learn, every single day.

What are the future plans of the company?
We have been a global firm for the past 21 years. Now we are expanding our footprint even more.

Today, we have Investors who are not just Indians or NRIs. We have Foreign citizens, from the UK, Middle East, Europe, and Asia, as our clients and Investors into our Funds.

What is even more exciting is that we are bringing absolutely cutting edge Investment Tech, to even somebody with just $10,000 to Invest.

We are, in effect, democratizing, investing. You don't need a million dollars to get the best investment advice on the planet.

So, we are building an asset, wealth and investment management business which is truly global and one that is not operated by our own commercial interests but by that of our clients.

As I said before, we have been in the industry for a long time now and people know that what we say is what we stand by.

Our credibility is our true wealth. More importantly, we do not compete on price and people understand that they are getting the best value for money services from us.

When you don't go to the cheapest doctor, cheapest restaurant, cheapest lawyer, send your kids to the cheapest school, why search for the cheapest investment manager?
Going forward, we will continue to build our Science, and will never compromise on our Conscience. These two engines are what clients love about us. And the businesses of Health and Wealth, should run only on these two engines. Nothing else.