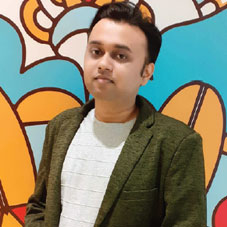 With the rising complexity of work, most businesses turn to intelligent virtual assistants to help them manage their workload and respond quickly to consumer inquiries. AI will likely have a long lasting effect on nearly every industry imaginable, given that it is estimated to impact 60 percent of businesses. The opportunity here lies in the transition stage for most businesses as early adopters of new technology like AI automation or machine learning will see significant growth in their organization's inter-nal and external aspects. An adaptable and open-minded leader, Sheenoo Shrivastava is the founder and CEO of Skepsi. The company helps individuals, professionals and businesses spend less time on manual tedious, and complex tasks and be more productive and efficient with AI technology.
Sheenoo has graduated from Vellore Institute of Technology and has 11 years of experience as CEO of Skepsi. He has taken up the challenge to generate awareness among businesses and help them learn,migrate and implement AI technology. Recently, he engaged with CEO Insights magazine, let's see the highlights.
Tell us about your professional background and experience. How has your journey been so far with Skepsi & what drives you today?
I started Skepsi with the co-founder Mahipal Rajpurohit in the final year of our college with a vision to empower businesses and individuals with AI technology that can make their work life more manageable and enable them to accomplish more goals in less time. In the early days there were many challenges, especially around the technology we were developing. But due to our determination to set goals and targets, we had our first successful breakthrough within a few months. We had completed our first target of developing an AI assistant with many unique capabilities.
Achieving some high innovative goals gave us tremendous confidence to keep believing in ourselves and continue the work. Looking back at those days, I can say it was a truly magical experience. It helped me learn the fundamentals of problem solving, team spirit, and leadership. My passion for innovation and zeal to help businesses move forward is what drives me today. There is no better reward for me than customer satisfaction, and when I see businesses reaching out to me with pain points that Skepsi can solve, I feel motivated.
The most challenging part of acting to bring about change is getting started
How does VIT (Vellore Institute of Technology) contribute to your rise as a successful industry leader? Tell us about the learnings & experiences you acquired from VIT &how you apply them in your current role.
Being placed into one of the nation's most incredible talent pools at VIT Vellore at 18 was a unique experience on many levels. Opportunities are available through academic and non-academic channels at VIT. I spent much time participating in various extracurricular activities that VIT offered, including social, cultural, and sporting possibilities. These activities served as my significant pillars of learning as I learned how to maintain relationships with friends, faculty, family, and others during my whole time as a student at VIT. I had the chance to watch and learn how to appreciate each person's unique skills, work in teams, and occasionally even lead. My whole educational career has shaped my beliefs and general personal development.
How would you define Skepsi as an organization & its position in the market? What is the unique proposition that your organization offers to its clients?
Skepsi is an AI work assistant that can automate almost any digital task and process in a business or work environment. One doesn't require coding skills or tech expertise to start automation with Skepsi, as anyone can perform the functions efficiently. Skepsi helps businesses accelerate their growth and revenue, save time, and reduce operating costs. It also helps
working professionals by doing more tasks in less time increasing their productivity and efficiency. What makes us unique and stand out in today's market space is our approach to Understanding the customer's business requirements. We make the whole automation process as simple and quick as possible.

Reflect on some of the significant challenges you have experienced in your journey. How did you overcome them & what did you learn from them?
One of the ongoing challenges I've had on my path has been dealing with change due to different working experiences in various fields, including cloud computing, software development, and AI technologies. I've also covered various jobs, including sales project management channel management, finance implementation, and business leadership. While change is always exciting, it can also be very tricky, and one can quickly deal with and get through the challenges of change if one is adaptable, open minded, and prepared to learn like a novice.

How do you maintain the perfect balance between your personal & professional life? What is your success mantra?
There are three principles that I have consistently followed when it comes to the success mantra. First, to have a clear mindset as mental clarity enables one to make decisions quickly and easily. Second, Good prioritization at work reduces my to do list and helps me control my time. Third, focus on taking action as it's essential to realize that success and transformation are ongoing. Eventually, new behaviors that need much effort in the beginning later develop into ingrained habits of conduct. Maintaining a perfect balance between personal and professional life is tough. Thorough calendar planning aids in setting aside time for my interests, friends, and family.

Sheenoo Shrivastava, Founder & CEO, Skepsi
An entrepreneurial executive with expertise in machine learning, business development, & growth strategy for SaaS, B2B enterprises, & SMB companies, Sheenoo is a determined & continuous learner who leads the company towards a path of progress.

Hobbies: Listening to music, Traveling, & Reading books
Favorite Travel Destination: Toronto & Canada