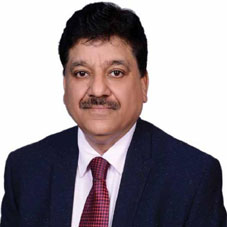 Economic shifts, accelerating market demands, evolving digitization, emerging scientific innovations, and formidable new companies are overhauling the life sciences market, creating a new challenging market. Hence forth, a leader heading a health care company amongst all these ongoing changes have to be very progressive towards adapting skills that will focus on the betterment of their organizational functions and gain a gigantic market for their products and services. In an exclusive interview with CEO Insights, Siddharth Paramhans the Founder & CEO of Waypham India spoke about his enduring professional journey.
Tell us the major facets & achievements of your professional journey.
Initially, I started my professional career with Lupin Laboratories and have always looked up to Shri D.B Gupta, the Chairman of Lupin, as my role model. I hold an overall experience of 30 years in establishing and leading specialty MNC and Indian pharmaceutical companies' operations in the Indian subcontinent. During this remarkable career, I had the privilege of successfully launching over 30 ophthalmic and pharmaceutical products in various sub therapeutic segments, and today, many of these products have developed into mature brands with multi million dollar revenues. In addition, in the Indian subcontinent I have a well established network of over 2500 ophthal mologists, eye care practitioners, and trade.
How does your vast experience help you to chalk out efficient business modules at Waypham India?
My most recent assignment was as Head & Vice President of India business with Sentiss Pharma, which has developed into a major specialty eye care company with several popular brands and strong business, sales, and marketing teams. I have previously worked as General Manager for Alembic Limited, where we successfully launched and developed the Ophthalmology specialty business. Since the inception, I have also made significant contributions to
Allergan India, a subsidiary of Allergan Inc.USA, a prominent multinational ophthalmic corporation, in expanding its business in India and SAARC countries.
I am strengthened by a strong under standing of pharmaceutical, especially ophthal mological industries, and by my ability to understand markets, to set strategic directions, to perform perfectly, and by building and motivating high energy teams to achieve strong performance and efficiency. I have focused on supporting the growth of award winning practitioners in sales and marketing.
I had the privilege of successfully launching over 30 ophthalmic and pharmaceutical products in various subtherapeutic segments ­ and strongly believe "if your mind conceive an Idea, it can be delivered with consistent efforts" You must have right purpose means will follow
Enlighten us on various Eye products offered by Waypham India with a key emphasis on flagship offering.
Waypham is an emerging health care company in India committed to introducing innovative Vision Care products with a focus on Blepharitis, MGD, Dry Eyes as well as Myopia. Waypham India presents 'Oculeaf Eyelid Wipes' and 'Oculeaf Soft Eyelid Cleanser', as its first line of products aimed at prevention & treatment of Blepharitis, Meibomitis and Dry Eye disorders by improving Eyelid Hygiene and supporting the management of these disordersIn other words, under the brand names "Ocuvana HA' and Eyeway Tears" Wayfam India introduces globally recognised skin lubricants as 'Sodium Hyaluronate' and 'CMC' formulas (eye drops). Waypham expects to expand the portfolio of novel compliance formulations for ocular dietary supplements 'Vitawoods Lutein Gmies' and 'Vitawoods Lutein Capsules.' Together, they will be a full Healthy Eyes solution, beginning with Eye Hygiene products, lubricants and eye nutrition products. Waypham India is already started featuring in the Global top list of Eye Care Startups which is quite encouraging.
What opportunities do you foresee in the current Pharma industry, and
what are your strategies to add for the next year's role as the CEO as things are changing dramatically?
Waypham has planned to adopt digital marketing practices for faster penetration and reach in the Indian market. We have a blueprint for expanding our Digital footprint fast and driving and develop Oculeaf & Vita woods the most recall brands in the eye care segment. Waypham is in the business of helping people make a conscious decision to take care of their eyes. Our business is fundamentally about people and our ability to create sustainable relationships with our customers. At Waypham, you will come across exceptionally talented individuals and experienced Eye care professionals, who are committed to creating strong teams to over come challenges with our core values.

Are you engaged in any sort of mentorship programs outside your organization? And, how do you update yourself with the latest trends and technologies in the world of the Pharma Industry?
My direct partnership with the industry's leading clients is a source of major consumer demands that fuel innovative product ideas and development. I am a direct, indirect partner of multiple ophthalmic organizations. I was given appropriate current knowledge by the tradition of devoting considerable time to reading and participating in similar groups. I often aim to involve people of all ages in different positions to get a broader view of the existing industry scenarios and make the best possible choices.

Please mention about the awards and recognition you have received in your journey till date.
I was recognized for creating the best informed team in the pharma segment while in leadership positions as well as have much professional and social recognition to my credit, including director of Rotary Health Services in South Delhi. For over ten years, I have motivated young children by awarding them scholarships and merit awards, and this has been acknowledged by socialorganizations.

Siddharth Paramhans, Founder& CEO, Waypham India
Siddharth has a Bachelor of Science and a Post graduate Degree in Marketing & Sales Management. Currently, he is the Founder CEO & Director of Waypham India. He is credited with more than 30 years of success in establishing and leading specialty MNC & Indian pharmaceutical companies' businesses in Indian subcontinent.

Location:Gurgaon, India