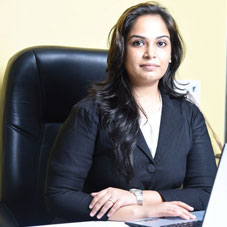 Soniya Kundnani Co-Founder at NewsReach is an ace leader responsible for continuous enhancement evaluation, and implementation of the company's sales & marketing strategy. NewsReach is a Mumbai based company that wants to create a disruptive ecosystem of original and local news content. The firm digitally transforms and partners with newspaper publishers, reporters, PGCs from rural and semi urban areas, and provides them with a platform to reach out to the global audience and monetize their content.
In an exclusive interaction with CEO Insights, Soniya shares her professional journey and the unique operation of NewsReach.
Brief us about your educational and professional background. Also, explain your current role & responsibilities at NewsReach?
I am a law graduate from the University of Mumbai and further pursued business and corporate law from Symbiosis Law School. I come from a humble background with working parents who have worked at a managerial position in LIC & PNB respectively. This instilled a corporate culture in me from the early days of my life. I started my corporate journey at Thomson Reuters & started developing a great interest in the digital industry. Over the years with my growing expertise in the industry, I went on to work with Vertoz Advertising Ltd. as Digital Marketing Manager. Along with that, I helped various startups and leading publishers of India to reach the right audience through digital marketing. Currently, I'm heading the Sales & operations at NewsReach and my experience in Vertoz has helped me a lot to under stand the working aspects. Moreover, the digital marketing experience that I have inculcated allows me to suggest effective and advanced marketing strategies for their online presence. Also, my learning from my past experience helps me guide our clients towards better growth plans and effective marketing strategies.
Tell us about the factors that incited the founders to choose this niche domain to venture? Portray your leadership style and Narrate
the inception story.
With nearly five years of experience in this industry, I have become acquainted with the digital platform. While working at Vertoz, I along with my co-founder, Darshan Shah, realized that there is a huge gap in the industry. The news industry has an enormous number of publishers from Tier-II, III & IV who have authentic content but restricted reach, and publishers in Tier-I have a highly functional web presence with high traffic. And this realization started our journey as entrepreneurs, working towards bridging the gap in the News Industry.
For me, success is going from one failure to another with the same enthusiasm but in search of success always
We digitize small local news publishers from rural & semiurban India & monetize their content in two ways. One is through advertisements & another through a platform like Amazon for content buying & selling. With this concept, we wanted to reach out to the unreached publishers and empower them with a niche in the News Industry, consequently, we derived the name NewsReach.
Being surrounded by the corporate world, Authoritative leadership is most common. Having experience with various leaders during my course of work helped me understand the importance of people working in the organization. My leadership style is a mix of the Democratic and Affiliative styles. I strongly believe that the people who you work with shape the way your company will be built.
What were the major challenges faced by you while establishing NewsReach and how has your journey been so far?
The startup journey is a roller coaster ride. Sometimes in the morning, you feel so blessed that it seems everything is working out so well & till the time it's evening, you start shedding tears, Oh God, what's going to happen. I knew a few founders very well, who have succeeded in their journey & have raised millions of dollars. Just to give you an example, Unacademy raised $50 million during corona times but it took them six months long & approx. 70+ investors' rejections.
There are many things said & discussed on the success. Everybody has a different definition of success. For me, Success is a journey & not a destination. Every day you succeed & every day you fail. We keep small goals, if we
achieve them, I can say I am successful & if not then I am a failure. But I have the courage to get up and start again.

With the News Reach platform how are you creating visibility and marketability to publishers, what are the value added services you're providing to the clients?
News Industry is a crucial industry for efficient working of the country. News helps to educate, inform and create awareness about various issues. Tier-II, III & IV are the major population of India, and NewsReach is working towards empowering them. We get in touch with these publishers and explain them the benefits of operating on the online platform and how they can increase their ad revenue with programmatic advertising from big advertisers. NewsReach has been in business for 3 years and just in the span of three years, we have created online presence of over 2000+ publishers in four major languages i.e.Hindi, Marathi, Gujarati, and Bengali. By creating online presence of these publishers, we have helped them digitally transform from offline publication to online news provider in this internet era where hundreds of people are coming online every day. NewsReach aims to cater 20+ languages by the digital platform and empower the local voice.

NewsReach is working towards building news ecosystem 2.0 where the hyper local content reaches a global audience. Along with creating income avenues for the local publishers, we also are empowering them to raise their voice towards various pressing issues which are prevailing in small localities which are not being addressed by the large publications aren't able to cover them due to lack of local resources. In the coming years, the usage of internet services will further increase, and migrating to online platforms of the news publishers will be the right step to take.

As a woman in leadership, what word of advice would you like to give to the budding Entrepreneurs?
The startup is a journey of a decade with lots of patience,my advice to entrepre neurs is always to talk to people from the industry & make them your Guru. Because what looks gloomy from the outside, it's not always the case. You should be attached with your guru in such a way that they should just be a call away to you because they will assess your situation & guide you, whether you should hit six or just duck.

Soniya Kundnani, Co-founder & COO, NewsReach
Soniya is leading the way at NewsReach by leveraging her successful stint from symbiosis law school and corporate sector to accomplish the objectives.