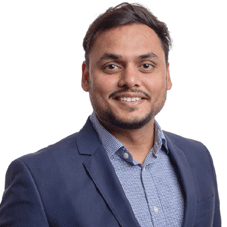 The ownership value he brought to the table during this endeavour propelled Sreepal to be the proud recipient of the prestigious CA Corporate Contributor Award for BFSI category at PAN India level by ICAI 2017, received from the hands of Suresh Prabhakar Prabhu, the former Union Minister of Commerce and Industry. Sreepal, in an exclusive conversation with CEO Insights divulges his secret to success. Here are the excerpts:
Kindly throw some light on the unique traits that helped you reach rarefied heights.
My growth has always been fuelled by my curiosity towards constantly challenging my comfort zone. Hailing from a small district Kurnool (AP) and being from entrepreneurial Jain Rajasthani family helped me in building a mindset of capital appreciation by reinvestment at a very early stage. During my formative years of career, I moved to Mumbai to pursue commerce and become a Chartered Accountant. My eight year long stay in hostel during my graduation & Chartered Accountancy course studies
enabled me to understand people's nature & temperament. Similarly, my career wouldn't have gone through such a glorious roller coaster ride if I hadn't stepped out of my auditing career and a well settled life in Mumbai to take-up a new role in a completely different finance industry in Bangalore. Even now, I have shifted to Hyderabad despite having family & kids in Bangalore in order to enhance my career graph and excel in the new opportunity which has come my way.
My tendency to think big and approach a situation with a broader perspective differentiates me as a leader
My tendency to think big and approach a situation with a broader perspective differentiates me as a leader. I inculcate a unique culture by instilling a similar mindset within my team. My team is well-aware of managing the operations on their own & the job of their immediate peers so that there's no void when a person resigns. Not only do I take 360-degree feedback from my boss & team to learn from my mistakes, but also break the ice as soon as possible when I rub someone in the wrong way by clarifying that it's in the best interest of the company. My open cabin policy helps me connect with the complete chain of my team and grow together through mutual suggestions. I strongly believe that a leader in true spirit is someone who wants his team to be successful.
As opposed to merely giving orders and expecting the team below me to present the solution, I sit late nights with the team, untangling the problem (no matter which layer of the hierarchy they belong to) to understand the ground reality and guide the right person. This not only helps me to understand the problem better without it getting diluted via communication gap, but also endows the concerned team with the confidence that the top management is part of the problem. Likewise, to properly manage the board who have very little time to spare, I prepare thoroughly to answer as many questions as possible on the spot.
In your professional journey so far, which are the milestones that bestowed you utmost satisfaction both as an individual and a CFO?
My tenure as an auditor with KPMG made me strong technically, taught me to motivate the team and work in peer pressure environment,
managing stringent deadlines. It gave me the confidence to represent the company as the keynote speaker across various platforms like MINE conferences, communicate with the top management & manage external relationships when I was on the other side of the table. As Samasta's CSO, I had the opportunity to build the roadmap for its stage-by-stage growth post the merger and ensured a smooth & effective transition by upskilling appropriate teams to facilitate the consolidation process and redefining policies, systems & software to absorb the company's aspirational growth plans with meticulous planning.

By creating a common operating matrix between IIFL & Samasta, it helped Samasta leverage all the benefits of being under the IIFL group. Also, successfully created a platform for cross-selling the parent company's products that helped us gain more than Rs.200 crore in the subsidiary's books. Now, we're gearing-up to automate the whole financial statement & Loan Operating System completely to minimize reconciliation time and errors.

How has been the support from your family in your journey so far? Also, tell us about your hobbies, favorite cuisines and travel destinations.
I'm fortunate to have an educated wife who is willing to sacrifice 50 percent of her career to raise our kids well. Even if I get one day off, I'd love to travel overnight to be with my family, instead of immersing myself in leisure activities like watching movies. Rather than being alone in the world's best tourist destination, I prefer to make any place beautiful by surrounding myself with my family & friends. I'm a foodie & a Bhagwan Mahaveer follower, with a love for Rajasthani food and trying-out the local pure vegetarian cuisines wherever I go. Wearing fashionable clothes is also at the top of my list, as I believe dressing well, speaking well and having a perfect physique boosts one's confidence level.

Key Management:
Sreepal Gulabchand Jain, CFO
Sreepal is a highly accomplished, results-driven senior accounting & financial management executive with more than 10 years of progressive experience in Accounting & Financial Management, Controllership & Decision Support, Business Planning & Analysis, Growth Strategy & Development, Financial Analysis & Reporting, Fund Raising & Treasury Management,MA & Integration experience.