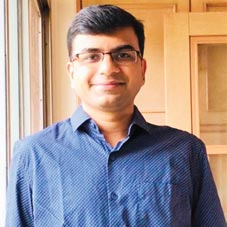 Today's construction firms realize the potential of implementing Building Information Modelling (BIM) to free up resources for core design and construction operations. Studio4 Consultants is a BIM outsourcing, consultancy company that started off in the year 2007 with just one domestic and one international client. Since then, the company has never looked back. Over the years, it has evolved into a full-fledged Consulting, Implementation Services Company providing all-round solutions in the use of technology for design and construction. At present, Studio4 delivers across the globe to clients in the USA, EME, ANZ and India.
From just being a team of modelers, the Studio4 team has evolved into the most sought-after BIM professionals in India because of their thorough knowledge of the tools and domain expertise. In an exclusive interview, Ar. Chirag Dedhia, Director, Studio 4 Consultants, shares his thoughts and highly describes about his company's pioneering journey in the BIM technology domain.
Building Information Modeling employs various tools and technologies to efficiently plan, design, construct, and manage buildings and infrastructure. Tell us how Studio4 Consultants is positioned in this domain?
Studio4 Consultants' team is a group of architects, structural engineers, civil engineers, transportation engineers, electro-mechanical engineers, estimators, planners, and site execution specialists who have practical construction exposure and expertise in more than 20+ BIM tools from various software vendors. Our industry know-how, coupled with technological expertise and management background, allows us to support our clients' BIM journey.
Studio4 Consultants has worked with each stakeholder of the construction eco-system. Our clients dig into our experience and can quickly transition from the traditional CAD processes to the more efficient and futuristic BIM processes.
With the incorporation of technology, many organizations strive to create a unique architecture project according to their ability. Please share with us the approaches of Studio4 Consultants in doing so?
Our clients are construction firms, design firms who aspire to embrace digital technologies in construction and become lean, efficient, and highly optimized. As a BIM service provider, we ensure that our clients choose the BIM implementation approach that has minimum disruptions to their everyday business, yet ensuring all their future projects are BIM enabled. We offer BIM Consulting services, BIM Modelling & Custom Content Creation, Training and Certification, System Integration services.

We encourage every stakeholder in a project to produce BIM Models on their own, with our guidance and mentoring, thereby authoring their design, estimating their costs, planning, and constructing their project using BIM tools. Studio4 is an important project partner, setting the ground for all project participants to perform efficiently, leaving no gaps in the BIM process.

Enlighten us on the top-notch facilities and offerings the company is rolling out to its clients? Tell us about your USP?
Our flagship offering, called SyndicAid, offers Consulting services in creating and implementing BIM processes. It's one of its kinds, ensuring that today's design and construction companies can embrace advanced technologies like BIM, VR, GIS, and Cloud computing.

Through our ExtenZone services, Studio4's extended team creates BIM Models for the project for all disciplines (buildings & infrastructure), thereby improving the on-site execution.

Our CustomMade services are offered to companies seeking customized BIM content library creation and custom software development, visual scripting services. And, our ExperTech services allow companies to get their team members trained and certified in 10+ BIM softwares. Individuals can get themselves certified using Studio4's online tests and become market-ready.

Tell us about the factors that have helped Studio4 Consultants achieve the pinnacle of success and have helped it acquire a vast clientele all across the country? What impact has it created in the market?
There are domestic and international clients we are serving
since inception in 2007 with one domestic client and one international client.

With successful project completion for Residencies, High Rises, Office Buildings, IT Parks Office Interiors, Hotels, Hospitals, Stadiums, Science & Research facilities, Institutional Campuses, Roads, Highways, Bridges, Tunnels, Land Development & Master Planning projects, there was no looking back.

We believe clients are the biggest strength and each assignment is very close to us, and we cannot afford to miss out on anything in an assignment.

Presently, the continuous efforts in a city like Mumbai, where no mid-sized or large project is successful without BIM, we are proud to have pioneered this idea. BIM is helpful for construction companies in saving resources and reducing wastage, which we witness after years' hard work. We are now ready for making it happen in India.

What is the roadmap ahead of Studio4 Consultants? How is the company gearing up for the same?
We are excited about cloud technologies and are ramping ourselves to deliver more using Cloud Hardware and Cloud Software. Using leading technology provider's Cloud API services such as Forge API, we have begun to create services around it.

We foresee that at grassroots levels, design and construction companies will use tech to manage their internal systems (such as CRM, HR, Project tracking, etc.), and Studio4 has begun to provide software solutions and workflow customization services for such core functions.

While recruiting, we now look for architects and engineers who are data-driven, can embrace coding, along with their core experience as design or construction execution specialists. This will prepare us for the future that lies ahead.

Ar. Chirag Dedhia, Founder & Director, Studio4 Consultants
A former speaker at Autodesk University India, BIM Roundtable India, PEATA's Webinar on Future of Construction, Chirag has led many BIM project successfully. He has experience of the domestic, and the international industry, and maintains highly valuable partnerships with industry veterans. Chirag complete Bachelor's degree in Architecture from Rizvi College of Architecture, Mumbai, and Post Graduate from Welingkar Institute, Mumbai, in Business Management.