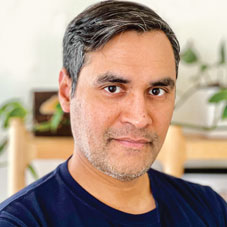 The pessimist complains about the wind. The optimist expects it to change. The leader adjusts the sails", well said by John Maxwell. No successful organization would have ever been where it is today without effective leadership. Without leadership, all other business elements lie dormant. Leadership is one of the most crucial drivers of long term business success as it catalyzes an organisation's assets soft and hard, towards achieving the set goals. While leadership is not just a blanket characteristic that cures all ills, effective leaders can provide clarity of purpose, motivate and guide the organization to realize its fullest potential, and beyond.
Sunil Rana, Founder & CEO, Vyzrd, is an Indian School of Business alumni and a career management consultant having worked across global markets with BCG, Mercer and Oliver Wyman. Based out of Sydney, his start up Vyzrd (a wordplay on 'Wizard') is taking on one of the most pertinent business and policy challenges sustain ability. As an industry leader with over two decades of experience in toptier management consulting, Sunil has had the opportunity to experience first hand what it takes to set and achieve ambitious goals. Leveraging his deep expertise in complex business solution modelling and analytics over the years, Sunil has led the conceptualization, development and commercialization of several business solutions as well as analytics platforms all with the singular focus on helping clients address their business challenges or policy reforms more effectively. From working in public sector, telecom and media to realestate and healthcare industries, Sunil has had the opportunity to collaborate with and advise industry leaders and senior decision makers across multiple sectors and a wide range of topics related to business transformation, M&A, risk, operational excellence and growth.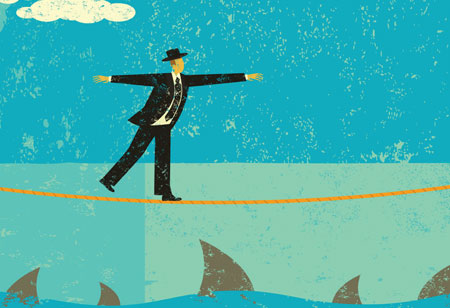 While an organization may have numerous employees with various talents and capabilities, it is primarily the leadership that harnesses individual efforts towards meeting the collective objective. Sunil relies on his vast experience and sharp business acumen when it comes to inspiring and motivating teams and coordinating personal actions for the advancement of a common goal.
Engaging in one-to-one interactions with the team of CEO Insights magazine, Sunil reflects upon his professional journey and how he is making constant efforts towards steering his brainchild towards long term success and impact.
Throw some light on your professional journey so far. What was your main vision behind the establishment of Vyzrd?
I am, what you may call, a problem solver at heart. Over the years, I have had the privilege of working on several challenging business and social impact problems. I have also had the opportunity to work with a number of incredibly talented colleagues and clients in my over two decades of consulting career
across Oliver Wyman, BCG and most recently at Mercer. Working with different firms and focusing on different facets of the problems be it strategy, operations or organisation & people issues has lent a unique perspective which I feel I would not have gained had my professional journey not taken the path that it took.
Organisational as well as at a personal level, it is important to be in sync with customer priorities while being able to pivot and adapt to the evolving business and market needs
These learnings and experiences, along with my interactions with a broad cross section of industry and public sector leaders have significantly helped in shaping my decisions which have eventually led to the founding of 'Vyzrd'. The idea itself took shape about a decade ago when I first started to reflect on how management concepts, analytics and ESG could be combined in a meaningful way to address existing and emerging challenges in the areas of business management and longterm sustainability. So it has been brewing for a very long time.
Tell us about Vyzrd as an organization. How are the solutions offered by the firm helping in accomplishing customers' objectives?Also highlight on the technology framework behind these solutions.
We believe that at Vyzrd we are taking on some of the most urgent and impactful challenges which businesses and policy makers are facing today, particularly around climate change and sustainability. Being an AI enabled analytics and decision support platform, Vyzrd is designed to significantly enhance the decision-making systems and processes that are in place to aid leadership decision making on investment priorities, risk management and value creation. In essence, we are aiming to bring in a step change in the way ESG and climate risk can be addressed in a meaningful and scalable manner.
The platform enables our clients to get comprehensive insights and an actionable plan based on integrated analytics across multiple areas strategy, operations, transformation, people culture, etc. thereby creating a powerful and unified view of the organisational capabilities, progress and risks. With Vyzrd, we are equipping the business leaders as well as policy makers to drive improved and measurable outcomes for all stakeholders by enabling clear linkages between business success and sustainability.
By doing so, we believe we are creating a strong pull amongst the businesses to adopt sustainability, while supporting the policy makers' desire to rapidly drive meaningful ESG adoption towards long term sustainability and climate goals.
How would you describe the culture within Vyzrd? What are the strong values you have laid forth for the organization?
Vyzrd's culture is characterised by three key aspects. Firstly 'Courage' The courage to think big and believe in yourself to realize that ambition. Secondly, 'Empowerment' I believe it is essential to trust people and give them the space to flourish and excel. Focus on supporting them with the right ecosystem to ensure their success.Thirdly, 'Agility' Organisational as well as at a personal level, it is important to be in sync with customer priorities while being able to pivot and adapt to the evolving business and market needs. At a personal level, we believe in living a steep learning
curve everyday so that the team is always capable of contributing impact fully, especially when it comes to creating solutions for emerging challenges.
What are the various tactics that you are leveraging to stay ahead of your competitors? What is your greatest strength that you believe are a hallmark of your leadership style?
While each challenge is unique and requires individual attention, it is safe to believe that we have an edge in the industry by being relevant to the issues that the market today places its highest priority on solving. In our case, these are around climate change, sustainability and longterm business success. Our platform is unparalleled in its speed and depth when it comes to decision making support that senior executives and policy makers seek.
What are the future market changes and opportunities you foresee? Which of these opportunities do you wish to grasp to achieve your main goal?
Climate change and ESG risks and opportunities that the two topics create. Risks for businesses and investments, opportunities around effectively channeling of the available talent, capital and policy efforts. We believe that the market needs a broad ecosystem of capabilities and solutions which can effectively help us address the challenges and priorities that are rapidly emerging in this space. And at Vyzrd, we are vesting our focus on addressing this in a cohesive manner through our integrated solution offerings. We are aiming to be the platform of choice for consultants, policy makers as well as other service providers when it concerns sustainability and climate risk.
What would be your advice to the visionaries making their way into this space?
You have to be passionate about the topic and believe in it yourself to start with. Beyond that, I suggest that one focuses on 3 Cs Curiosity(Be curious and keep climbing up the learning curve so that you can equip yourself to solve the toughest problems facing businesses and collectively our societies), Capabilities (Ensure you establish the ecosystem of capabilities people/ tools/ technology/capital and more) required to create holistic solutions for those challenges) and Commitment (Commit fully to achieving the goals that are set along the way).
Sunil Rana, Founder & CEO, Vyzrd
An industry leader with over two decades of experience in Management Consulting and advising Board members and senior executives across a broad range of topics such as growth strategy, business transformation,M&A operational excellence, investment and risk.
Hobbies:
Driving and Traveling
Favorite Cuisine:
Two actually ! Indian and Italian
Favorite Book:
'The Alchemist',book by Paulo Coelho
Favorite Travel Destination:
Bavaria
About my greatest strengths, perhaps the following three aspects would describe best:
•My enduring love for problem solving, which is at the heart of what I do and what motivates me each day whether in my consulting role when I was a management consultant or now at Vyzrd.
•Decisiveness with which I endeavor to operate everyday
•Accountability deliver on your promises and commitments!