Sunitha Infrastructures: A Renowned Civil Construction Execution Company Ascending To Summit Of Excellence Through Innovation And Technology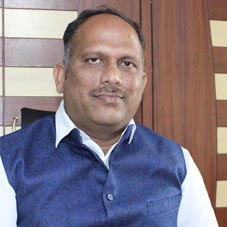 Being the key driver of the Indian economy, the Indian construction and infrastructure sector is highly accountable for propelling the country's overall development. Enjoying intense attention from the government for introducing policies that would ensure the enduring creation of world-class infrastructure in the country, the Indian infrastructure domain is witnessing the arrival of many prominent players in the market. Standing apart from its competitors by the virtue of its impeccable and multi-disciplinary infrastructure solutions, Sunitha Infrastructures caters to various verticals like Roadworks, Earthworks, Foundation Works, Building Works, Sub-station Works, Canal works to name a few. A renownedcivil construction execution company of India, Sunitha Infrastructures Private Limited was established in 2010 to ensure excellence in the construction space and pursue business through innovation and technology.
Engaging in an exclusive interaction with Lakshmi Narayana Pallapu, Managing Director, Sunitha Infrastructures, the CEO insights brings forth the journey of Sunitha Infrastructures as a leading brand of the Indian construction and infrastructure domain.
1. How do you think your company benefits the customers that other companies in the market fail to deliver? Tell us about your USP?
We initiate a unique approach for every project as we try to understand what are the key dependencies of the project and start attending to those key necessities from day one of the projects. Once we gain pace and clarity, we start concentrating on the challenges that might come up in the next two or three months and start preparing accordingly to prohibit any possible disturbances on the project executions. So, unlike
other companies, starting from the procurement of materials to scaling, drilling the labour, and more, we plan it from day one itself, so that we will not have any hitches till the execution of the project.
2. Can you tell us about major solutions and your flagship offering?
The company is multi-faceted into industrial and infrastructure projects like construction of road infrastructures, building infrastructure, Industrial Infrastructure, and Building Services. When I say road infrastructure, we ensure all the services related to the road infrastructure starting from the construction of the roads to plant greenery around the roads, the toll operations of the NHAI and more. Similarly, in building infrastructures, we do end to end construction of the building right from getting the permissions for the construction of the building to handing it over to the customers. For industrial projects, we do all sorts of civil and mechanical works including the roads, boundary walls, and any other required constructions by sourcing end-to-end assistance.
The scope of the company's work covered, and continues to cover, a broad spectrum of both public and private construction projects in Road, Building and Industrial Infrastructure.
3. How do you ensure the quality across your designing and engineering function? Tell us about any regulatory compliances or certifications that you adhere to while offering your services.
We take pride in building strategic long-term client relationships. We firmly believe that our customers are the reason for our existence, and greatly respect the trust that they place in us. To assist the clients in selecting the top-notch products, we have our own DPC which always keeps a database of the best suppliers of specific materials. Based on the reviews about each of the material or model, we have prepared a database. We always try to procure goods from the best vendors available in the market and
suggest clients accordingly. When it is required, we suggest the best and relevant thing for clients. Then again, it completely depends on the client's preference and budget.

4. Do you have any in-house training programs for employees? Enlighten us about the work culture followed by your company?
We do have in-house training programs for our employees to equip them with new-age and industry-relevant competencies. Generally, we ensure training programs related to cross-functional training, project management, accountability factors, skill developments relevant to function in a particular role within the organization. We integrate honesty, integrity and business ethics into all aspects of our business functioning and train our assets accordingly. To ensure immaculate job proficiencies, we follow an open and Flexi culture based on the role and experience of the employees.

5. Tell us about your company's recent revenue growth and future roadmap?
Sunitha Infrastructures started its operations by taking many challenging assignments and completing those well ahead of the schedule. The scope of the company's work covered and continues to cover, a broad spectrum of both public and private construction projects. We have experienced a 60 percent growth over the last year and are expecting to double it this year. Today, the Company has acquired rich experience in Project Management, Project Execution, Resource Management and completing the project well ahead of the time with quality and within budget. Our future looks bright as we continue developing a strong base of key customers and increasing the assets and investments of the company.

Lakshmi Narayana Pallapu, Managing Director, Sunitha Infrastructures
A serial entrepreneur, Lakshmi Narayana is an ex-software professional with more than 20 years of experience in civil, software, food and not-to-profit industries. Excelled in liaison with various government and corporates, Lakshmi Narayana holds access to various funding agencies along witha network of contractors and sub-contractors connected with many EPC and contracting firms in India and abroad.