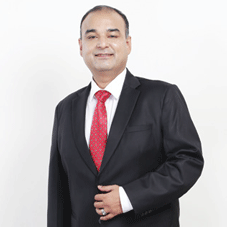 The automobile industry of India has grown & expanded extensively to become the world's fourth largest manufacturer of cars and seventh largest manufacturers of commercial vehicles in 2018, according to ibef.org. Simultaneously, the auto finance market in India has matured over time, making it one of the most developed markets in the APAC region. The expansion of this segment (auto financial market) in India may be new, but Thane based Tata Motors Finance Limited (TMFL) has been working predominantly in this domain for more than 60 years. Established way back in 1957, the firm is one of the pioneers of vehicle financing in India. Today, the company has embossed a strong footprint across the country and operates through its own 260+ branch networks, in addition to Tata Motors dealer's sales outlets.
With over 8.5 million Tata branded vehicles plying globally, Tata Motors is among the selected companies in the world to offer an extensive portfolio to its customers. The brand is even considered as the first choice when someone thinks of buying a vehicle in India. Hence, in order to make customer's vehicle buying journey simpler, TMFL is striving hard to offer the best financial services in the industry. Being a non-deposit taking systemically important(ND-SI) NBFC firm, TMFL is engaged in financing entire range of Tata Motors Commercial and Passenger vehicles. The company is promoted by TMF Holdings Limited and is focused towards benefiting the parent company and its strategic partners within the Tata Motors ecosystem. Talking to CEO Insights, Samrat Gupta, CEO, Tata Motors Finance, shares in detail about the company, its offerings, and future plans.
Tell us about the imperative facet of the company. Also, tell us what do you consider as the strength of TMFL?
At TMFL our vision is Enabling Economic Success, Fulfilling Aspirations. Hence, our core purpose is to fulfill the dream of our customers of owning a Tata Vehicle.
In order to do that we adhere to stringent values like agility empathy synergy, transparency and integrity. Besides, our mission is to provide relevant customer centric financial products and solutions that support sustainable growth of the Tata Ecosystem.
Our core purpose is to fulfil the dream of our customers of owning a Tata Vehicle
Speaking about the strength of TMFL, there are few which I would like to mention. First is our highly experienced management team that is responsible for the growth & development of the organization. Our customer friendly innovative scheme,strong controls supported by detailed processes and risk management models and TMFL's strong financial foundation are our other strengths. Last but not the least, TMFL is an integral part of India's most trust worthy brand name. All these factors work together to enable TMFL to achieve its business objective.
TMFL has a strong service portfolio. Tell us about the various services that the company offers.
Being a captive finance company, we provide financial solutions to customers who are seeking finance for the purchase of Tata Motors vehicles. Be it medium & heavy commercial vehicle, small & light commercial vehicle or passenger vehicle, we cater to all kinds of vehicle loan for our customers. Buying a new vehicle is an exciting experience in everyone's life. At Tata Motors Finance, we make it more exciting and ensure our customized loan options are fast, flexible and hassle-free.
We make it further appealing by providing flexible interest rates and a wide spectrum of tenures. We also offer loan services for used vehicles. The segment includes Repurchase loans, Refinancing loans, Balance transfer, and Top-up loan. First we discuss with our customers and understand their ambitions before recommending specific plans to suit their needs. To make the experience as seamless as possible, we keep our loan process absolutely simple and transparent so that our customers can be assured of a totally hassle-free experience.
Apart from the loan solutions, we provide wholesale banking solutions such as financial advisory, growth financing, matching cash flow finance, structured financing, short term financing and long term financing to dealers & suppliers of Tata Motors.
Throw some light on your professional back ground and explain how those experiences are enabling you to lead the company towards success.
I am a senior professional having 20 years hands-on execution experience in driving profitable growth, corporate transformation and change management through organic & inorganic expansion. Prior to joining TMFL, I have worked with many leading organizations including the TATA group companies and other MNCs. My experience as an investment banker has helped me to understand various global assignments related to cross border acquisitions private equity and start up venture fund raising, pricing and large contract negotiation, leadership development and succession planning, equity & debt financing and more.

As the CEO of TMFL, my responsibility is to identify the growth opportunities and scale up the profits of the company. Besides, I am focused on creating shareholder value by running organization wide initiatives that lead to improvement in customer satisfaction, enhance employee engagement, and generate healthy cashflow.

Is there any strategy that TMFL is looking to adhere, in order to fulfil its future goal?
We are focusing on adhering Financial Intellect strategy in order to thrive in today's complex business world. It helps to develop capabilities to staple financing products to leverage customer and product life cycle. Also, it is needed to understand the concept of lifecycle financing and key features of a financing product. Financial intellect will culminate in 'cross over leaders' within TMF with a holistic under standing of entire financing lifecycle, being able to identify new opportunities for growth. Besides, we aim to build an insight-driven CRM, where we would aggregate data from several sources.

Key Management:
Samrat Gupta, CEO
An industry expert, Samrat holds over 20 years of extensive experience in the financial sector. An MBA from the University of Manchester, he is currently leading TMFL while achieving utmost customer satisfaction, enhanced employee engagement and generating healthy cashflow.

Office: Thane
Offerings:
-Loan for Medium & Heavy, Small & Light, and Passenger vehicle
-Loan for Used Vehicle
-Corporate Lending