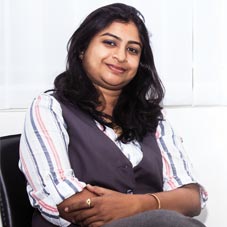 Emerging as a thriving sector across the globe, the home décor industry is evolving ceaselessly and significantly at present. Owing to the extensive customer demand and the appearance of eminent leaders to take it as a challenge and cater accordingly, the interior design industry has been able to surface as a promising platform with numerous possibilities. Leveraging the available opportunities to forge premium designs and solutions, Theme Décor has risen as one of the top-notch marvels of the home décor and interior design sector through her unique strategic implementations at Theme Décor. A one-stop solution provider for Interior designing turnkey projects; Theme Décor started in 2014 to extend the intelligent and beautiful home interior designs to a wider range of Audiences.
Operating in the intriguing domain of home décor and interior design sector, Ashwini S engages in a distinctive conversation with CEO Insights to highlight some of the elite and unique features of the brand.
Throw us some light on the strategies involved in offering Décor products. Enlighten us about various Products & Services you offer under Décor Brands along with your clients.
We focus on all the Seven elements of Interior designing which include space, line, forms, light, colour, texture and pattern; and keeping them balanced is the key to creating an aesthetically pleasing interior. We work on three different Themes- Traditional, Fusion & Contemporary, where all the materials are processed in different machines to get the right output. Specialized in Antique finished products we are well known for the kind of customization that we offer which suits the individual choices of every customer.
We assure a wide range of products and solutions from various verticals including Residential, Commercial,
Jobwork, Makeover, and Civil Construction comprising of end-to-end services like Consultation, Planning, Designing and Execution. Although we host a long list of clientele, some of our Prestigious clients' name include Brigade Group, Ajmera, Shriram Group, VakilGroup, Bren, Sumadhura, Rohan Akruthi, BSR Green Woods,Fabmodula, Furdo, Entracte and many more. So far, we have also completed projects in Shoba Developers, Mantri Alpine, BSR Greenwood, Brigade Meadow, Vakil - Hosur hills, Concord Manhattans, independent houses, villas and more.
We work on three different themes - traditional, fusion & contemporary, where all the materials are processed in different machines to get the right output
What benefits do your services offer to clients that similar other players fail to deliver? Explain your USP.
Started in 2015, Theme Décor is into the design, manufacture and execution of the best modular kitchen, wardrobe, tv unit, crockery, shoe rack. All our furniture comes with a 10-year warranty for any manufacturing defects which is one of our USPs. Apart from that, we provide a 45-day installation facility as well, where our customers can get their chosen products installed within 45 days and get unwavering support and service for five years after installation. We have got 10 Years of Manufacturing Expertise and owing to our quality work, timely completion and premium post-installation Service, we are well appreciated within the industry. Our manufacturing unit is spread over 4500square feet, comprising of imported machineries which gives the precise finish.
Please tell us how has the pandemic changed the Décor Brands industry and how has the company been adapting to these changes?
The COVID-19 pandemic has fundamentally changed many facets of our industry, particularly the world of work. At the height of the pandemic when economies, sectors, and organizations grappled, we were able to work seamlessly. While there was no doubt in the pre-pandemic era that there was
enormous economic potential, the Covid-19 situation simply amplified the benefits, productivity dividend, and digitization.

The current pace of accelerated digitization is wielding profound changes in the way we operate and work as most of the planning and designing works online, the technology has made the work easier. Also, the pandemic has had an indelible effect on the chance to hire talented people at a time when they have trouble finding or keeping jobs elsewhere, hence we utilized the opportunity to hire more skilled workers at the right time.

What are the various challenges customers approach you with? How are you helping them through those challenges?
When most of our clients approach us with numerous pain points, there are various aspects of interior designing that we generally address. Sometimes the clients do not have clarity of thoughts regarding design and décor and they seek our advice. Often, they are not happy with finishes done by someone else and approach us to complete it. If they need approvals and sanctions to give a solution, we normally do a site visit and advise them accordingly.

Tell us about your company's recent revenue growth, and the future roadmap.
In the recent past FY 2018-2019, we have achieved revenue growth of 20% and we are optimistic about the 25% growth in the FY 2021-2022. In future we are focusing more on Eco friendly and upcycling the products. We do have some innovative plans lined up as we are coming up with new metal sections and a new unit for loose furniture. We are also focusing on recycled innovative products that are far more cost effective.

Ashwini S, CEO
Apart from various other courses in designing, Ashwini holds MBA in Information Technology. Her education has helped her to implement the various strategies and processes which are considered to be of utmost importance in the manufacturing sector such as work flow and time study. She gladly teaches the same to her contemporaries as well. A women entrepreneur with a zeal to excel in the Interior décor space, she is a ritzy designer and a creative planner. Leading and guiding her skilled team at Theme décor to be obsessively quality focused, she ensures flawless execution of plans to deliver impeccable results.