UMA Janapareddy The Woman Leader Revolutionizing: The Clinical Research IT Solutions for Pharma Sector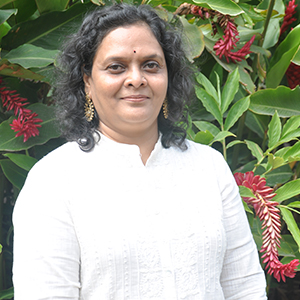 Despite having a great idea for a technology startup, people without a technical background often fall prey to the apprehension that they lack the expertise to turn that spark into a wildfire. Letting an inchoate hurdle like that stop you in your tracks is no justice to your own life. You don't have to look-up to the cliché stories of Mark Zuckerberg,Bill Gates or Jane Wurwand for inspiration, but deep inside the corporate world in our country, there lie a bunch of home grown entrepreneurs,like Uma Janapareddy(Founder & CEO, SyMetric), who started her journey from the scratch and conquered success owing thanks to a lucid vision, courage and perseverance.
Venturing into the Tech Industry Does Not Necessarily Need a Technical Degree
Despite her non-tech background and after having served our country's rural population through different NGOs for more than two decades, Uma started her entrepreneurial journey afresh without taking a diversion from her vision of empowering the segmented population. She incepted SyMetric, which is an emerging turnkey IT solutions provider automating the Pharmaceutical sector, and in turn aims two birds at one shot - to play a catalytic role in reducing the drug prices as well as funding her charitable trust 'Svetcha', which focuses on the education of Girl Child, RuralDevelopment and women empowerment.
"I believe that even nontechies have what it takes to successfully run a technology business. The key to leadership lies in identifying the best talent, empowering them, and nurturing their creativity & capability to the fullest extent by providing whatever support you can. Above all, a clear strategic vision can go a long way in defining success," asserts Uma.
Placing the Vision Up Front
Rewinding three decades, we can find this clarity of vision in Uma right from the beginning of her career. It's quite an interesting story. In a world where most of the fashion technology graduates opt for the soaring fashion apparel industry in the country, Uma despite having a diploma in Fashion Designing, had set her heart on reaching out to the subcontinent's rural women population and helping them sell handicrafts/handlooms directly to the market. "Though I could en¬courage a few women to make their income through forging handicrafts& handlooms, in truth, I couldn't achieve what I wanted to since the shop owners & middlemen had already captured the market," adjoins Uma.
This is exactly where perseverance comes into action. As Uma was not ready to give-up, she setoff in pursuit of other avenues to take her vision & mission forward, which drove her towards joining Ladies Circle India (LC India)- a non-political & nonsectarian organization that works in women empowerment across the country. She was elected National President within a short span of three years of joining LC India, surpassing several highly experienced candidates in the process. It was a significant milestone in her career, setting her foot in a new world of opportunities and responsibilities. Uma took baby steps in leading this huge complex organization and delivering high-quality projects, to marshal LC India to newer heights. In reality,
it was this stretched-learning curve imbued with significant globalexposure, that helped Uma to find the best version of her.

"The Key To Leadership Lies In Identifying The Best Talent, Empowering Them, And Nurturing Their Creativity & Capability To The Fullest Extent By Providing Whatever Support You Can"

Instead of striving to manifest something superhuman, Uma focused on meticulously delivering whatever project she was provided with-on time, high impact and extreme commitment. "It's quite satisfying when we are able to influence others to become better with our own actions. Besides leading from the front against the challenges, I delineated them with my own story – from being a housewife to where I was then," recalls Uma.

Courage Matters for Entrepreneurship, but Leadership is Beyond Entrepreneurship
Interestingly, around year 2000,Uma came across an opportunity to invest in an emerging pharmaceutical research organization. Over several months of market research, she became familiar with industry practices & challenges, and aware that lack of automated & integrated systems lead to faltering efficiency & spiraling costs in the pharma industry, especially in the drug discovery life-cycle.

Armed with her experiences in the social sector and plenty of courage, Uma established SyMetric in 2012 to fill a gap in the market by providing a state-of-the-art, customer-centric & highly integrated solution, which remarkably improves the efficiency, effectiveness & speed of a clinical study. This means, SyMetric helps pharmaceutical companies launch a new drug into the market much faster with fewer resources. Besides this flagship product, the company also provides turnkey solutions that provide pharma companies with automation of the end-to-end clinical research process."Pharma companies spend millions of dollars for every single trial. of this usually a lot of money is spent on discrete software. With our cost-effective solution, we also intend to reduce these technology costs by at least 30 percent, which will eventually reduce the cost of drugs in the market," explains Uma. Wonder how many leaders of the present day possess such an impactful vision!

Ferrying a conventional pharma company's paper-based records to the novel epoch of electronic records is not the easiest of things to do. By turning her company's process know-how & experience into creating an extremely interactive web response system, Uma has been appreciably successful in addressing the comprehensive techneeds of pharma organizations, which is why the overwhelming feedback from her customers is hardly a surprise for her. Uma adds, Customers are involved in the product development and enhancements by sharing their insight and feedback, it is this participation which made SyMetric synonymous with Trust and Transparency. The customers today not only talk about the user-friendliness, but also the thousands of dollars they save.

Looking into the Future
While the current SyMetric platform is carved-out of Microsoft .NET & MySQL and boasts of agile practices, she motivates the team to adapt themselves into various new technologies and out-of-the-box solutions in accordance with the customer trends and needs.

Today, owing thanks to the network she has woven over the years inside & outside SyMetric, Uma continues to be busy with her futuristic endeavors to deploy technologies like IoT to enhance the product portfolio. By joining hands with SAP as co innovators, she is currently
looking forward to launching a new product called Pharm Analytics, which is poised to revolutionize the process of planning for clinical trials. The next big vision of Uma however is to launch SyMetric's physical presence in the biggest global market - the U.S.

Keeping the Team Togetherness
Uma's former leadership experience that combineswithher strong anthroposophical background (she is an active member of the Anthroposophical Medical Society) has been instrumental in preserving the dynamics of the team and driving them to remarkable outputs. For instance, it's not only that Uma motivates her team to undergo various online courses & certifications, but she also recognizes when the pressure builds up within the team, and in turn eases it by conducting various stress busting activities.

Balancing the Life with Work
Even though Uma is absorbed in expansion plans and creating some of the game changing solutions for the Pharma industry, it is interesting that she never feels an imbalance between her personal & professional lives. She says,"I put my family and organization under one roof through open communication 'Right communication at the right time is the key to a balance,'and this applies to every aspect of life". It is exemplary the way she naturally balances her life and work.

Road Ahead
Uma is clear and confident about her future plans. And for a woman of her talent and drive, no dream is off-the-map."Women somewhere have forgotten their own strengths. I believe that there is no age baror gender discrimination to start your entrepreneurship journey. Every human being is special & great in their own way,"concludes Uma. She certainly is an inspiration to millions of women in the subcontinent.

Uma Janapareddy, Founder & CEO, SyMetric
A dynamic individual with an illustrious career spanning almost across two decades, Uma has demonstrated the ability to seize opportunities early and generate executive support for initiatives to capitalize on business opportunities. She has a Bachelor's Degree in Applied Nutrition, Masters in Social Work, Diplomas in software technology & fashion technology and Management Program in Woman Entrepreneurship at IIM – Bangalore. She handles diverse business ventures across Clinical Research, Life Sciences, Fashion and Social Enterprise, and orchestrates the overall direction and product strategy for SyMetric Systems.

Headquarter
Bangalore, India

Product/Services Offerings
− Integrated IWRSEDC– Randomization, Sites/Patients Handling, IP Management and Analytics

− EDC- eCRF& Edit Checks Management, Source Data Verification, Medical Coding,Pharmacovigilance,& Data Management Services

− BIOTool– EDC+ Volunteer Management System, Laboratory Management System & Sample Management System

Products in Pipeline
−PharmAnalytics in partnership with SAP.
− Pharmacovigilence
− ePRO

Platforms
− SyMetric C6: A Cloud based web platform for handling clinical end-point studies for pharmaceuticals, medical devises, nutraceuticals and cosmeceuticals

− SyMetric BIO: A cloud-based web platform exclusively built to handle Bio-availability and Bio-equivalence(BA/BE)studies.