The rapid penetration of technology has changed how we live our day-to-day lives and businesses from different industry verticals have benefitted due to it. Starting its operations in 1984, Allied Digital is one of the most pioneering and preferred IT services firms in the country. This global leader has been able to set new standards and develop into flag-bearers in this segment. To cater to the varied requirements of their clients, Allied Digital has created a diverse service portfolio that includes digital workspace services, digital enterprise infrastructure transformative solutions, and cybersecurity services to name a few. Industry veteran Utpal Chakraborty holds the office of Chief Digital Officer at the firm and under his guidance, Allied Digital has been able to break new business frontiers and strive for greater heights in the industry.
In an exclusive interview with CEO Insights, Utpal talks more about his illustrious professional journey and the unique business operations of Allied Digital.
Give us a brief overview of your early days in the IT industry?
Initially, I never thought of getting into the IT industry as my inclination was towards sports but when the IT revolution started in India, it made me interested in entering the IT market space. In the beginning, I was working with C++ technologies. My electronics background helped me to find my feet, especially during my early days in the industry. Later in my career, I branched out and was able to work on a different array of technologies including AI and Machine Learning. At first, it was hard for me to work with these technologies but gradually, I started learning about them and improved my knowledge on topics such as AI, data science, and NLP. As I am a front-runner in this space, I am widely recognized as top 20 global AI pioneers and was also recognized as the AI global ambassador 2022.
What motivated you to enter the IT industry and can you mention some of the major milestones in your career?
Throughout my career, I have been
able to architect some of the biggest applications for some of the biggest MNCs in the world. I also ventured into being a strategist and thought leader for some top-tier financial institutions in India and I have played a crucial role in bringing the digital financial revolution to India. I have published a lot of research & white papers that are appreciated by top global universities, and they invite me to various conferences to deliver lectures. Apart from that, my studies and research in AI have helped various enterprises that are aiming to adopt AI into their operations.
I have more than two decades of industry experience and my passion to be a constant learner, and improving myself consistently is something that has helped me to achieve sustained success in the industry
I have written four books and one of them is 'Artificial Intelligence for All' which aims to bring awareness of AI to the common mass and helps them to understand how they can leverage AI to their benefit. I have also written a book on Artificial Intelligence in Hindi for the common man. Apart from AI, I am also a quantum scientist and the most recent book I wrote was on quantum computing 'Quantum Computing and Future' and I can see the immense advantages that quantum computing and AI can bring to our computing capabilities. All this is just a tiny fragment of the career that I had and throughout my career, I have been a risk-taker and have never backed down from the challenges that came along my way.
Can you talk more about Allied Digital and its uniqueness?
We embrace emerging technologies and initiatives that are revolutionary. Our fintech product 'Fino Allied' conversational banking platform aspire to be a market disruptor by giving freedom to the end-users to enjoy the maximum advantages of banking. Similarly banks can integrate this cost-effective, plug & play product in their digital journey in a matter of few weeks. Regardless of your economic situation, our product will empower the end customers of the banks to get benefits from a different array of financial tools. Through this, we are aiming to achieve financial inclusion. Apart from this, we are also pioneers in the area of smart cities and we are working on some of the biggest smart city projects in
the country that are more sustainable and self-sufficient.
We are a very customer-centric business and our clients' needs are given top priority. We aspire to be a partner in our client's journey and help them operate at their fullest potential. This has helped us to create and maintain a clientele that includes a plethora of Fortune 500 companies. From the very beginning, we have ensured that we will never compromise on the quality of our offerings, and to ensure consistently high performance, every employee of ours is given proper training and orientation. More importantly, we make sure that we are aligned with our client's vision, and this helps us to offer the best value for money offerings to our clients. Throughout the years, we have also been able to assemble a team of pioneering professionals who are stalwarts in their respective arenas.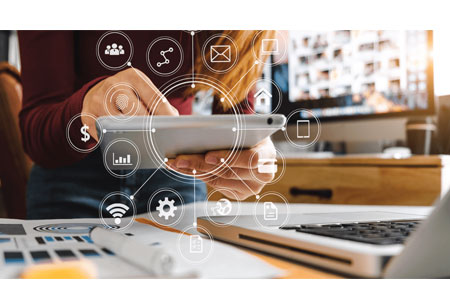 How do you keep yourself aligned with the changing technology trends in the market?
We are a New Champion in World Economic Forum (WEF)and this just goes to show how innovative and dynamic we are as an organization. We have adopted cloud technology in our operations, and we see the immense potential of the cloud going forward. Then, we are also incorporating a wide array of cutting-edge technologies so that we can act as catalysts of change in a new revolution in the Indian IT space. More importantly, we have made sure that we are aligned with the plans of the government so that we can play a crucial role in the nation-building process.
What advice would you give to budding entrepreneurs?
I have more than two decades of industry experience and my passion to be a constant learner and improving myself consistently is something that has helped me to achieve sustained success in the industry. Apart from that, being agile and adapting to the changing dynamics of the market has helped me to cope-up with the rapid change in the market. So, for new entrepreneurs, what I would say is to be open to learning new things and make sure that you can adapt to the changes happening in the market.
Utpal Chakraborty, Chief Digital Officer, Allied Digital Services
A technologist and futurist, Utpal embraces emerging technologies, and this thought leader has mentored many startups turning them into unicorns over the years.