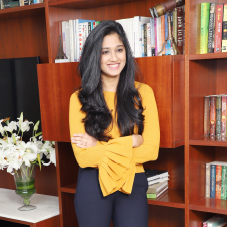 Someone once rightly said, "Women are leaders every where you look right from being a CEO leading a Fortune 500 company, to the housewife who raises her children and heads her household. Women will continue to break down walls and defy stereotypes". India's current day working woman is the personification of this statement and the country has undeniably depicted its women as powerful beings even before the Ramayana & Mahabharata era. The working woman today is a reminder of what an irreplaceable asset to society she is, without which life and society loses meaning. Inspired by just these facets, as young as she is, Vanshika Choudhary aimed at empowering the working women of India by establishing KNYA a premium and exclusive work wear brand that mirrors strong virtues & enables women to express themselves through what they wear at the workspace.
Enlighten us on your entrepreneurial journey and what truly inspired you to establish KNYA as an exclusive women work wear brand?
I always had a bigger vision for women in India and my inspiration comes from my admiration and respect for them, as they display multifaceted roles in today's society. Moreover, KNYA was to be based on the foundation of women achievement and empower them to boost self confidence and fuel their strength, and fashion became one way I could achieve that.
When I started KNYA, there were very few players with none specializing in work wear exclusively. I realized that this went along with my vision and I too had personally struggled to find wear
that was comfortable, affordable and of good quality. KNYA was born as a premium and fashionable work wear brand in the Indian market. My journey has been incredible as I have learnt a lot and this business has made me grow both personally & professionally.
For me, knowing that a name has become brand with the efforts provided from our team is soul satisfying
Education truly impacts professionalism and experience. Tell us about your educational & professional experience that enriched your vision into making KNYA a reality.
After I graduated, I applied for a three year Fashion Media & Industry course at Lasalle College of Arts, Singapore. As the final graduating project assignment, we were to design a brand and a business model, which decided my final grading as well. That was when the seeds of KNYA were sown and upon returning to Delhi, KNYA was what I wanted to bring about to reality. Moreover, my father owns a textile business, where we deal with yarn and various textiles. I worked under him for about two years so I could gain insights about fabrics and utilize that experience at KNYA with better expertise.
Tell us about KNYA and howis it different from your competitors, its pricing & exclusivities.
KNYA's USP is its fabrication. I grewup within a textile surrounding. Working with my father, I was always exposed to conversations involving textiles and fabrics, hence I possess a very good understanding of fabrics and try to implement that into KNYA by experimenting. Our brand is all about innovating with fabrics and the knowledge I accumulated over years. For instance, we designed a shirt made out of the eucalyptus tree; this material is 50 percent more absorbent than cotton, and uses 20 percent less water in the manufacturing process. A side work wear, we also provide accessories that we outsource from our tie ups
that complement our brand language.

What were the challenges you faced throughout your journey?
Challenges are inevitable. The first that I faced was coming from a traditional Marwari family. Despite getting all the support I wanted, I realized that women had to fight a little more than men do to get things done. And that was what I did; but once my parents saw potential and sincerity in what I was doing, they started supporting me.

We are completely bootstrapped till now. We haven't approached VCs yet as I feel I'm very young and still figuring out various aspects of the business, but I'm looking forward to nextyear, when we will be approaching a few VCs and letting the word out.

How do you ensure to maintain a work/ life balance and what are the future goals you have in store?
The tagline for KNYA is 'Clothes with a work-life balance' and we emphasize on that. Being a modern professional woman today means to able to take care of all duties at work and at home and so far I have been able to do that. I maintain fixed office timings post which it's family time and before I sleep, I schedule my next day. These have helped me balance my personal and work life.

For the future, we will be shifting our base from Delhi to Mumbai, because that place has performed extremely well for us with the growing number of working women and the work style there has clicked with our brand language. Aside this, we will approach VCs and increase our work wear range further decreasing costs upto 10 percent to be able to fulfill the needs of working women at every stratum in the business and corporate world.

Vanshika Choudhary, Founder& CEO
A passionate contemporary women work wear designer Vanshika holds keen interest in Impowering working women from every stratum of business & corporate life through fashion

Interests: Reading, horse riding, painting & movies
Cuisines: Indian,Italian & Asian
Favorite Destinations: Italy (Portofino)