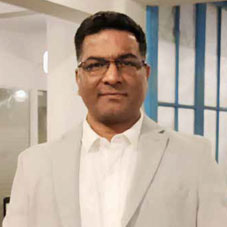 The number of internet users globally touching a whooping 4.9 billion and 700 million mark in India, as per IMAI. The current world's status quo and tech enhancement have created opportunities for brands to reach out to consumers sitting at their home.
Digital marketing based on data points is taking brands towards core marketing concept- "Reach the Right person with right message at right time" while saving budgets and offering simplest return rate compared with alternative mediums.
Leveraging the efficacy of customized marketing, Eridium, a nextgen Digital Marketing company is enabling brands - See, Shape and Act on opportunities. VipinGuliani, CEO and Co-Founder of the company has not only expertly shaped the growth trajectory of Eridium but taken significant businesses to new heights with the customized marketing approach. Bringing in the army of meaningful digital marketing consultants based on insights and data and customized digital services, Eridium is witnessing significant success under his well defined leadership.
CEO Insights engages in an exclusive interaction with VipinGuliani where we discuss the company's growth and journey, while getting glimpses from his journey as well. Here's the snippet from our interaction with Vipin.
Throw some light on your professional background and experience. What inspired you to establish Eridium Digital Private Limited?
My journey has nothing been less than an adventure, Graduated in Engineering in 90's, my professional journey started as software developer, where I got a chance to add on to marketing aspects. Soon realized that I am not built for working in backgrounds as a software developer and was interested in Brands, Business and
marketing which led me towards MBA program.
Post MBA, I started my career as a marketer in a software firm and dabbled with digital marketing in
early 2000 and since than I have been working towards crafting marketing stories and reach the right audience at the right time. I understood the importance of having balanced approach towards content, technology using analytics, which helped me build innovative solutions to resolve business marketing problems and impact across startup's to fortune 500 brands.
I think every business today, is being built on solving some kind of problem. So just be solutions oriented.
I always had an 'Eridium' in my mind;to 'mine' the right solutions and not services.In 2019 when I met a couple of smart and like-minded people it clicked and that's when Eridium came into fruition. We tried to answer why the entire ecosystem is inclining towards services more and not the solutions. So, we came up with the idea to launch a 'transformatory ground' which actually works on building up the solutions for the brands using a combination of all these services and build it further as a core base of value addition. So Eridium works on perceiving the problem from businesses across industries and establishing a customized solution course to not only place the brand on the digital map but also create significant value addition to the business goals. We are totally industry agnostic as we have experts from multiple domains and serve clients with the best possible outcomes.
What is the unique proposition that your organization offers to its clients and what is the USP?
Our proposition is to enable any brand resolve its problems in the digital arena by unleashing the right solution through consultancy and by combining the right services. I'll give you an example of this. Most of the brands come to us expressing a problem statement - 'we need business growth'. Well, that's a generic problem statement that they come up with. But our expertise lies in making it more specific through assessments, analysis and then sharing a growth pathby leveraging best digital channels. We believe in solving problems as well as adding the right values through right participations. And that's how we leverage the customized solution approach and not a mere digital service provider.
Could you tell me some of the major challenges you have experienced in your journey so far
It's always been challenging to work
in a ever evolving digital environment which is not only influenced by technology and innovation but is also highly impacted by the policiesfrom different geographies. I think every brand has a different journey and the stakeholders in those brands are at a very differentiated level of their journey into the digital space. So as digital partners, it is on us to help them take the right course of action for the best outcomes through the right solutions.

Could you tell me about your leadership approach?
I believe in a participatory and value based leadership along with working in an open environment and so, at Eridium we like to keep open culture instead of traditional Indian leadership formats. Just like we offer a detailed strategical approach to our clients, we have also built a very comprehensive plan for everybody in the team, not withstanding at what position they are.

We build opportunities and open spaces for the individual teams to learn, grow, and be the leaders and ambassadors. Everything at our end is just about building opportunities towards business, employees while working in an open teamwork environment to reach out to the next level.

Based on your experience, what advice wouldyou give to the budding entrepreneurs in the same industry?
I would just say, don't go by the services, look at the solutions.The solutions for the real problems that are out there. I think all the startups, every business today, are being built on solving some kind of problem. It is no longer 'the services game'. The world is looking for solutions and frankly, there are a myriad number of problems to be solved. The trick is to go deeper at the core and understand the nuances. It is about asking yourself, is what I am offering really going to solve this? The industry does not need any one-size fits all services anymore because there's no one-size fits-all style. It needs an over powering display of right solutions.

Vipin Guliani,CEO and Co-Founder, Eridium
One of the early pioneers and voices of digital marketing, Vipin is one of India's leading digital marketing experts. With over 22years of core marketing experience, Vipin has been consistently awarded as a top digital practitioner. His latest venture Eridium Digital is built at the intersection of technology and Digital marketing. Work apart, he loves travelling with his wife with London being a favourite haunt. He is also a lover of good food.