Whizlabs: Empowering Professionals to Achieve their Career Goals with High-Quality Online Training Courses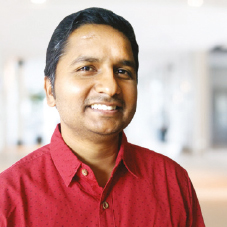 The digital economy in India is projected to touch $1 trillion by 2022, giving enormous business scope for the various sectors in the IT industry. The online training segment is no exception, given that the training institutes upgrade their abilities apace with the industry evolution by implementing innovative management solutions. Whizlabs, a high-quality online certification training course & practice test provider, is making hay by constantly reinvigorating itself through the adoption of such innovative efforts, including social recruitment, e-signing solutions, secure messaging solutions visual management tools and more. Incepted by Krishna Srinivasan (Director & CEO), Whizlabs has today emerged into a wellknown name among professionals preparing for certifications by ensuring world-class quality, 100 percent exam focus, 24x7 expert support, hands-on labs, customization features (added recently) and affordable prices.
Krishna started his career as a technology professional in Java with sound knowledge of cloud computing and big data, where he handled multiple roles across many domains like finance, HR, marketing, business development and others. Such a great exposure to business strategies and management aspects inspires him to lead all the departments at Whizlabs as well. Krishna in an exclusive interview with CEO Insights, delineates the company's unique factors, journey, and aspirations. Here are the excerpts:
Kindly tell us about the unique features that set your training courses & practice tests apart from the rest.
We offer training courses for AWS, Azure, and Google Cloud certifications that are fully focused on the exam objectives. Our aim is to help professionals achieve their
career goals. So our training courses are built to help candidates succeed in the certification exams in the first attempt. These courses provide a complete package to prepare, get hands-on expertise and practice with the solid support of our Subject Matter Experts. The practice tests we provide with real exam like environment boosts the candidates' confidence, whereas the realtime practice labs provide them with hands-on experience with the cloud platform. As a cherry on top, all of our training courses come with unlimited access and lifetime validity.
Our brilliant teams of innovative brains work with the full dedication to lift Whizlabs above the challenges and enable the company to accomplish its vision
How has your company's journey been so far, and what challenges did you encounter during this journey?
The success of Whizlabs as an online certification training provider is a life-changing event not only for me, but for everyone who is connected with Whizlabs. When we started with cloud courses in 2016, the biggest challenge was building a good team. As we are expanding and want everyone to be aligned with the company's mission, it becomes an on-going challenge. Further more, as we are in the online training industry, it becomes more important for us to implement innovative management solutions, latest technologies and innovative tools to grow. Our brilliant teams of innovative brains spread across different departments, including technical, development, customer support and marketing, work with full dedication to lift Whizlabs above the challenges and enable the company to accomplish its vision, and so we are here!
How do you ensure to provide an updated & engaging content during course delivery?
We have an innovative team of 80+ cloud experts working full time, part time and remotely. Our trainers are industry experts with a minimum of 10+ years of cloud experience and relevant cloud certi-fications, who work together to create high quality training courses and practice tests.
Our subject matter experts keep an eye on the updates of the cloud world to update the existing courses and devise new training courses. As certification vendors keep-on updating the exam pattern and objectives, these experts update our courses accordingly.

To keep the learning process interesting, we involve real time experiences, hands-on labs and quick flashcards to keep the content refreshing. While attempting practice questions students can go to the documentation for detailed information, and while watching video courses, students can move to the hands-on labs. These switches make our pedagogymore interesting and keep students engaging throughout the course! Once the candidate finishes all the video lectures of the training course, he/she is eligible to receive the course completion certificate from Whizlabs.

What is the future roadmap set for your company?
Besides certification training courses, we have now started working on fundamental & topic wise training courses and masterclasses such as AWS Lambda & API Gateway training course, Database Migration to AWS masterclass and learn Kubernetes with AWS & Docker. Plans are afoot to integrate some other learning programs in 2020.

Our future plan mainly revolves around the aim of helping children in getting good education and professionals in reaching their career goals. We have also implemented CSR policy in our company and have many more plans for the coming years to help unprivileged children get a good education with the latest technological equipment. Moving with trends, we have recently launched a mobile app to make learning easier. We intend to become the most affordable providers of online certification training and are looking to achieve this aim in the near future.

KEY MANAGEMENT:
Krishna Srinivasan, Director & CEO
Kickstarted his career as a technology professional, Krishna has strong technical as well as management knowledge. Spreading knowledge being his passion, he used to run a technical blog prior to Whizlabs.

Location: Bangalore