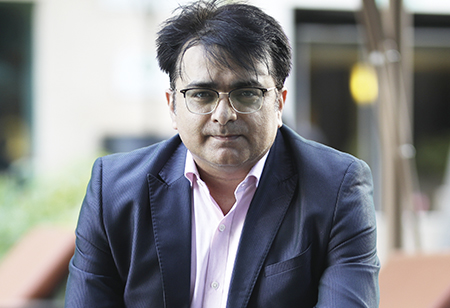 Kapil Gulati, Director - Sales & Marketing, Sennheiser India
An IIM - Calcutta alumnus, Kapil, in his career spanning over 18 years, has worked at LG India and SONY India, prior to joining Sennheiser Electronics in 2006.
India as a country has always been one that is a music loving country. For Indians, it is not just a way to pass their time; music is a way of expression, emotion and passion for them. They embody the vibe of music and it's their go-to haven whenever they feel any emotion. If one comes to think of it, there is a song that's been created for every emotion – whether you're elated, low, frustrated, overjoyed, angry or simply want to rejuvenate yourself. You name it, and music has an answer to help you channelize your emotions. In fact, owing to the diverse nature of India as a country, there is never a dearth of the variety of music. India is home to a deep and rich culture of music, one which is a representation of their culture, art and essence.
Through this, one thing is clear – the Indian Music Industry will continue to hold its value and importance and to cater to that demand, more and more artists will continue to create memorable tunes and compositions. An indispensable element of the music industry is the audio experience one has – it can make or break our music listening experience. The audio industry in India has been seeing an unprecedented growth over the past decade or so. The way audio and music are being consumed is representative of how patterns and trends are evolving.
An important aspect of this evolving audio consumption patterns is the growth the music/audio streaming industry has seen over the past five years or so. With smartphones becoming the epicentre of consumption for most people today, streaming has gained prominence. Content is being consumed on-the-go – be it movies and shows on various OTT platforms or music. Statistics reiterate the same – the Indian music streaming market is projected to exhibit a CAGR of more than 22 percent through 2023. It contributed a 27 percent growth to the overall music industry in 2017-18.
But, in this evolving ecosystem, would you ever associate 'technology' to audio? Not a very common perception in the general domain of one's knowledge about audio, but technology is as intrinsic to the overall experience as any other factor would be. The kind of audio solutions used, the equipment or the instruments even, go a long way in contributing to the overall experience of not just the ones creating the audio, but the audience consuming it, as well. The perfect amalgamation of technology with audio has the ability and power to create a piece of art that will be a memorable experience for everyone in the times to come.
Today, India is on the cusp of a technological revolution. Developments in technology have led to some huge changes, both in the economy and in human behaviour. Just a couple of years ago, everyone had thought
technologies like Artificial Intelligence, Virtual and Augmented Reality, Automation and multiple others are a far-fetched reality. But, the pace at which they are all entering the mainstream and seeping into our lives is un-'real'. Ironic, isn't it?! In this backdrop, needless to say, the impacts of constantly evolving technology are also seeping into the audio industry.
This developing technology has made one thing clear – the future of the audio industry lies in wireless. Wireless audio has already arrived in India and is expected to be the next big thing. But in the coming years, we can see a growing number of consumers expecting more advancements and nuances to be brought about in wireless offerings by the providers of various technologies. Better noise-cancellation technology, filtering out ambient sound, enhancing the audio quality in noisy environments are some of the developments we can look at for the trend of wireless audio this year. Consumers are on the look-out for quality wearable technology/accessories that enhances their overall sound and visual experience.
Understanding The Need Of The Evolving Audience, It Is Essential For Brands To Create Products That Are Smart, Seamless, Efficient And Integrated
Over the past decade or so, the needs and preferences of the Indian audience, particularly the young generation and millennials, have changed significantly. Their consumption patterns have evolved. Today, the audience is increasingly looking for one important thing – technology easing and simplifying their lives through an integrated, seamless experience. They seek value in products and experiences that are hassle-free, uncomplicated and suit their extremely fast-paced and always on-the-move lives. With products and services in a cluttered market having similar offerings, it is no longer enough for a product to deliver one simple function. For consumers to go back to a product or service, they need to add value to their lives in more ways than one through a seamless experience.
This need has seeped into their music and audio consumption patterns, as well. Now, it isn't enough for a headphone or an earphone to just help consumers consume music – they have to deliver much more value in their daily life for the evolving audience to seek relevance from them and wish to continue using them. In short, they need to act as smart gadgets that seamlessly enter the ecosystem of their everyday life.
Understanding the need of this evolving audience, it is essential for brands to create products that are smart, seamless, efficient and integrated. With over a 70-year history that has been built on the culture of innovation and a vision to shape the future of the audio industry, Sennheiser aims to do exactly that. We are constantly creating products and offerings that cater to this need. For example, our most recent and flagship Momentum True Wireless. It is the perfect amalgamation of everything today's audience is looking for – it is light, seamless and integrated, smart and does more for one than simply play music. Internationally, it is seeing a 288 percent growth with the consumers taking to it beautifully. Hopefully, our Indian market will also love it equally. These are the kind of products, I believe, that will shape the future of the audio and music industry, making it truly wireless and smart.