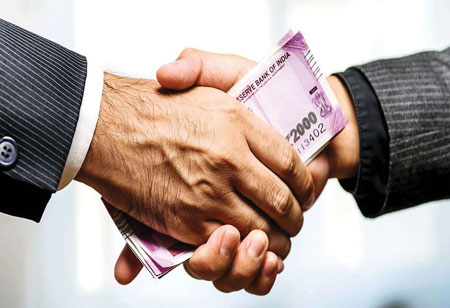 The biggest reason why personal loans are widely availed in India is because of their versatility. You can use it to finance your dreams as well as emergencies. Whether you wish to upgrade your home's aesthetics, go on that vacation you have always dreamed of, arrange a grand wedding for your son, or pay off staggering medical bills, a personal loan can help you out. Since financial institutions do not require you to pledge any collateral or provide a specific reason for availing this kind of loan, it adds on to the advantage. However, choosing the right
personal loan provider
is essential as there are numerous players in the market and not everyone might be perfect for your needs. Here are the tips you can keep in mind to make the task of selecting the right lender simple.


Consider the amount of loan you need


Different lenders might have different ranges in place, when it comes to the loan amount. So, you need to compare and then go with the one that offers the loan amount you need. A few personal loan providers might also allow you to withdraw the amount in instalments, based on your needs. This way, you will have to pay interest only on that part of the loan amount which you are using. Do note that this kind of personal loan comes in handy only when you are not very sure how much money you might actually need.



Compare rates of interest


Since the interest rate determines your EMI amount to a large extent, compare different financial institutions and zero in on one that offers the lowest rate. However, make sure that the lender is a reputed and trusted one and you get all the services you desire. Also, if you have a good credit score or you choose a long tenure, you can negotiate the rate of interest. In case of a long tenure though, the total interest burden is greater. So, assess your repayment ability carefully and then make a choice.



Find out if flexible tenures are available


The best lenders in the market offer flexible tenures these days, so that you can repay the personal loan as per your convenience. So, go for one that suits your exact needs. A long tenure will usually lead to a low interest rate and small EMI, and vice versa. However, as mentioned before, the longer the tenure, the higher will be the total interest cost.



Check the prepayment rules


This is one of the most important things to consider while picking a personal loan provider. Find out what their foreclosure terms state and if you can prepay the loan without incurring any penalty. This can help you pay off your dues before the tenure gets over and become debt-free sooner.



Be clear about the charges involved


Before you sign the dotted line with any financial institution, make sure you understand their processing fees and other charges like origination fees, administration fees and missed payment charges, very well. This will help you prevent any unpleasant surprises in the future. Compare these charges across different lenders too, and try to find out why one might be charging more than the other and if any benefits are involved in it. Remember that service charges impact the total cost of the loan.




The Right Personal Loan Provider Will Make The Loan Application And Processing As Simple And Hassle-Free As Possible



Examine the ease of loan application and processing


The right personal loan provider will make the loan application and processing as simple and hassle-free as possible. They will have an online system in place where you can get everything done from the comfort of your home. You might be able to use a virtual calculator to determine your EMI as well on their website. Plus, they will require minimal documents and offer instant approval too, if everything is in order. Try and go for a financial institution that has a proactive and prompt customer service team in place. So, in case you get stuck with something while applying or have any query afterwards, they can sort it out quickly. Also find out if it is possible to reach the lender via multiple communication channels in case of any urgency. Many lenders these days have apps to make your experience smooth.



Do not ignore the terms and conditions


Focus on the fine print before you sign on the loan contract, as it will help you ensure that the terms are actually suitable for your requirement. If you have any doubts or are not sure why a certain clause is mentioned, always get clarity from the lender. In case you do not get a proper answer, you should look for another financial institution.



Compare eligibility criteria across lenders


Different lenders might have different eligibility criteria, when it comes to factors like age, income, employment status and so on. So, compare multiple lenders before you make a decision. Depending on your financial situation, the loan amount you need and your repayment ability, you will find financial institutions that have simple criteria in place.




Apart from keeping the above tips in mind, make sure you research about a personal loan provider before you go with it. Go through reviews and testimonials on online forums and social media platforms. However, remember that not all reviews are genuine. Get a fair idea about their credibility, transparency, professionalism and timeliness before you avail the personal loan.