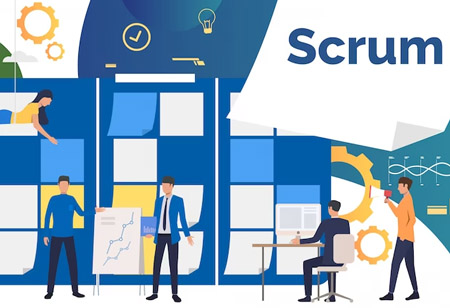 Certified Scrum Masters have completed the Scrum Alliance Certified ScrumMaster (CSM) program, which some CSM online training services offer. The CSM designation requires passing an exam and submitting a portfolio of work to prove proficiency in all aspects of being a Certified Scrum Master.
Certified Scrum Master certification is a course designed to help professionals reboot their careers as Scrum practitioners with a clear concept of managing projects. The course gives an overview of Scrum Values, emphasizing the values of teamwork, accountability, and iterative process toward a well-defined goal.
Professionals with CSM Certifications can best fit for Scrum Master or a Scrum Team Member. Scrum Masters are responsible for managing how information is managed within the execution of the projects. After passing a certification exam, one can accept the license agreement and complete the Scrum Alliance membership profile.
Key Features of CSM Certification
1. 2 Days of Classroom Training and Certification.
2. Scrum Alliance exam fee included.
3. Practical Knowledge of Role plays, Case studies & Simulations.
4. Training by 20+ years of experienced professionals in Scrum Alliance's CST®
5. 2-year membership with Scrum Alliance.
6. Create a Scrum workflow aligned with your day-to-day work.
7. Create Artifacts to learn how to lead the team.
8. 16 SEUs and 16 PDUs.
Is CSM an open-book exam?
Yes, the CSM is an open-book exam and consists of multiple-choice questions. There are 50 MCQs, and you must answer 37 of them correctly out of 50. This amounts to a 74% or higher score for obtaining the CSM certification.
The CSM curriculum is intriguing and easy to comprehend. But it does require you to devote time to proper preparation. It is best to understand the roles and rules of the Scrum framework so you can not only clear the exam with confidence but also become an effective Scrum Master who makes a difference in your organization.
To become a Scrum Master, you need to take the 2-day CSM course and get instructed by Certified Scrum Trainers (CSTs), a requirement set by Scrum Alliance for all candidates pursuing the CSM credential.
What are the prerequisites for a CSM exam?
Requirements for ScrumMaster certification earn your CSM certificate; you must take a CSM course from a Certified Scrum Trainer and demonstrate your progress through an online CSM test.
The first step toward your CSM is familiarizing yourself with Scrum.
Then attend a two-day CSM course taught by a Certified Scrum Trainer. After completing the course, you will need to pass the CSM test. You must correctly answer 24 of the 35 questions to get a passing score.
After you pass the CSM test, you will be asked by the institute to accept the License Agreement and complete your Scrum Alliance membership profile.
Dedicating your time to learning the concepts so you can implement them on the job will take you far as a Scrum Master. This way, you will be confident on exam day and on the job.
The CSM is a multiple-choice exam. There are 50 MCQs, out of which you need to score 37 questions correctly, 50, and this is 74% or higher for getting the CSM certification. Practice Mock exams and follow the Scrum guide provided by the Scrum Alliance to prepare for the exam.
To be a Scrum Master, you need to take the Certified ScrumMaster Course- Scrum Alliance makes it mandatory for all individuals, irrespective of experience, to enroll in a 16-hour-2-day training course from a Registered Education Ally (REA) of Scrum Alliance. Choose a training provider that will give you hands-on practical knowledge and one that Experienced Certified Scrum Trainers lead.
It is important to know that passing the CSM exam does not immediately qualify you as a competent scrum master. Understanding and practicing Scrum rules and roles can help you become a successful Scrum Master. So thoroughly understand the Scrum framework's concepts.
What are the benefits of a ScrumMaster certification? By earning a Certified ScrumMaster certification, you:
Adopting Agile practices expands your career opportunities by staying relevant, constant, and marketable across all industry sectors.
Demonstrate to employers and peers supporters to your attainment to know core Scrum knowledge.
Learn the basic knowledge of Scrum and the scope of the Certified ScrumMaster's role from the best minds in Scrum.
Engage with a group of people of recognized Scrum experts committed to continuous improvement.
What are the criteria for taking up the certification?
Certified Scrum Master (CSM) certification is a professional designation in software development. The Certified Scrum Master is someone who has been certified by Scrum Alliance.
CSM Certification is a global certification program for Scrum Master professionals. Certified Scrum Master is the most challenging, realistic, and logical career development program. It has been designed to help individuals build their skills and knowledge in this field. There are no particular eligibility criteria for CSM certification; for anyone who wants to explore CSM, this certification will be an ideal match. While there are no hard and fast eligibility criteria, one must be familiar with the Scrum framework.
This certification is unlike other certifications because it requires no prerequisite qualifications. However, you must complete one rigorous application process to be issued a certificate as part of the certification exam. As the title suggests, it is a professional certification to validate that the holder has met certain standards and the criteria needed to take up such certification. The CSM certifies one's experience and skills in managing software development and related projects.
The Scrum Alliance offers certified Scrum Master certifications. These certifications are generally required for the role of a Scrum Master. Some benefits of this certification include access to a world of resources, training opportunities, and expertise. With this certification, you will also have an opportunity to learn about different approaches to managing projects.
Last words
To get complete support in Scrum Master Certification, Simplilearn online learning is an institute that can help you. It has great expertise in this field with talents and experienced trainers all over the globe.