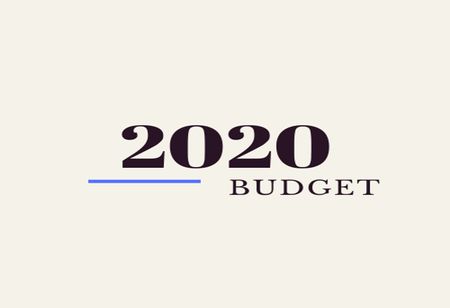 Abhinav Agrawal, Correspondent, CEO Insights, 0
It's no secret that the global headwinds & challenges in the domestic financial sector diminished the growth of Indian economy in the last financial year. Consequently, the GDP growth was also moderated to five percent in 2019-20 as compared to 6.8 percent in 2018-19. As Such, companies, governments, other organizations & citizens – all had been waiting with bated breath to see if their aspirations & anticipations have been answered in the latest edition of Union Budget. The wait ended with Nirmala Sitharaman, Minister of Finance & Corporate Affairs, unveiling the governments' year-plans for citizens & industries serving in different sectors & belonging to diverse domains.
Presenting the budget in the backdrop of two cross-cutting developments - proliferation of technologies, specially analytics, machine learning, robotics, bio-informatics & Artificial Intelligence; and the number of people in the productive age group i.e. 15-65 years in India, being at its highest; the minister revealed that the financial plan is woven around three prominent themes namely - Aspirational India, Economic development & Caring Society.
Despite a gradual slowdown in GDP growth last financial year, the fundamentals of Indian economy remain strong as - the CAD narrowed to 1.5 percent, FDI inflows increased, foreign exchange reserves recorded an all time high of 457.5 billion & India moved up by 14 positions to 63rd rank in 2019 World Bank's 'Ease of Doing Business – 2020' report.
As far as the corporate sector & industries are concerned, the reduction in corporate tax rate is a great relief! Moreover, policy initiatives for development of textiles & handicrafts, and electric vehicles; outreach programme for growth, expansion & facilitation of micro, small & medium enterprises; and, incentives for start-ups in India, are being highly praised by a multitude of corporates.
"If this budget had to be known for one thing, it would be the length and breadth of technology infusion across all aspects. Technology and data are changing the world and the latest Union Budget rightly makes these its mainstay. The focus on data, digital records, connectivity and data security across key citizen services underlines the government's faith in technology to deliver better governance, a safer society and a more competitive economy. The proposals for building data centre parks and setting up the ambitious National Mission of Quantum Technology and Application are significant announcements to put the technology intent into practice," says Ritesh Gandotra, Director, Xerox Business Services.
This new budget brought with it big boons for the real estate sector, as we witness the relaxation of external
If this budget had to be known for one thing, it would be the length and breadth of technology infusion across all aspects
commercial borrowing guidelines for affordable housing, realty fund worth Rs 25,000 crore for stalled housing projects & additional tax deduction of interest for affordable housing.
Commenting on this positive outlook towards real estate sector, Madhusudhan G, Chairman & MD, Sumadhura Group, says, "We view this budget in positive light. The budget has provided fresh stimulus to the 'Housing for All' vision by extending additional corpus of INR 1.5 lakh tax benefit on interest paid on affordable housing loans by one year. Affordable housing projects are given a deduction which adds to a concession for real estate transactions." "The long awaiting single-window clearance and industry status for real estate are not addressed, however the developers expects the National Logistics Policy to be released by the government soon, to help enable single-window clearance for projects," he adjoins.
The highlights of the budget also include, revised Priority Sector Lending (PSL) norms for exports, streamlining of many labour laws at the central government level, & the innovative steps taken by the administration towards boosting manufacturing, employment generation, financial inclusion, digital payments, and improving ease of doing business via schemes such as - Make in India, Skill India & Direct Benefit Transfer.
Mooting his views on government's digital initiatives, Shailen Mehta, Founder & MD, eJOHRI, asserts, "Digital revolution plays a crucial role in the growth of the Indian startup ecosystem and Initiatives like online tax assessment, facial assessments, facial KYCs will provide the much needed stack, essential for the growth of startups. ESOPs have become instrumental in Indian corporate and startup ecosystem to woo high-value employees and retain talent. Exemption of taxes on ESOPs will further encourage companies to introduce ESOPs in their companies at a large level, which in turn will allow them to attract world-class talent while keeping employee costs in check. India is the third largest startup hub in the world , the introduction of an Investment Clearance Cell and seed funding will provide a boost to young entrepreneurs of India who are enthusiastically looking to build a bootstrapped business, and build sustainable revenue businesses."
From this budget, the manufacturing sector receives encouragement for production of mobile phones, electronic equipment & semiconductor packaging, and establishment of data centre parks throughout the country. The audit threshold for MSMEs has been raised to Rs. 5 crore from Rs 1 crore; the healthcare sector receives an additional Rs. 69000 crore for further development. And, the transport sector is to witness the development of 100 more airports by 2024 to support Central government's 'Udaan' scheme. Speaking of the much talked agriculture sector, Rs. 15 lakh crore has been fixed for its development; while the education sector is to see 150 higher education institutions offering apprenticeship diplomas by March 2021.