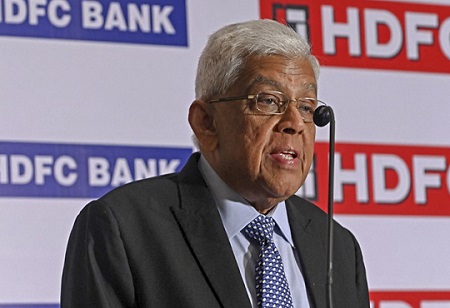 HDFC Chairman Deepak Parekh on Monday said various regulations for banks and non-banking financial companies (NBFCs) have been harmonised over the last few years, thereby enabling the potential merger of HDFC Ltd with HDFC Bank.
"Regulatory changes over the past three years have reduced barriers for merger," Parekh said. "NPA classification is same for NBFCs and banks. The upper layer of NBFCs will be equivalent to banks. The regulatory arbitrage has reduced," he said.
"The merger makes the mortgage offering of the combined entity even more competitive," Parekh said. "The funding challenge will be minimised with the merger of the two entities."
Parekh said that the merger of mortgage firm HDFC with HDFC Bank will not only strengthen the entity against its competitors but also make its offerings more competitive. Speaking at a press conference following the announcement, he said that post the merger, HDFC Bank will no longer have any promoters and that all the shares will be with the public. Parekh said the move will also benefit the lower cost of funds to be available to the mortgage business.
"Larger balance sheet and capital base will enable larger ticket loans, including infrastructure loans, that are the urgent requirement of the country," Parekh added. He said the HDFC-HDFC Bank merger will mitigate single product risk, enhance the diversity of assets of the combined entity. The combined entity will be in a position to offer mortgage products seamlessly vs. current assignment route.
He said the process will take 12-18 months because of numerous approvals.
Ruling out his presence on the board of the combined entity, Parekh said, "The RBI doesn't allow over 75-year-old officials to be on the board. I have crossed that age. Keki Mistry (HDFC Ltd Vice Chairman and CEO) will have a year or year-and-a-half, so he has time and he can be a director on board. Keki Mistry does not wish to be a full time executive but can be on the board."
Sashi Jagdishan, CEO & MD, HDFC Bank, said, "I acknowledge that 6-7 years ago we did not see the value on a combined basis. The fastest-growing engine for the bank is micro-segment which qualifies for the priority sector. The interest rate regime has come down and there is no more a drag on reserve requirements."
On the rationale behind the merger, he said the interest regime has come down dramatically from a range of 6-7 per cent to 3-4 per cent. As such, the drag on the SLR and CRR is no more a drag. The government security yields are around 6 per cent and the cost of funds is 3-4 per cent, so it is still a positive drag. According to Atanu Chakraborty, chairman of HDFC Bank, the combined entity, which will now have loans across mortgages, retail, large corporates and small businesses, will be able to withstand economic cycles.