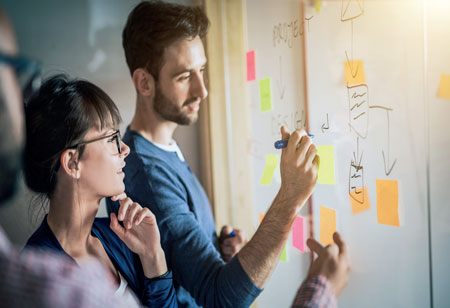 CEOInsights Team, 0
In the current era, starting a new venture or establishing a business is not a big thing; the competition is getting higher, and today's entrepreneurs are very well versed with the fact that they need more than just entrepreneurship & leadership skills to stay ahead in the game. For entrepreneurs, when it comes to increasing profits, it's tempting to concentrate on making new sales or pursuing bigger accounts. But it's more important to understand that paying attention to your existing customers, no matter how small they are, is the key essential to keeping your business thriving. As an entrepreneur, it is crucial to understand the market and learn whether your product or service will be helpful to the customers or not. As someone who is starting a new business venture, you must consider the customer's needs and design your brand accordingly. Innovation is the driving force of entrepreneurship, and here comes the need to understand the significance of 'Design Thinking'. Though this is a buzzword in the business world, many leaders are still not fully aware of how to utilize it to make the best results out of it. So, we decided to help them out with this article, which will focus on design thinking and how it can help entrepreneurs grow. Let's have a look.
First of all, here is a short definition of design thinking It is an iterative process in which we seek to understand the user, challenge assumptions, and redefine problems in an attempt to identify alternative strategies and solutions that might not be instantly apparent with our initial level of understanding. At the same time, design thinking provides a solution-based approach to solving problems. It is a way of thinking and working as well as a collection of hands-on methods. In common words redefining problems, understanding the challenges faced by users, and coming up with an innovative solution is known as the design thinking process. Some of the world's leading brands, such as Apple, Google, Samsung and GE, have rapidly adopted the design thinking approach, and design thinking is being taught at leading universities around the world, including d.school, Stanford, Harvard and MIT. Let us try to understand how design thinking can help you as an entrepreneur.
Design thinking revolves around a deep interest in developing an understanding of the people for whom you're dealing with and designing the products or services. It helps in observing and developing empathy with the target user. Design thinking helps entrepreneurs in the process of questioning, such as questioning the problem,questioning the assumptions, and questioning the implications. It is extremely useful in tackling problems that are ill-defined or unknown, by reframing the problem in human centric ways, creating many ideas in brain storming sessions and adopting a hands-on approach in prototyping and testing. It also involves ongoing experimentation such as sketching, prototyping,
testing, and trying out concepts and ideas.
Phases in Design Thinking
The design thinking process can be applied to many different contexts it's not just about developing the next digital product. Nor is it limited to design teams; more and more businesses are using design thinking as a way to foster innovation on a company wide scale. Though organizations, entre preneurs and leaders follow different processes, yet all variants of design thinking embody the same principles, which were first described by Nobel Prize laureate Herbert Simon in The Sciences of the Artificial in 1969. Let's see at the five-phase model proposed by the Hasso Plattner Institute of Design at Stanford, which is also known as d.school. The reason behind choosing d.school's approach is that they're at the forefront of applying and teaching design thinking. The five phases of design thinking, according to d.school, are as follows Empathize with your users, Define your users' needs,their problem, and your insights, Ideate by challenging assumptions and creating ideas for innovative solutions, Prototype to start creating solutions, Test solutions.
In common words redefining problems, understanding The challenges faced by users, and coming up with an Innovative solution is known as the design thinking Process
It is important to note that the five phases/ stages/modes are not necessarily always sequential. They do not have to follow any specific order and can often occur in parallel and repeat iteratively. Given that, you should not understand the phases as a hierarchical or step-by-step process. Instead, you should look at it as an overview of the modes or phases that contribute to an innovative project, rather than sequential steps.
Is it only for Entrepreneurs?
Tim Brown the renowned British industrial designer and the Chair of IDEO emphasizes that design thinking techniques and strategies of design belong at every level of a business. It is not only for designers but also for creative employees, freelancers, and leaders who seek to infuse design thinking into every level of an organization, product or service in order to drive new alter natives for business and society.
Conclusion
The beauty of design thinking is that it works best under conditions of uncertainty when you really don't know where to start. It's a methodology that is very messy in practice but does allow for a systematic approach to creating new opportunities. At the heart of design thinking is the intention to improve services, products and customer experience by analyzing how users interact with them and investigating the conditions in which they operate. Not just that but, design thinking offers us a means of digging that bit deeper to uncover ways of improving user experiences. Hence, it is highly imperative for every entrepreneur to add this skill in their list. Thinking out of the box and coming up with new ideas requires focus, investment, and more importantly, methodology. And design thinking will help them achieve exactly the same.