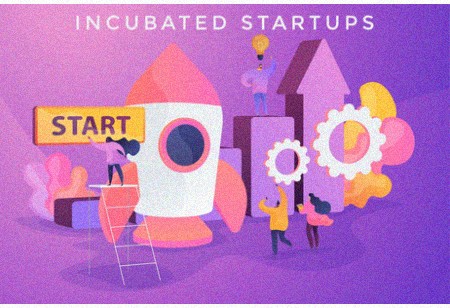 India is a nation that is rich of talent, but what the nation really needs is a platform for the talent to showcase along with just a little push and opportunity to flourish and excel in the society. One such platform is incubation centres in colleges. Wondering how an incubation centre can help a nation? Let me explain to you with example. There is much space for incubation centre where it can contribute and help the nation grow. By setting up the innovation & incubation centres at higher educational institutes, small industries gain access not only to leading-edge technologies, but also highly trained students, professors and infrastructure facilities while the higher education institutes are benefited from building links with local bodies and improving their objectives regarding student employability. Not just that but incubation centres work on the basis of research & innovation, and such centres also incubate startups within the colleges/institutes that usually do miracles which are appreciated by even many large & renowned organizations. One such instance that is revolving in the spotlight is 'Equine Biotech', and today we will talk about these startups.
Recently, a startup incubated at the Indian Institute of Science (IISc) named Equine Biotech has developed an indigenous RT-PCR kit for accurate and affordable diagnosis of Covid-19. The test kit is called GlobalTM diagnostic and is based on Reverse Transcriptase Polymerase Chain Reaction (RT-PCR). It has been approved for use in authorized diagnostic labs by the Indian Council of Medical Research. In RT-PCR, RNA the genetic material of SARS-CoV-2 is transcribed into complementary DNA by a process called reverse transcription and then amplified. The PCR reaction is monitored in real-time with the help of a fluorescent DNA-binding dye. The degree of fluorescence indicates the severity of the infection.
According to Utpal Tatu, Founder, Equine Biotech and also a Professor in the Department of Biochemistry, IISc, the test takes about 1.5 hours to confirm the presence of SARS-CoV-2 in patient samples. "Our startup has been working on testing for coronavirus infections for many years, even before the Covid-19 pandemic started. This experience has helped us engineer the kit for Covid-19," Utpal Tatu stated in an IISc statement. This kit is one of the fastest to detect the presence of SARS-CoV-2 inpatient samples.
The pandemic has affected more than 30 million people and caused more than 900,000 deaths worldwide. India currently has the second-highest number of reported cases, with more than 6.3 million people infected. Though the analysts are already suggesting that ramping up testing in the country is crucial for tracking and controlling the spread of this infectious disease. The need of the nation right now is improvement and advancement in testing facilities, and Equine Biotech is definitely contributing its best in it.
Indian Institute of Science's (IISc) contribution in the control of COVID and its spreading is truly commendable. The institute has been incubating startups that may convert lab analysis into merchandise for the market. Now at the very least eight of the almost 30 incubations have laboured on a number of COVID improvements. C.S. Murali, Chairman, The Society for Innovation and Development (SID), mentioned: "While it is heartening to see so many young minds striving to innovate, what makes us and the institute proud is also the fact that they bring so many scalable technologies to the table. And, we are happy to see that at least eight of our startups have either already developed solutions for Covid-19 or are developing solutions that will soon be market-ready."
Let's have a look at some of them:
Azooka Life Sciences: Azooka, a singular speciality fluorescent dyes firm has patented DNA and RNA stains which can be broadly utilized in molecular diagnostics. The agency has PCR and RT-PCR master mixes for Covid-19 diagnostic package growth and is making an attempt to ramp up manufacturing. Azooka's kits are made with indigenous dyes. "They are working on a diagnostic test kit (LAMP-CRISPR-LFD) that is inexpensive, accurate and provides results rapidly in about 30 minutes, allowing for point-of-care use on multiple specimens at a time, without the need for technical expertise and high-end equipment such as RTPCR," SID mentioned. LAMP or Loop-mediated isothermal amplification is a single-tube method to amplify DNA.
Pathshodh Healthcare: Pathshodh, a startup that has already developed a number of hand-held diagnostic units previously, now has a new device known as Anupath which is aimed toward filling a niche in illness administration, an answer as helpful as a glucometer however which might do extra than simply learn out blood glucose ranges. Anupath's paper strip exams cowl, at one go, diabetes, anaemia and kidney illness. If anyone with COVID is hospitalized, these vitals are additionally very important.
AI Health Highway: This startup, which launched its prescreening and triage software for Covid-19 as early as in mid-March, was the primary to classify threat evaluation into 'red, orange and green' or excessive, delicate and low-risk zones. Claiming that greater than a 1,000 customers have benefitted from their screening and triage software, the agency mentioned: "Given that they use pin code plus sequential screening on days, it helps the general public/ well-being authorities to observe zones for passive surveillance based mostly on scientific presentation.
MicroX: Now that international research has established that a vital variety of carriers of Covid-19 are asymptomatic, MicroX's resolution is a delicate technique of detecting irritation. Early and speedy detection of irritation helps monitor potential carriers and slows the unfolding of the illness. Product growth is presently in progress.
Mynvax: This startup has been engaged in a vaccine for SARS-CoV-2. "The vaccine is expected to provide significant protection to healthcare workers and elderly people, as well as to those deemed 'high risk' due to a comorbid condition. The vaccine is expected to be ready for testing in six months," SID mentioned.
General Aeronautics & Shanmukha Innovations: While General Aeronautics repurposed its farm drone to spray pesticides on farms, in a fashion that might cowl bigger areas in shorter occasions with elevated effectivity, Shanmukha Innovations has designed a cellular lab for RT-PCR exams.
MITR Labs: MITR Labs is India's first and only Biosafety Level two-plus (BSL 2+) compliant mobile diagnostic lab approved by the Indian Council for Medical Research (ICMR). The mobile labs ‒ which consist of a fleet of vans ‒ allow healthcare workers to collect, process and test samples using RT-PCR onsite, and upload results directly to the ICMR portal. RT-PCR is considered the gold standard for the detection of the novel coronavirus.  
The aforementioned startups are incubated by IISc, and all of the startups are generally involved with healthcare domain, especially COVID. There are various other institutes and Startup incubation programs or centres that deal with many other segments. Let's have a look on them as well.  
Society for Innovation & Entrepreneurship (SINE), IIT Mumbai: If you've heard of Webaroo, Bhugol GIS and SMSGupshup.com, then you must know that these ventures came into existence because they were nurtured and incubated by SINE - the tech incubator housed at IIT Bombay. ThinkLABS Technosolutions, an educational robotics venture, Myzus Technologies and Elnfinitus are amongst some of the famous businesses that SINE has incubated. These startups have been successful in raising venture capital investment after incubation of up to Rs. 3 crore from the market.
Technology Business Incubator, IIT Delhi: Run by IIT, Delhi, this incubator is accepted incubation applications from either IITD students, alumni or one of the members of the academic staff only. The selection criteria is quite stringent. If external startups want to be a part of it, they can explore having tie-ups with the college professors, which can then enable you entry into TBI.
Centre for Innovation, Incubation and Entrepreneurship (CIIE), IIM Ahmedabad: CIIE is a business incubator housed at India's prime business school. Having started incubation initiatives since 2007, CIIE has an interesting perspective on why it doesn't provide physical space for business incubation. They want entrepreneurs to build their ideas from wherever they are stationed so that the local economy benefits from its growth. From the time it started, CIIE has incubated more than 50 companies, only a handful of which were owned by IIM students. CIIE has been incubating businesses in the areas of internet and mobile technology, clean technology, social sector startups and healthcare.
NSRCEL, IIM Bangalore: NSRCEL is an incubation centre run and managed by IIM, Bangalore. They offer various incubation offers all the basic facilities to startups including office space, desktops, Hi-Speed Internet facility, Uninterrupted Power supply etc. The incubator provides mentoring from their eminent faculties and also offers seed money support to some of the incubated companies. The funding is primarily through government grants and its disbursement is in accordance with the guidelines that have been laid down by the primary funding agency.
Conclusion
Startup Incubation holds significant importance in a country like India where entrepreneurs by the score are launching new setups and changing the game of business by minutes. For the uninitiated, Startup incubation programs or centres provide support functions, mentorship and resources to individual entrepreneurs or entrepreneurial setups. Also, the establishment of incubated startups are important as the increment of companies in the local market leads to job creation and economic growth of the country. Consequently, according to a scenario like this, we would witness a longer queue of job providers than job seekers in the coming future. In order to fulfil the dream of our honourable Prime Minister's 'Make in India' initiative, the higher educational institutes and their startup incubation program will play a significant role in the growth of the nation, as they are the breeding grounds for future entrepreneurs.