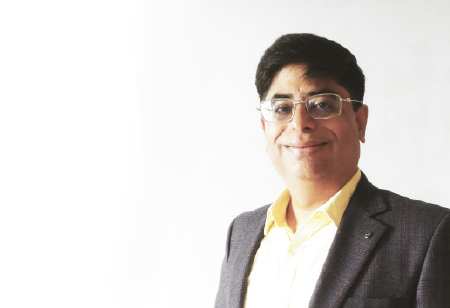 Pankaj Pandit, Head-IT, Tata Housing Development Company Limited
Pankaj holds 25+ years of overall experience, wherein 13+ years are in leading IT teams in the End user Organizations & over six years in IT Service Delivery rendering solutions & services for varied industries.
Real Estate sector is expected to contribute to 13% in India's GDP by 2025. Yet, Real Estate in India remained unorganized and technology poor till very recent times. However, now with the current Market Dynamics and introduction of RERA, GST, things are changing rapidly in 2019. The sector is undergoing transformation where unprofessional companies are getting weeded out. Buyer profile has moved drastically from investor to end user with investors practically moving out. Professional real estate developers are concentrating on end user to provide better product and much improved end-to-end experience. Business share with newer business models like co-living and co-working spaces is growing rapidly. Technologies in Real Estate are driven by these key factors in 2019.
Following technologies may be considered as some of the key trends to watch out for:
Data Analytics using Big Data/Other technologies Real Estate being a long Cash Cycle business, it is imperative that sales velocity is maximized. Also, it is influenced a lot by micro market factors. It is critical that a Developer offers right product at the right price at the right location considering the micro market parameters. In case of an error, there can be serious and irrecoverable consequences. Data Analytics enables a Developer to take informed decisions by providing insights into the micro market and other relevant dimensions. In India, many companies offer Data Analytics as services (Ex. Liases Foras, Propstack). Developers may opt to create their own models as well using established platforms such as Hadoop.
Building Information Modelling (BIM).Cash cycle can also be compressed by shortening design and construction cycles so the project is delivered and monetized faster. Traditionally, separate tools/ platforms are used for designing (Autocad, Revit), project scheduling (MS Projects, Primavera), budget and cost management(SAP, other ERP). This fragmented approach and processes may lead to inefficiencies and delays in the project execution. Developers are now adopting 5 Dimensional Building Modeling Information (5D BIM) systems. These systems present opportunity to integrate the schedule and cost dimensions in to 3 spatial dimensions of building model. This allows close coordination and collaboration proactively thereby preventing rework and seamless execution of the project. There are multiple 5D BIM technologies available (Ex iTWO).
Internet of Things (IOT)
Developers now are constantly striving to provide better Live In experience to customers by offering smart homes and smart communities. IOT technology is proving to be a boon in this endeavor. With every thing from lighting, HVAC to door locks can be 'smart' and talk to each other or to a central home controlling app. Add to this, integration with Alexa/Google Home and one can get the voice activated home. So today, person can literally talk to his home. The same extends to smart communities. Smart gate entry, smart parking will be a norm going forward. Another and even more potent application of
IOT technology is energy optimization. Among the largest possible consumers of energy are HVAC installations in community or inhouse. With sensors relaying important information about HVAC chilling plants as well as occupancy, it is now possible to optimize energy consumption to a considerable extent. In addition, community lighting can be optimized in similar fashion. 10 to 15% reduction is energy bills is a very possible opportunity for commercial buildings and residential complexes both.
IT is certain that this sector will be vibrant on technology front for foreseeable future
Virtual Reality(VR)and Augmented Reality (AR)
While pursuing a lead, Developer's sales team typically may face challenges to convey value proposition properly to a prospect even during site visit. The brochure and plans may not make enough impact on a prospect. The same is true multifold if the prospect is thousands of miles away. VR and AR technologies can be effectively deployed for such situations. .
AR may also be used for indoor navigation and enables 3D positioning, intuitive navigation and location based AR content. A prospect may try various interiors using AR. It is possible for a real estate developer to tie up with an `interior' company and make a composite furnished offering available on a mobile app. This can present walk-in experience to a prospect thereby increasing the appeal and possibility of sale.
Site sales galleries employing VR and AR will be more common place in the coming days.
Drone Technology
Providing a fantastic aerial view of a property can be a great opening pitch to a prospect. This is made possible through the use of drone technology. It can be used for everything starting from high rise office buildings to pre-eminent properties along the coast to sports stadiums to wildlife parks. It has helped agents in selling large estates by providing important information and property overview to the buyers. On the other hand, camera drones and its ground based substitute, glidecams, are being used to create indoor virtual tours and videos for both residential and commercial spaces. The use of this technology will only intensify in the coming days as the regulations on drone usage relax gradually.
Blockchain as a technology may take some time to take hold in the real estate sector. However, it may be worthwhile to look at few possible applications of the same. Blockchain use can potentially revolutionize property payments by removing middlemen and reducing transaction cost. It can facilitate cost effectiveness and better decision making in leasing processes with the use of a shared database, where an entire vertical of stake-holders including owners, tenants, service providers and government bodies can interact with ownership information, or transaction history in an open and secure way. Real estate assets can be tokenized and made transferable with the use of Blockchain.
In addition to the above, newer technologies such as Artificial Intelligence, Robotic Automations are being deployed by real estate companies to achieve better business results.
Real Estate is expected to grow 30%+ for next five years according to a renowned Real Estate developer. With this kind of growth, increasing transparency and demanding customers, investing in technology will be imperative for any real estate company to flourish. It is certain that this sector will be vibrant on technology front for foreseeable future.