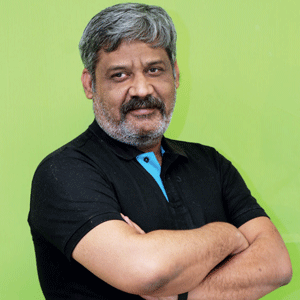 Bringing these businesses out of the conundrums in IT realm is Taashee Linux Services that crafts proficient, high-end technology solutions to enhance the bottom lines of small, medium and large scale businesses. Putting its decades of experiences in the industry into best use, the firm formulates new-fangled IT innovations comprising virtualization, clustering, cloud computing, monitoring and security, coupled with one-button leverage of Big Data technologies.
The latest member to team-up with the Co-Founders of Taashee Linux Services –Abhishek Datt (CTO) and Manojkummar Garg (COO) is Rajeev Satpal Lakhanpal (CFO), a financial wizard with a Midas touch in regards to the firm's growth. The firm has been flourishing with unparalleled revenues of over Rs.1000 crore under his supervision while being all set to break new growth records in the upcoming FYs. Rajeev has articulated his entrepreneurial journey, his stint at Taashee Linux Services as well as his other experiences in an exclusive interaction with CEO Insights magazine. Below are the snippets!
Kindly walk us through your experiences in the process of becoming an eminent entrepreneur in the industry.
After my B.Com at Kutch, I decided to pursue Post Graduation in Marketing at Dubai and that's where I gained rich insights on the diverse markets around the world along with their regional impulses of growth. It was at the age of 18 when I was still doing my Graduation, I took a leap ahead in my career. I embarked onto the shipping supply space wherein I personally used to examine each supply to have a better grasp on the market flavours. Gradually I developed a penchant for shipping, transport and trading of freights.

"I embarked onto the shipping supply space wherein I personally used to examine each supply to have a better grasp on the market flavours"

My experiences across these three domains have fetched me a lot of exposure to the transpiring market sentiment. In the 90s when the Indian market had no single global brand in shipping, I took a leap of faith and approached three global giants in shipping supply realm to establish their presence in India. I still remember the scenario wherein a COO of one of these companies laughed at my thought and commented 'Anywhere but not India'. Taking this as a challenge, I successfully accomplished their markets in India wherein they presently reap a major portion of their Asian revenue from India. It indeed was a tremendous responsibility for me to ensure everything was going as per the plan without sources of internet. By and large, I have represented 11 international shipping brands in India so far. Also, setting up scrap trading from the scratch and growing it to Rs.60 crore in just two years was definitely a moment of pride and achievement in my career.

How did you manage to overcome the hardships across your entrepreneurial journey and find your way into Taashee Linux Services?
Probably by being my own boss and certainly by having control over any situation! It is a bitter truth that people in the modern society underestimate the capabilities and talents of new and young professionals. I was afflicted with the same situation and it was pretty challenging then to show my dedication to the clients.
Three years back, I became a part of Taashee Linux Services. Taashee was aboutique firm then with an annual turnover of Rs.48 crore while it envisions acquiring a turnover of Rs.150 crore this year and also pitching to VCs to raise its capital. Since my joining, I was involved in the firm's financial operations and strategic decision making. My partners – Abhishek and Manoj – have always been my greatest support at different levels of business while we constantly endeavour to make ourselves better each day with passion and dedication.

The saying -'The family is one of nature's masterpieces' is indeed true to its essence. How has your family motivated you since the dawn of your pursuit till today?
The task of perfectly balancing my personal and professional life has been quite easy for me because of my family who always understood my work pressure and made things easier for me. Since the time I ventured into my own business, my parents stood by my side and extended their support for each of my decision. The biggest credit goes to my wife Reenu, my pillar of strength who never objected to my long working hours and tours. So are my three daughters who embrace my absence with extreme understanding even for days together.

What are the strategies you adapt to keep yourself active and engaged both on the personal &professional fronts?
I love reading, playing lawn tennis and games with my kids. Relishing typical Punjabi food has always been a treat to my taste buds. Moreover, travelling is another ardent hobby of mine where in Paris and Kerala are my favourite hubs.

To keep myself abreast of the industry trends, I persistently read about new technologies besides meeting different people from different domains.

Key Management:
Rajeev Satpal Lakhanpal, CFO
Having spearheaded businesses with a turnover of more than Rs.1000 crore, Rajeev is currently handling the finance operations at Taashee by leveraging his profound expertise infinancial governance, financial discipline and exploring new growth areas.