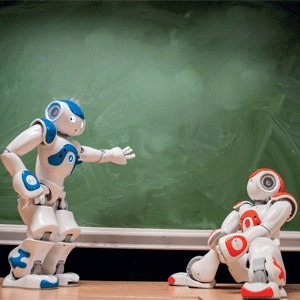 Today's corporate world serves as the perfect specimen for the Darwin's theory 'survival of the fittest', where organizations that constantly raise the bar for them selves at the innovation front surge ahead of the competition. We believe that people are the prime source of innovation. Everything starts with inculcating a strong workplace culture that treats every employee like an entrepreneur. Synonymous with catalysing innovation,the entrepreneurial culture is the antidote to stagnation and acts as a propeller thrusting an organization to newer heights.
Building an empowering environment and the entrepreneurial mindset is easier said than done, especially in giant organizations. An extremely lean environment grapples to accomplish their goals devoid of a strong focus, whereas a highly bureaucratic workplace extinguishes the spark of creativity. The perfect entrepreneurial culture must be instilled via positive reinforcement and continual communication, where risk-takers are encouraged, taking ownership is rewarded and creative impulse is cherished. Trident Group, a billion-dollar home textile conglomerate, has been adeptly wielding this three-pronged strategy to empower its members (as it refers to its employees) to experience entrepreneurship with unlimited opportunities.
As a sheltering canopy for a growing team of around 14,000 personnel, Trident is one of the world's largest bed & bath linen manufacturer, which kick-started its journey as a solitary yarn manufacturer in 1985. The company is recognised for its agro-based paper that assures a smooth copying experience, as well as reduces the ecological footprints, all the while providing perfect value for money for its customers. "We always channel our products, innovation and developments around adding value to the society and nature. This way, we ascertain that we don't stop with accumulating the wealth, but we create the wealth, not only for ourselves but for everyone," explains Minakshi Arora, CHRO, Trident Group. With values such as respect, trust, support, honesty, integrity & customer satisfaction as its basic strengths, the company that has its customers in more than 100 countries is doubling its growth every three years.
Members First
Albeit growing along with an organization undergoing such a stellar growth can be a huge magnetizer, the element that truly differentiates Trident as the best company to work for is its unique philosophy of members first, customers second and the profit/sales third. The company vests keen importance on galvanizing its members to become better day-by-day and engage with them constantly to bring the best out of them."We weave the entire culture around bringing the best practices to enhance the overall performance development of a person," delineates Minakshi.
Trident enchants millennials and experienced professionals alike by providing them a greater leeway to explore new avenues and treating them like entrepreneurs when they succeed in those endeavours. "We always train our employees to develop entrepreneurial skills. It's not just a job for them; they have the ownership and sense of responsibility towards their deliver ables," affirms Minakshi. Taking this ownership model to a new height, Trident has commenced an initiative, which would permit its people to have their own machines (that can even be taken back home) once they have deployed a certain amount of time on to that machine.
Striking the Right Chords of Work-Life Balance
It comes as no surprise that Trident, a company named after a divine symbol representing female power, out classes every company in the industry when it comes to providing the best facilities to female employees. A truly exemplary organization, Trident is renowned for leading the way in women empowerment with its legacy of introducing a six-month long maternity leave long before it was made mandatory and instituting menstrual leave for the first time at all pay grades.
Trident boasts the distinction of being the only company in the textile industry to endow the fathers with paternity leave so that they can enjoy the special moments. Likewise, its members are gifted with 10-12 days of extra paid leave for their wedding from the company's side, in addition to the ones they have actually applied for. Not stopping with the 'just married' bunch, Trident also permits the couples in its workforce to enjoy their wedding anniversary with a paid leave, and greets them on their work anniversaries and birthdays.

As the company clearly outlines the tasks they are expected to accomplish, they can easily categorize their work accordingly. "The fact that they are only responsible for the results they need to deliver at the end of the day, keeps them motivated. With the technological advancements, we are able to move away from most of the attendance models and promote practices like work-from-anywhere to enable our members manage their professional stints without sacrificing their personal duties," adjoins Minakshi. The fact that Trident insists on family outings manifests the immense emphasis the company lays on respecting the family values.

A strong believer in the concept of 'Pehlekhushi, Phirkhushali', Trident endeavours to keep its members contented so that they will be motivated to provide their best in terms of productivity. The company celebrates all the festivals in the office without fail and organizes family get together on a regular basis. Of all the various programs conducted by the company internally, 'Tarang' stands-out with its numerous fun-filled activities designed to make all of its women employees happy.

Whilst the company has pooled together all the outstanding HR policies, the one that singles out Trident is its own housing colony setups in both the locations, even for its blue-collar workforce, so they can stay close and feel the ecosystem. Being a 24x7 setup, Trident compensates its members working on shift basis with hardship allowance. The company has a significantly transparent roster management system that is prepared well in advance to eliminate bias at any level with proper rotation of shifts, which does wonders in terms of fortifying the loyalty. "As the person is made aware of his/her shift for the next 30 days, one can manage the schedule in advance. This helps us to maintain a healthy attendance level," proclaims Minakshi.

Trident has an edge over the competition when it comes to technical prowess, which is evident from its kilometre -long factories ornamented with the most advanced automated equipment. This clean & neat manufacturing setup laced with the finest climate of its plant in MP makes it quite convenient for the workers at factory.

The Power of Youth
Trident defies stereotypes in its hiring strategy as well, wherein the overall average age of the employees is 29, which is really less as compared to the rest of the industry. As evidence to the plethora of opportunities offered to youths, look no further than its Takshashila campaign, a PAN India campaign it hosted recently to hire nearly 600 people, where freshers were offered a package of Rs.9,00,000 per annum. Pouring such a great amount of money in their hands not only helps Trident to filter the best talents with technical, behavioural & functional competencies, but also makes those talents aware of their importance and enhances their overall experience with the group. The company that has established MOUs with the best of the premier institutes across India to create industry-ready talents by developing appropriate curriculum intends to expand this endeavour to a global level.
Taking a different route from the traditional Performance Management System thatmerely reviews &manages the employees' performance periodically, Trident has built a Performance Development System, which clarifies employees regarding the growth opportunities available for them and gives them visibility on how fast they can grow. "Rather than just managing their performance, we also make them a part of their career growth journey. We are working on models that would enable people to foresee their career growth. We are striving to inculcate a culture, where they will be able to understand and relate to Trident's long-term goals," adds Minakshi.

Firmly believing that the organization's entire growth strategy is connected to its people, Trident also engages them in large scale interactive sessions and organizes workshops specifically designed for envisaging the right way of company's growth. By building such transparency and innovation, Trident ascertains that its members are focused more towards their accomplishments, values, and happiness. The company intends to up the ante by implementing initiatives like town hall meetings and interactions with the promoter groups.

The company is further strengthening its reputation as one of the women-friendly workplaces by implementing more policies like setting up creches at all of its locations and part-time employment. Trident has charted out the growth map for the next five years, which involves the expansion of its workforce to 20,000 in two years, if the cards are right. However, the most crucial part of this plan is ascertaining the delivery of its motto – binding many hands and grow together as one happy family.

Key Management:
Minakshi Arora, CHRO
A Chartered Accountant by education, Minakshi has interacted with different types of people from multiple organizations across domains pursuing diverse cultures, during her audits. Stepped into Trident as a Corporate Strategy Head, she translates her knowledge ofthe overall economics & dynamics of numbers as the cornerstone to building people related strategies.

Offices:
Ludhiana(Headquarter), Gurgaon, Chandigarh,Budhni, Bhopal,Mumbai, New York and England

Products:
Home Textiles, Yarn, Paper, Chemicals and Energy

Awards
•PHDCCI Award–Astitva Samman for Trailblazing Measures in Women Empowerment–2017
•National Energy Conservation Award Presented by the Hon'ble Union Minister Piyush Goyal-NECA, Ministry of Power
•Ranked first and received the highest score in the Sustainability Index among all home textiles partners, of WalMart
•JC Penney Innovation Awards – 2016
•Excitement Award from Sam's club – 2016