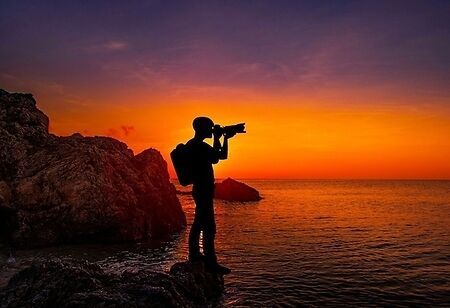 A Frame for the Future: Dynamics of Modern Day Photography
It is often said that beauty lies in the eyes of the observer not in the object. Parallel to this, a photograph looks beautiful with the adjustments made by the photographer and the angles at which he clicks the picture. For some people, photography is a hobby and some make a business out of it. One of the silver linings of the pandemic was many of the amateur photographers getting time away from their day jobs and PCs and them reinventing their photography skills to become full time photographers. Let's decipher the inner structure of the photography realm.
Portrait Photography
Portrait photography, or portraiture, produces one of the most common photographs which aim to capture the personality and mood of an individual. These pictures could be candid or posed, full body or close-ups. Besides, the subject's face and eyes are typically in focus. Lighting and backdrop help to convey tone and emotion. This type of photography includes senior portraits, family portraits, engagement photos, and professional headshots.
Photojournalism
Photojournalism is all about telling the story of a scene, which has news value, through photographs. Photos in this category need to be as objective and truthful as possible. It is often said that capturing candid moments as they happen is more important than getting picture-perfect shots. However, the photojournalists often attend planned events with the hope of capturing unplanned, unscripted moments. While the photojournalists' works are mostly published in the magazines or newspapers they represent, there are also freelance photojournalists who work across the industry.
Fashion photography
A Fashion photographer's focus will be on beautifying fashion clothing, shoes, and accessories to make them more desirable to consumers. These photographs are widely featured in magazines and on the internet. People choose these niche types of photography because it gives them not only the opportunity to be extremely creative, but also earns them better. Fashion photographers shoot a lot of full body shots in a variety of locations—from fashion shows to fully lit studios, city streets and whatnot. They use many of the same skills as a portrait photographers and must practice good teamwork and communication when working with the shoot stylist, creative directors and models.
Sports Photography
By capturing athletes, coaches, and even fans in perfect moments, sports photography can capture the passion, drama, and emotions that drive sporting events. Sports photographers need to aim and shoot quickly to keep up with what's going on around them. They also typically use large, heavy lenses to magnify the action. Interesting angles help your work stand out in this highly competitive genre.
Still Life Photography
As the name suggests, still life photography depicts inanimate objects, either natural or man-made. Still photographers typically focus on stock photography and product advertising. (Think of product images in catalogs, magazines, and billboards.) For a still life photographer, subject selection, composition, and lighting are key to a great shot.
Architectural Photography
As the terminology suggests, this includes capturing photos of buildings and the structures The photograph showcases the structure's most aesthetically pleasing parts. The materials used in constructing the building and colors will be emphasized. The most important challenges faced in this kind of photography is lighting for exteriors, photographers must know how to work with natural light.
Trends in photography are bringing more attention to the field than ever before. Social media, for example, pressurizes people into taking more photographs than what was previously deemed necessary.
This has triggered conventional photography, while wide-opening the doorway for amateur photographers. Some of the new terminologies and technologies emerging in the photography realm are:
Phoneography
Cameras, smartphones and tablets are beginning to compete with professional cameras in terms of quality and Technique. Today, anyone with a smartphone or tablet can easily take photos, edit them, and post them online.
Macro Photography
Embedded with the fascination of sciences, improved camera technology enables people to take extreme close-up shots of insects, plants, and other never-before-seen images.
HDR Photography
High Dynamic Range photography enables cameras and images to appear in greater luminosity, closer to what the human eye can see. At present, this technology has become quite common in photography.
Retro-Style Photography
From black and white to sepia, the sharpness of modern photography has pushed people back to classic photography and the depth behind it.
360 Panorama
360 degree panorama shorts allows photographers, often in phone, to capture maximum space in their sarroundings. Capturing a 360-degree view of a location are becoming popular day by day.
Dronography
Drones are popular not only in casual photography, but also in weddings. It is also popular in the real estate industry. Realtors, brokers, or property owners use drones to capture aerial view of their property and in turn give their clients a better experience.
But don't underestimate the power of Dronograpnhy. It is heavily used in Modern Day Warfare.