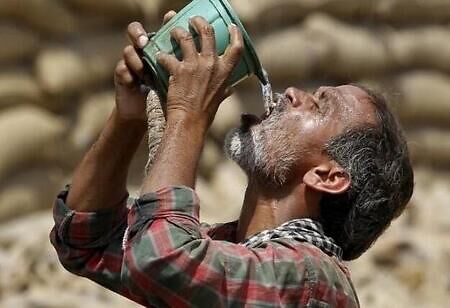 The average temperature in India in March this year was about 92 °F (33 °C), the warmest March ever recorded since records began in 1902. An unprecedented heatwave in South Asia this month has brought dangerously high temperatures to over a billion people this week. India and Pakistan have been hit the hardest. Temperatures topped 113 °F (45 °C), but according to the World Meteorological Organization, the temps in parts of India may ease by May 2. Forecast models vary for different parts of the Indian subcontinent. Some models indicate that parts of Pakistan and northwestern India could reach temperatures near 120 °F (50 °C) over the weekend and through next week. Major cities such as Delhi and Lahore are forecast to reach 113 °F (45 °C). These temperatures are 18 °F (10 °C) warmer than the normal high temperatures for April and would approach the all-time record temperatures for the month. Temperatures in major metropolitan areas can be further exacerbated by the urban heat island effect, increasing local temperatures a few degrees higher than the surrounding countryside.
Delhi recorded a maximum temperature of 43.5 °C last week, the highest April temperature in 12 years, as a heatwave continued to rage across vast swathes of India. Prayagraj, in Uttar Pradesh, was the hottest city in the country on last week, with a maximum of 45.9 °C. The India Meteorological Department (IMD) warned that the heatwave would become more intense over the next five days, with temperatures likely to touch 45 °C in some parts of the country.
According to IMD's gridded dataset, the average maximum temperature till April 27 was 35.7 °C, the highest in five years for this month. However, this headline number hides just how hot northwest India has been. In four states – Madhya Pradesh, Rajasthan, Punjab, and Gujarat – the average maximum temperature in April 2022 so far has been the highest since 1951, while it has been the second-highest in Delhi (including neighboring districts), Uttar Pradesh, and Haryana.
COP26 Climate Change Summit
Prime Minister Narendra Modi proclaims that India will achieve net-zero emissions by 2070 in Glasgow while announcing India's new climate commitments. He was speaking at the 'High-Level Segment for Heads of State and Government' during the UNFCCC's 26th Conference of Parties (COP). The net-zero commitment is among five new climate change targets Modi announced at the climate summit after much anticipation. The Indian government had been tight-lipped about its commitments at the COP26 and had maintained that a net-zero target by 2050 was off the table despite pressure from developed countries. Net-zero means removing as many emissions of carbon dioxide from the atmosphere as produced. The commitment is significant since India is the third-largest emitter of carbon dioxide in the world, after China and the US. Calling them the gift of five elixirs (panchamrit), PM Modi explains that India's four other commitments — all by 2030. These are: increasing non-fossil energy capacity to 500 gigawatts (GW), fulfilling 50 percent of energy requirements from renewable sources, reducing the carbon intensity of the economy by 45 percent, and reducing total projected carbon emissions by one billion tones.
PM says, "these five elixirs will be an unprecedented contribution by India towards climate action. To achieve its climate goals, Modi said India expected developed countries to make $1 trillion available as climate finance as soon as possible. Today, as we track the progress on climate mitigation, the same way we must track climate finance."
The PM also outlined the other activities that will help India achieve these goals, namely the Indian Railways' commitment to net-zero by 2030 and its ambition of installing 450 GW of renewable energy capacity.
"In the last seven years India increased its non-fossil fuel energy by 25 per cent and this now represents 40 per cent of our energy mix. The railways' commitment will reduce carbon emissions by 60 million tons annually and in the same way our LED bulbs campaign is reducing emissions by 40 million tons annually. The International Solar Alliance, launched with the French government in 2015, as a revolutionary step to develop solar power and the Coalition for Disaster Resilient Infrastructure — an organization launched by the Indian government in 2019- was an important and sensitive initiative which will help to save millions of lives," PM adds.
Climate Adaptation
PM Modi also spoke at the 'Action and Solidarity' presidency event and explained that climate adaptation hadn't generated enough global debate, resulting in an injustice to those developing nations that are more impacted by climate change, like India. Given the schemes around tap water and clean cooking gas, climate adaptation should be at the center of all developmental schemes and policies, and "traditional" knowledge on how to adapt to climate change should be respected and passed on from generation to generation. Even if the methods of adaptation are local, the support provided to vulnerable countries must be global. It is keeping in mind the need for global support for local adaptation that India took the initiative of Coalition for Disaster Resilient Infrastructure.
In 2015, India made three pledges: an economy-wide emissions intensity target of 33–35 percent below 2005 levels; an electric power capacity target of 40 percent installed capacity from non-fossil-based energy resources by 2030; and a carbon sink expansion target of creating an additional (cumulative) carbon sink capable of absorbing 2.5-3 gigatonnes of carbon dioxide equivalent through additional forest and tree cover by 2030.
We must recognize that the complex climate jargon and vocabulary are understood only by a few. If we have to implement climate solutions on the ground, this vocabulary needs simplification so as to be understood by billions. Especially in a democracy, which we all desire to retain, political compulsions are dictated by people's aspirations and not by what the climate community advocates. People at large must advocate climate action, for which they must first understand it. Only then will climate action become a part of the manifesto of political parties.
Achieving net-zero by 2070 means action must begin now. The starting point will have to be in creating much better awareness across multiple stakeholders, creating thousands of champions who can lead the design, development, and implementation of climate solutions, and a continuous pool of qualified manpower to take up jobs that this action will require.