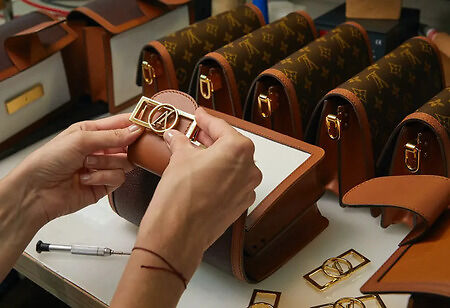 It goes without saying that Louis Vuitton is the industry leader in luxury. The LV logo's overlapping design is known worldwide, embracing success and luxury. Donning a Louis Vuitton bag to work can't help but make eyes turn towards it.
Valued at over $ 30 billion, the brand's legacy sprouted from the dreams of a teenage boy who started from rock bottom and ended up building an empire of modern day luxury luggage products. The story dates back to almost two centuries ago at a little village of Anchay in the east of France in 1821.
Rags to Luxurious Bags
At 13, Louis Vuitton bid bon voyage to his family life and reached Paris at 16. With no food and money, making ends meet with odd jobs from artisans and craftsmen, from whom he learned the finest of skills to manufacture quality bags. Landing an apprentice opportunity at the leading box-making and packing workshop, Monsieur Maréchal, Louis Vuitton's reputation grew in 17 years from this venture.
Napoleon III's wife, Eugenie de Montijo, appointed Louis Vuitton to be her personal packer and box maker when he was crowned Emperor of France in 1852. Louis Vuitton's business was booming as a result of its introduction into a brand-new exclusive and royal customer. He left Monsieur Maréchal in 1854 and established his own box-making and packing business in Paris. The first Louis Vuitton store was established on 4 Rue Neuve-des-Capucines in Paris, France, and it served as the company's official location.
He began producing his own designs and creations after he had his own workshop. For instance, he began making the trunks out of canvas rather than leather, which made them waterproof and incredibly strong. The company's popularity increased after the introduction of rectangular trunks in 1858. In contrast to regular trunks with rounded tops, this allowed the trunks to be stacked, which was groundbreaking at the time. In the village of Asnieres, a suburb of Paris, Louis was able to grow his company by opening a second, larger workshop in 1859.
Later, to commemorate its 100th anniversary, the business collaborated with designers including Vivienne Westwood, Manolo Blahnik, and Izak Mizrahi to manufacture handbags with its monogram. Marc Jacobs served as the brand's design director and revolutionized it by launching its ready-to-wear, high-quality designs in association with well-known, high-profile artists like Takashi Murakami and Stephen Sprouse.
Since then, LV has expanded into watches, jewelry, and sunglasses in addition to continuing to release classic handbags. At the time, handbags were seen as a luxury item and were highly valued by society. Most of their items must be assembled in 300 stages, and the craftsmen must undergo a two-year training program to maintain their quality.
Handmade Not Machine Made
Only the best are chosen for the prestigious position of Louis Vuitton Craftsperson, making it extremely competitive. A craftsperson must complete 18 to 24 months of training before starting employment at LV.
Before being approved for the sales floor, a single piece must pass multiple levels of inspection. In a time where technical advancements are constant, Louis Vuitton places more of an emphasis on the skills of its artisans than on technology.
The brand is able to uphold the standard that has come to be expected of them thanks to this traditional process, which guarantees that attention to detail is maintained.
Finer Pieces, Yet Travel-Worthy Durable Products
The high caliber of the materials designed in Louis Vuitton's creations is another factor in the high price tag. Louis Vuitton built his reputation on using the best and most resilient materials when his business was first established in the 1800s as a luggage manufacturer. The need for luggage was growing at that time as travel became more widely available to society. Louis Vuitton took advantage of this by producing exquisite yet robust pieces that could resist normal wear and tear. These initial ideas still hold true for the brand's contemporary designs today.
The best and most durable leathers and skins from animals are typically utilized in LV purses. Leather is employed for the interior trim and tiny accents, even in their canvas bags. The hardware is made of lustrous, heavy-weight golden brass that is simple to clean.
However, when it comes to the brand's marketing approach, there aren't any billboards or television commercials promoting Louis Vuitton products.
Unconventional Marketing, Billboard Eye-Catchy Advertising
Instead, celebrities are great walking billboards because they influence the rest of society. When celebrities are spotted sporting LV, word-of-mouth about the brand swiftly spreads and lends an impression of exclusivity and class.
Additionally, Louis Vuitton controls the luxury market internationally, by making money wherever there is a demand for premium products. When LV established the first overseas luxury store in China in 1992, it focused on a certain market segment. Given that Chinese people are among the world's top consumers of luxury goods, it was a wise move. Such tactics have aided in establishing the company as a world-class leader in the luxury market.
By maintaining a strict limit on style quantities, Louis Vuitton maintains its high demand while keeping a tight grip on product availability. The company is aware that a product's worth rises as its scarcity decreases. Products that are always easy to obtain lose their attractiveness.
Since the products are selling rapidly, customers feel a sense of pressure to find the style they want due to the scarcity. While other manufacturers would typically discount extra units of undesirable goods, there are rumors that Louis Vuitton will even withhold extra units if the sales objective is met.
Additionally, only LV boutiques and the official website sell Louis Vuitton goods.
Every season, they are known to produce limited edition collections, and they frequently work with different artists and designers to produce even more one-of-a-kind products. This, along with all of the classic products the business has produced over the years, excites fans greatly about the potential for finding incredible vintage things.