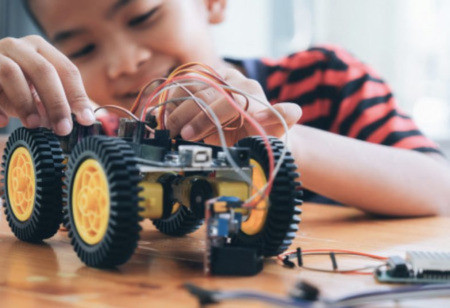 During college you might have had the chance to visit a science fair with students lined up together displaying their hard work invested creations. While it is a spectacle to witness the engineering genius behind the inventions, a lot of brainwork and energy takes to even move a limb of a robot, leave alone creating every possible code to make the entire mechanical being come to life all at once.
The majority of their work is spent developing the strategies and procedures needed to not only construct but also operate robots, according to robotics engineers. Due to the nature of the work, it is also necessary to design the machinery used to construct the robots.
Before a robot is developed, engineers decide exactly what it will be used for. Robotics engineers carefully examine the task that the robot will be assigned since robots are made to solve issues or carry out human activities.
Job Opportunities
The robotics business has experienced fast growth as a result of automation's enormous appeal over the past few decades in a wide range of industries. Numerous job opportunities are available in the robotics industry, some of which are listed here.
Robotics engineer: A robotics engineer is in charge of planning, creating, and constructing efficient, secure, and reasonably priced robots. They are in charge of collaborating with various groups of engineers, computer scientists, and robotics developers.
Robotics automation engineer: An automation robotics engineer examines any modifications to the control plan and keeps track of the robot's performance to make sure they are acceptable and consistent with the operations as a result of ongoing improvement initiatives and demands from internal and external clients.
A software developer identifies, designs, and implements internal process improvements, such as automating manual operations, optimizing data delivery, and more. They also monitor, build, and support high-performance data processing systems.
Robotic Welders: They operate and program the robot's welding apparatus, set up welding jigs in line with setup requirements, and occasionally grind or weld spot components.
Robotics Technicians: Here, robotic technicians are involved in all aspects of the design, development, manufacture, testing, and use of robots. They are adept at low-code programming and robot reprogramming, and they are in charge of the robot's first installation.
Engineer of Controls: A robotics engineer of controls contributes to the design of controls and integrates various electrical controls into mechanical systems. Through management, research, and design, they supervise the creation of the machine's robotics tool, as well as its equipment and control systems.
Specialists in robotics perception and navigation: Here, these individuals work to combine data from stereo cameras, LIDAR, and other robotics and data analytics tasks in order to enhance the performance and capabilities of the robots.
But to take on these roles, it involves upgrading yourself with a set of skills that could help you excel in your career. Here are some skills you should develop as a robotics engineer, include on your resume, and explain in interviews:
Systems Thinking: An engineer needs to be knowledgeable in a variety of fields, including psychology, cognition, programming, electronics, and electricity.
Complex problem-solving: This requires the ability to anticipate issues, address them before they materialize, and troubleshoot them when they do.
Judgement and Decision Making: Robotics engineers may be more equipped to weigh some issues than engineers from more specialized fields due to their extensive knowledge base.
A Programming Mindset: For engineers working in robotics, programming is a necessary ability. Robotic engineers may participate at any stage of the programming abstraction process.
Mathematics: Without a solid grasp of algebra, calculus, and geometry, you will probably find it difficult to be successful in robotics engineering.
Technology Design: Being skilled in this area requires the ability to create workable systems, which is obviously critical for creating a robotic system.
Perseverance: Persistence is a crucial quality due to the difficulty of robots engineering.
Strong Communication: Engineers in robotics that possess excellent communication abilities serve as a bridge between many fields.
Since there are new advancements in technology each day and growing expectations from the corporate, upskilling in robotics will serve beneficial for engineers and those with similar backgrounds. Why? Upskillig is said to help professionals to take on an active role in accelerating the accuracy of the work, including the manufacturing process and even help en
Today, many businesses and e-commerce companies are using robots to boost productivity as a result of the development of new technology. These robots are used on e-commerce websites for a variety of tasks, including order fulfillment, inventory tracking, picking, and more. Robots are routinely utilized to enhance existing processes, automate manual tasks, and save time and money. Startups can focus on their core values by incorporating robotics when the robots are programmed to perform laborious tasks.
The industrial robot sector is the one where robots are used the most frequently and where there is the most demand for professionals with robotics experience. With a CAGR of 15.1 percent, the industrial robots market is anticipated to grow at an amazing rate and surpass $66 billion by 2027.
Since millennials were raised in a technologically advanced world, it is an integral part of their daily lives. As the robotics industry continues to grow and more industries use robots to conduct business, millennials will have more possibilities to choose a profession in the robotics industry in the years to come.