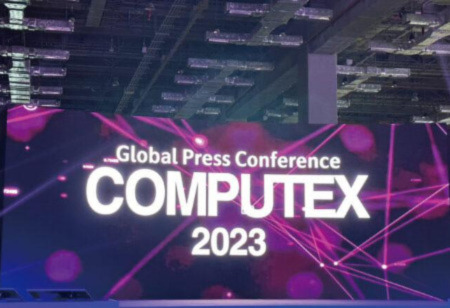 One of the best places to find cutting-edge technology is at tech expos, and one of the biggest is Computex 2023 in Taiwan. After all, several of the greatest tech companies in the world, like Asus, Acer, and TSMC, have headquarters there.
Although a large portion of Computex this year was devoted to AI, some new tools and accessories to improve or simplify your PC setups were also major highlights of the show. The near future for PC equipment appears to be bright, cool, and organized, with a variety of novel approaches and improvements to component cooling. Here is a glimpse into the top tech products and concepts revealed at Computex 2023.
NVIDIA's Focus and Product Unveils Around AI
NVIDIA's Computex 2023 keynote focused primarily on AI. The CEO of the company explained how training a huge language AI model on a GPU saves money, and he showed off NVIDIA ACE, a new technology that uses AI to generate speech for a non-playing character in a video game.
Additionally, the Nvidia GH200, known as a super processor, was unveiled, consisting of an Arm-based Grace CPU (72 cores) and a Hopper H100 tensor-core-based GPU with a massive 96 GB of HBM3 memory and 576 GB of graphics memory. With over 200 billion transistors, this processor is reported to be capable of up to 4 PetaFlops TE performance; he also affirmed to Softbank that they will be the first to adopt this CPU in their data centers. Furthermore, CEO Jensen showcased another mega chip called Nvidia DGX GH200, which is nothing more than two Nvidia GH200 processors joined together using NVLink technology.
Intel's Meteor Lake
At Computex 2023, Intel unveiled its 'Meteor Lake' next-generation notebook processors, which would eventually be known as the 14th Gen Intel Core processor. The future notebook CPUs will use the same technology as the VPU, or Versatile Processor Unit, which Intel first unveiled in 2022.
The modular chip design of Meteor Lake CPUs, which feature a CPU, GPU, and low-power AI accelerator, will be geared toward power efficiency. According to reports, these CPUs will use a smaller, more energy-efficient 4nm fabrication method and 3D stacking technology. By the end of 2023, Meteor Lake processors will be available on the market, according to the company.
Asus' Power Connector Concept
Today, a lot of mid-range and high-end GPUs need an external connection due to how much power they consume. For instance, the RTX 4090 uses the 12VHPWR connector to directly access power from the PSU as it consumes 600 watts while operating at max power. As proven by the Nvidia RTX 4090 MeltGate in late 2022, however, this power connector makes it less aesthetically pleasing while creating a PC and a source of failure. Asus came up with a solution by positioning the power connector close to the PCIe pins on the GPU. Therefore, the GPU receives power directly from your motherboard through special pins on the GPU and a power socket on the motherboard near its PCIe slot, as opposed to plugging in an external power cable.
Arm's Smartphone SoCs
If you enjoy Android mobile phones, you're undoubtedly excitedly anticipating the release of the next Snapdragon, Exynos, Dimensity, or Tensor SoC. However, you might not be aware that Arm is the company that creates all of these processors and that companies like Qualcomm, Samsung, MediaTek, and Google employ its technologies. As a result, you can now see what the upcoming generation of high-end smartphone SoCs will look like thanks to Arm's introduction of its next-generation CPU, the Cortex-X4, and GPU, the Immortalis-G720. In addition, Arm introduced the Arm Total Compute Solutions 2023 (TCS23), which enables chip manufacturers and designers to collaborate directly with Arm when creating their own systems. Although the consumer may not notice much of a difference right now, this could lower the cost and increase the effectiveness of newer processors. This results in electrical gadgets that are more reasonably priced and function well together.
Frore Systems' AirJet
Smaller and thinner devices can function faster thanks to the AirJet technology, which enables cooling without taking up much room. Since it can provide high-velocity air jets with a device no larger than an adult thumb, no thinner than two pennies stacked together, and with no apparent moving parts, the business refers to its technology as a solid-state thermal solution. With this, we can increase the performance of portable devices, such as smartphones, without having to worry about CPU or GPU thermal throttling.
Cool Master's SS571
The SS571, a unique three-piece (2.1) speaker system from Cooler Master, is notable for easily switching between the three-piece configuration you see above and a two-piece speaker system consisting of a soundbar and a subwoofer. Depending on the type of material you are using or the mode you want to use, this prototype speaker system enables you to switch between them. While you might prefer the crowd-pleasing soundbar for watching movies with your squeeze in front of your big-screen system, you might choose the 2.1 with the physical speaker separation for deliberately listening to the subtleties of your favorite music.
All you need to do is simply arrange the satellite speakers in a soundbar-like configuration. The sound aspect switches to a soundbar-appropriate mode when the two stereo speaker parts are placed together and turned on their sides. Similar to how you get a broader stereo field and a matching adjustment in the sound field when they are separated once again.
ADATA's Project NeonStorm SSD
The Project NeonStorm SSD from ADATA uses a cutting-edge heat-dissipation technique to live up to its cool moniker. The underlying M.2 module offers sequential read and write speeds of up to 14,000MB and 12,000MB per second, respectively, as a PCI Express 5.0 SSD. Due to the heat produced by the SSD's lightning-fast speeds, ADATA has created a dual-system architecture with both liquid and air cooling to prevent throttling and other thermal problems.
For greater heat dissipation, the heat from the SSD first passes through a metal heat spreader. Heat energy is carried into the liquid reservoir, where it is subsequently absorbed by a high-thermal-capacity coolant before moving onto the heatsink made of aluminum alloy. As an interface between the coolant and the fans, the heatsink. Heat is dissipated through the convection of hot and cold air when the system's fans are turned on. When compared to heat dissipation fins without liquid cooling, ADATA claims that its proprietary dual-cooling heat dissipation system can reduce SSD temperatures by an additional 20 percent.